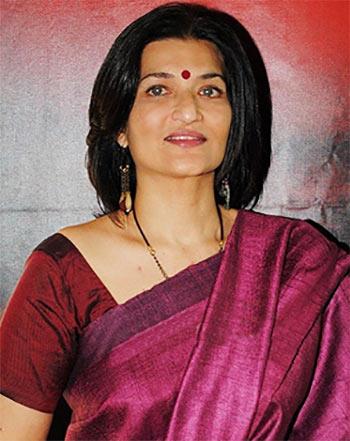 'I used to enjoy going on the set of the Ramsay Brothers' films -- half the time I would be running up and down, screaming, wearing chiffon saris, getting wet in the rain, doing sexy dances. It was great fun and there was no stress, no Sanjeev Kumar or Basu Battacharya...'
Sarika tells us why she loves the horror genre.
Veteran actress Sarika was recently seen on an episode of Bipasha Basu's horror show, Darr Sabko Lagta Hai.
We really don't see the talented actress as much as we would like to see her -- Sarika seems very choosy about her roles -- so we wondered why she chose to feature in a horror show.
Sarika tells Rediff.com contributor Rajul Hegde why.
What prompted you to take up this role?
The producers of the show are like family. When they approached me for the show, I immediately said yes.
As an actor, it is very important that the director is good. No matter how hard I try, I will not be able to impress you if I'm not in sync with my director.
The fact that Soumik Sen (best known for Gulaab Gang) was the director excited me. Soumik is a wonderful director and working with him on the show has been a pleasure.
Have you watched Darr Sabko Lagta Hai?
I have been travelling abroad, but I have read about it. Bipasha is apt as the host because she is the most beautiful, presentable and dignified face of horror films in India.
Do you like watching horror films/shows?
I love watching and working in horror genres if it's made well. Rosemary's Baby is my favourite film. It's not the horror but the kind of fear that it creates to build up the whole thing which is interesting.
More than the film, the actors and their madness is what scared me.
Indian horror films are mixed with thrilling elements; it's not pure horror. The music of Bees Saal Baad was scary.
Have you encountered any horror incidents?
Not at all. But I do feel some places have a certain energy because we feel uncomfortable for no reason at all.
I will not call it spirit because I have not seen or experienced it but others might. For me, it's a grey area.
You have done a few horror films. Would you like to talk about your experiences?
I have done three horror films for the Ramsay Brothers and I had great fun doing them. I respect them because when they tried making horror films, it was way ahead of its time. The whole family used to sit together and make the masks; you didn't have make-up materials to make those masks then.
I used to enjoy going on the set -- half the time I would be running up and down, screaming, wearing chiffon saris, getting wet in the rain, doing sexy dances. It was great fun and there was no stress, no Sanjeev Kumar or Basu Battacharya... bas jaa kay masti karkay maza karke aajana (just go have fun and come back).
What's your take on political films in India?
There is no fun in watching political films here. Abroad, they make good films where they can show everything about the president -- his plane hijack to his wife, to the bathroom etc. In India, we can't. That means we are not making genuine films. It's not so impressive so I have never given any thought to political films being made in India.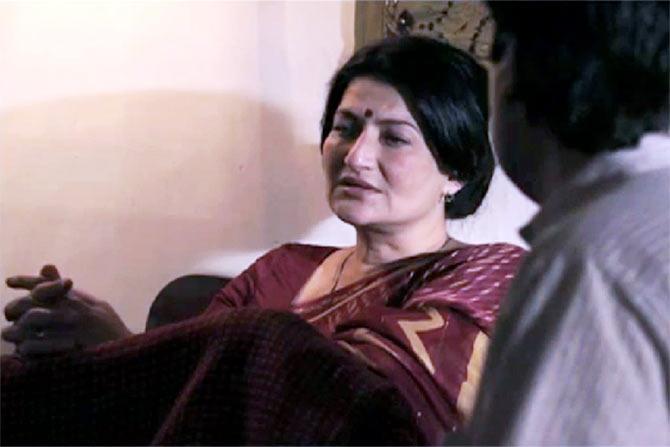 Image: Sarika in Yudh
What kind shows do you watch on television?
Right now, I am not watching anything on television.
For the past six months, I have stopped surfing and have cut off the cable connection in my room because I want to go back to my reading. I have caught up on re-reading all my favourite books.
Six months back, I was watching television. Many of them were not Indian shows but I knew what was happening on Indian television.
True Detective is my favourite show for various reasons. I like the idea of actors coming together and making it. There are no egos, they come together as a team like how Ranvir (Shorey), Vinay (Pathak) and Rajat (Kapoor) come together as a team and make a film.
The team spirit is so good, you feel jealous that you are not part of something like that. There are such good actors even in the second season. But I like the first season.
Do you discuss work with your daughter Akshara since she has just begun her film career (with Shamitabh, starring Amitabh Bachchan and Dhanush)?
I do advise her when needed. She has started her journey with experienced people at many levels. Now she has to take her journey forward. Today's generation is very smart. We think they need us all the time but they don't.
They have different ways of approaching things which is much quicker and clearer. I don't think I was so clear at her age.
Are you open to more televisions shows?
I am open to any kind of platform that is interesting and offers some kind of incentive. But I don't want something predictable.
If you are taking a risk, I am on board. I am ready to come with you if you are trying to do something new, doesn't matter if it runs or shuts down.
You're last television show Yudh (which had Amitabh Bachchchan in the lead) didn't do well...
Honestly, the amount of hard work that went into making Yudh was huge. I still feel the quality of cinema in Yudh was very good. They shot it like a film and there were a lot of talented actors and technicians associated with it.
If it had gone through, it would have opened 10 doors for people. I am not smart enough to understand why it didn't work but one thing I know is that we enjoyed making it. There was genuine satisfaction.
Are you doing any films?
Yes. But I can't talk about them at the moment.