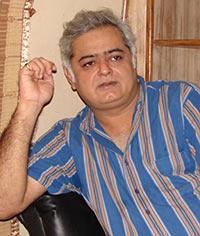 Here's a look at the top 10 tweets from your favourite Bollywood celebrities:

Several Bollywood celebrities took to Twitter to support National Award-winning actress Shweta Prasad, who was caught in a prostitution racket recently, and criticised the media for insensitive reportage.

Shahid director Hansal Mehta (in the picture) has promised to offer her a role. 'Stop posting pictures of Shweta. Put out the pictures of her wealthy clients and the pimp. Expose the scumbags not the soft target. I intend to offer Shweta Prasad a role in my next film. She was so good in Makdee,' Mehta tweeted.
Aditi Rao Hydari wrote: 'A girl is in the news and in prison for prostitution, why not her high profile clients? We are so damn sexist... #Pathetic #FullOfMCP'S'

Happy Teacher's Day!

On Teacher's Day, Bipasha Basu joined several Bollywood stars, as they thanked their teachers.

'Teachers day makes me nostalgic. My fav was my English teacher Patrali Sarkar. They r all so imp in making us who we r today. Thank u teachers,' she tweeted.

Bhatt challenges Karan Johar

Filmmaker Mahesh Bhatt, who recently took the Rice Bucket Challenge, tweeted: 'After serving birayani on the streets of Hyderabad, I challenge u @kjohar25 . U HAVE 24 HOURS #RiceBucketChallenge.'

Modelled on the ALS ice bucket challenge, the Indian version encourages people to donate rice instead of dumping water.

It's a wrap for Bangistan!

The shooting for Ritesh Sidhwani's comedy Bangistan is over.

Producer Ritesh Sidhwani shared a picture and tweeted: 'And that's a wrap on Poland schedule.'

Cast member Riteish Deshmukh added: 'Last shot done-6 week schedule wraps for @Bangistan - Thank you krakow for the most amazing memories & love.'

Directed by Karan Anshuman, the film also stars Pulkit Samrat and Jacqueline Fernandez.

Amitabh Bachchan takes a break

Amitabh recently cancelled the shooting of his hit television game show Kaun Banega Crorepati due to poor health.

'The time it takes for one to adjust to a day of rest, is akin to time taken for an entire lifetime .. or so it feels!' he posted.

Bachchan will resume shooting on September 15.

Kapil Sharma takes Comedy Nights to Dubai

Kapil is currently in Dubai shooting for his comedy show. He shared a picture and wrote: 'Shooting outdoor in Dubai.. it's tooo hot.. Bt m sure u will like this new element in comedy nights..Lots of love.'
Singer Shaan added: 'Headed to Dubai..to shoot C. Ns with Kapil!! With my Co-actor and Producer and Bro @MikaSingh. Should be Fun!!'

Remembering Salil Chowdhury

Veteran singer Lata Mangeshkar remembered poet and music composer Salil Chowdhury on his 91st birth anniversary today, September 5.

'Aaj mahan Sangeetkar Salil Chowdhury ji ki 91vi punyatithi hai.wo Kavi bhi the aur katha lekhak bhi,film Parakh ki story unki likhi hui thi.Aise mahan kalakar ko meri Shraddhanjali. Salilda ka pehela gaana maine gaya tha wo film do bigah zameen ka tha aa jari aa nindiya tu aa. Uske baad maine unke liye kai filmi aur non filmi gaane gaaye.mujhe unke kai gaane pasand hai,' she wrote.

The two legends worked together in classics like Do Bigha Zameen, Sapne Suhane, Anand and Kaala Patthar, among others.

RIP Joan Rivers

Comedy legend Joan Rivers passed away on Thursday at the age of 81.

Esha Gupta tweeted: 'RIP Joan Rivers honest fashionable politically incorrect and to not to give a damn."I succeeded by saying what everyone else was thinking" RIP.'