'I have an absolutely professional relationship, nothing personal, with Amitabh Bachchan.'
'I am the only person in the industry whom he never calls for home parties or festivals.'
'Unless we have work, we don't call each other.'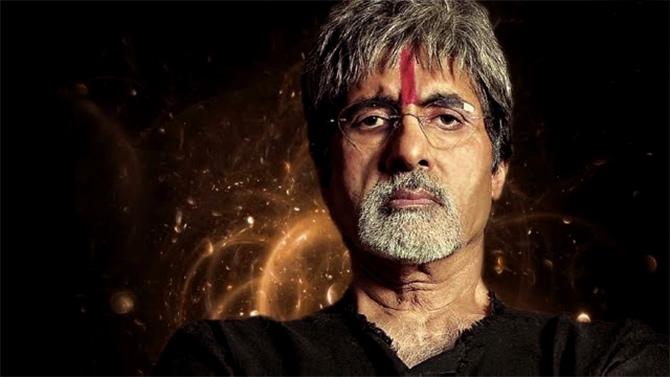 IMAGE: Amitabh Bachchan in Sarkar 3.
Ram Gopal Varma's explosive tweets make more news than his movies these days.
The filmmaker feels he's 'overdoing' his posts on Twitter, and doesn't want to get into the private space of people any more.
Instead, RGV wants to focus on his new film Sarkar 3, which stars Amitabh Bachchan opposite Yami Gautam, Amit Sadh and Ronit Roy.
RGV tells Rediff.com Senior Entertainment Contributor Rajul Hegde why Amitabh Bachchan continues to work with him despite his recent flops and how they are not 'friends'.
You recently tweeted 'Sarkar without Bachchan is like doodh without milk.' Can you elaborate?
(Smiles) When people ask me standard questions, like if that particular actor was the first choice for my film, then if there is no Bachchan, there is no Sarkar. I can't even think in any other direction.
In the film industry, your number one choice may be X, but then you come to Y and then finally settle for Z. But this is one film where there cannot be a choice for this character.
It's a culmination of what Bachchan stood for.
Since Zanjeer, he has made an image and attracted so many film-goers and filmmakers like me towards cinema.
I became a director largely due to that kind of influence.
For me, it was almost like I wanted to prove that I can create an embodiment of the phenomenon of Amitabh Bachchan.
So Amitabh came first and Sarkar came next.
You have been associated with Amitabh Bachchan for a decade now.
I cannot remember a film where I thought he was not up to the mark.
He keeps getting better and better.
In Sarkar 3, his performance is far more complex compared to the earlier two parts. Though he is playing the same part, he has still surprised me.
The surprise doesn't come from him deliberately. It looks organic, like it has gotten better with time.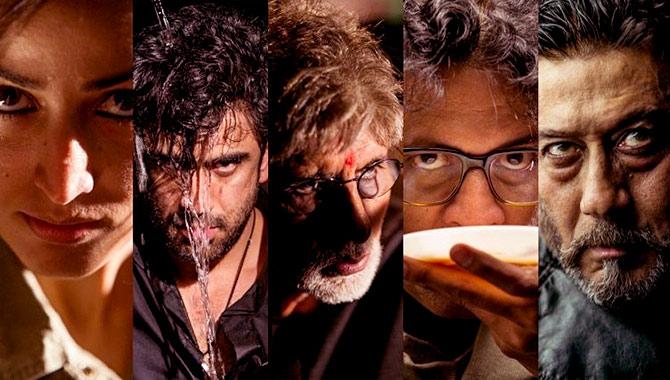 IMAGE: The Sarkar 3 cast: Yami Gautam, Amit Sadh, Amitabh Bachchan, Manoj Bajpayee, Jackie Shroff.
Is Sarkar 3 a sequel or a fresh start?
No, there is no connection. I think of Sarkar more like a realistic superman.
Obviously, in his life, there will be so many things that will happen in a context.
This time, I thought I will deal with nepotism. Nepotism is a big thing. In any organisation, people favour their relatives more than an outsider.
That is the biggest fight in democracy, be it in the film industry or in politics.
What about the debate on nepotism in Bollywood?
To start with, I feel it's wrong to pick only Bollywood.
Like Dhirubhai Ambani will give all his money to Mukesh Ambani. Likewise, why shouldn't a star give his all to his son?
There is an order in society where a father passes on his best to his son or immediate relatives.
All of us do that, not only in Bollywood.
But just because a person has been given that, it doesn't mean it will work. It may fail also.
So, it's an exaggerated topic.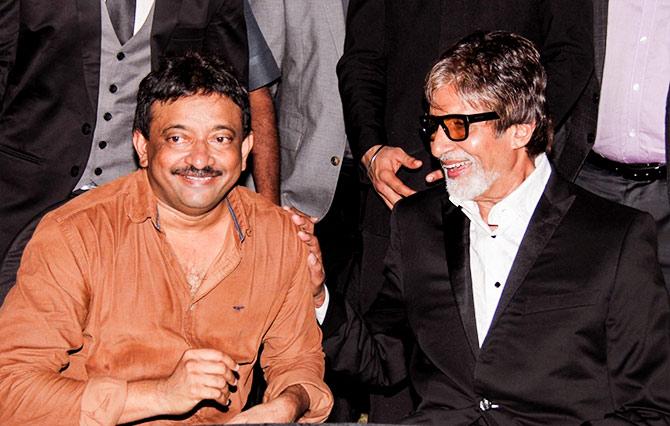 IMAGE: Ram Gopal Varma and Amitabh Bachchan. Photograph: Pradeep Bandekar
Why do you think Amitabh Bachchan works with you again and again?
Mr Bachchan looks at my sincerity. People look at the result.
What kind of personal equation do you share with Mr Bachchan?
I have an absolutely professional relationship, nothing personal.
I am the only person in the industry whom he never calls for home parties or festivals.
Unless we have work, we don't call each other.
You have worked with both Amitabh and Abhishek Bachchan in the Sarkar movies. What differences do you find in them?
I am close to both in different ways.
Abhishek is a terrific actor. When Mr Bachchan came, no one knew who he was. He came up slowly, and suddenly, people looked up to him.
But Abhishek has come as Amitabh Bachchan's son. He already has that weight of expectations. And the kind of cinema that was working when Abhishek came into the industry was very different.
Being a professional actor, you have to follow -- at least to a certain degree -- the prevailing trends of the market. Because of all this, some of his films didn't work.
But if Abhishek works in the kind of a medium he is made for, he is terrific.
You often receive flak for your explosive tweets. Do you regret any of them?
I like flak because I am very allergic to praise (laughs).
People who know me take me for what I am.
Twitter is an expression of myself; it's an extension of myself.
If people don't like the way I post, they should not follow me.
People are so politically correct all the time that they get shocked when they hear me.
But I think I am overdoing things. Like in the case of Tiger (Shroff), I regret what I did. I have apologised to him.
I don't take things seriously while people do, and it's not right for me to hurt them.
I will still tweet, but will not get into the personal space of people.
Sometimes I do regret and apologise on Twitter.
A lot of people don't realise that I make the most fun of myself.
Everyone has advised me to be off Twitter, but the only person who has never asked me to do so is Mr Bachchan.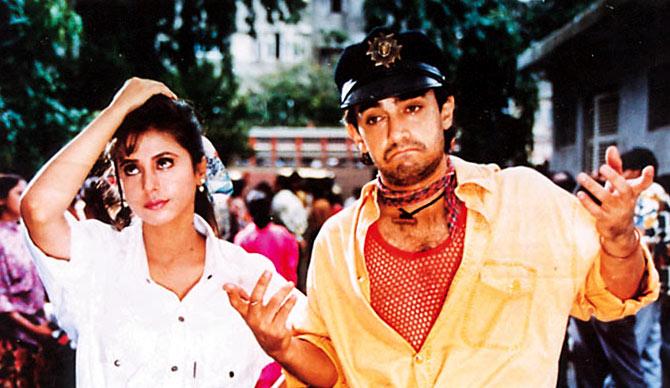 IMAGE: Urmila Matondkar and Aamir Khan in Rangeela.
Your films haven't been working at the box office lately.
People had huge expectations from Shiva because it was my first Hindi film. Drohi and Raat flopped.
Rangeela was a big hit, then Daud and Mast were flops.
Satya was a hit.
My career has been a blend of flops and hits, but the media was not very big then.
And there was no social media, so there was no resonance of my flops.
By the time social media became big, technology changed, people made films...
The subjects I was choosing did not interest the audience. I was trying to do something different from what I used to do.
In my last few films, I have been criticised for not paying attention to scripts. Actually, I have never followed scripts; it's more instinctive.
Just when I started following scripts in 2006, I kind of lost it. The maximum flops happened after that.
So I went out of Mumbai for two years and did Telugu films. But I was simultaneously working on Sarkar and other scripts. I hope I don't repeat my old mistakes.