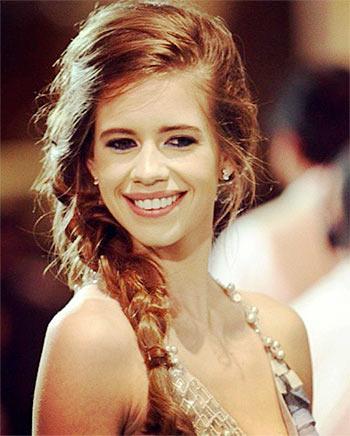 'Single life is pretty good. I like the attention. If I feel lonely, I just call my mom and she sleeps in my bed,' Kalki Koechlin tells Rediff.com contributor Paloma Sharma.
"I'm only scared that I'm eating palak paneer in a white dress," Kalki Koechlin says, taking a picture with a journalist as I enter the room. "So let's see how that goes."
Then she turns to me, "But since the video stuff is done, I think I'll just throw the paneer onto myself."
She acts out the spilling of the green, creamy dish sitting on the low, wooden table behind her with an elaborate hand gesture and I stop in my tracks in bewilderment.
I have no idea what is going on but then, as one learns, when in the presence of Kalki Koechlin, one must take things as they come.
Between bites of the palak paneer she cherishes so much, the actress talks to Rediff.com contributor Paloma Sharma about her Oscar picks, upcoming projects and her single status.
Have you been following the Oscars?
On Twitter, but I didn't get to watch it. I saw that the guy playing Hawking won and Julianne Moore won, and Whiplash. I'm so glad because I love Whiplash. And then Birdman...
So yeah, I've been following a bit.
Which movie were you rooting for in the Best Film category?
Whiplash. It's one of the best films of the year.
Boyhood is another film that I really liked this year.
What about Best Actor and Best Actress?
Umm... (licks palak off fingers) What's the name of that guy? The guy who won?
Eddie Redmayne.
Eddie Redmayne! He was really good. I didn't like Theory of Everything as a movie, but I thought his acting was superb.
I haven't seen Julianne Moore in that film (Still Alice) but I do think that she's a brilliant actress.
I wish the guy from Whiplash had won. What was his name? Simmons. He was so brilliant and he did his own drumming. He did a brilliant job.
He did win for Best Actor in a Supporting Role.
Oh yeah? Brilliant!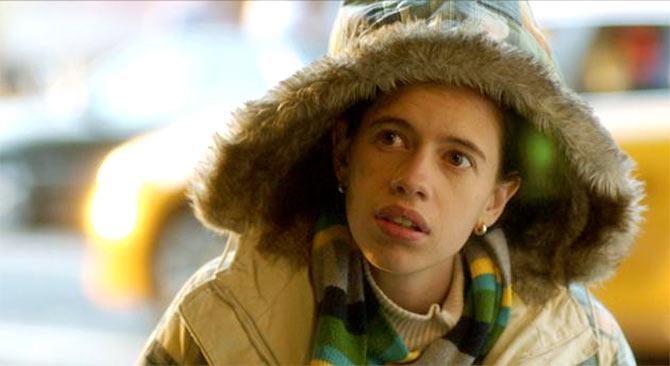 Image: Kalki Koechlin in Margarita, With A Straw
Tell us about your film Margarita, With A Straw.
I'm very excited about it. It's coming out on April 10, hopefully. If the Censor Board allows it.
We put in so much blood and sweat. We worked for six months on training. There was so much prep.
Then the film shoot was such a big struggle because there was no money. We were struggling throughout and every day something would go wrong.
But it's really paid off well internationally. We've been to so many festivals and it has won some awards. I won best actress at Tallinn (film festival in Estonia). I'm very happy with the way it's going.
The trailer has done really well in terms of people's response. They're curious to know about the film.
Why do you think it won't get through the Censor Board?
I just mean that the Censor Board -- now, with the new list of bad words -- there's going to be a lot of beeping in our film (laughs nervously).
And then, of course, on moral grounds because you know they've started to be very moralistic. I hope everything will go smooth for the whole gay angle in the film.
You've been associated with a lot of independent projects. When do we see you in an out-and-out commercial film?
Starting next week, I'm doing a film called Love Affair produced by Pooja Bhatt and directed by Soni Razdan with Arjun Rampal and Gulshan Devaiah. That's as commercial as it gets, with lots of songs.
It's a love story set in the 1950s based on the true story of the Nanavati case.
What other projects are you working on?
I just finished two independent films. One is called Waiting, by Anu Menon with Naseeruddin Shah.
It's about people in comas. When your partner is in a coma, you don't know if you should continue with your life and go or stay. Everything's unpredictable. It's not a dark film; it's actually quite a funny film.
The other film is Mantra. It's a crowd funded tiny little film by a new director called Nicholas Kharkongor.
It's about a Delhi family in the early 2000s. The father runs a business. It's about globalisation and how these big companies started buying out the small companies and how that's happening to him and how that affects each member of the family.
It's a really nice portrayal of India -- socially, culturally, politically -- how we deal with corruption...
Are you doing theatre as well?
I'm doing my plays which I have been doing for a while. Colourblind, Tagore's play, and then Hamlet: The Clown Prince. I haven't started anything new.
This summer, I'm going to direct a new play that I've written. So, I'm a little bit worried that I'm going to lose all my hair! (laughs)
The play is a comedy about death, about an old woman who is about to die and she confronts death and talks him out of it. It's a funny comedy on death.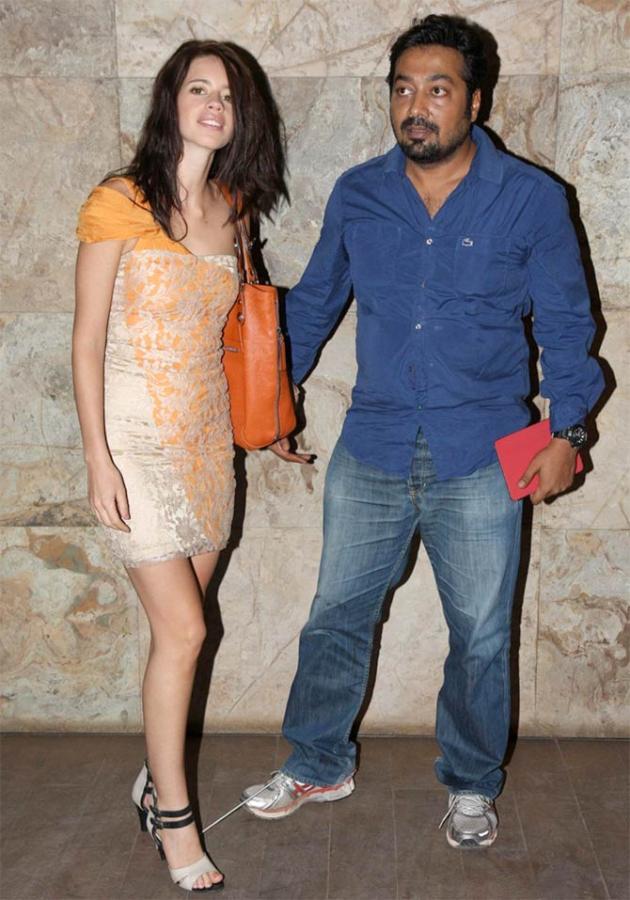 Image: Kalki Koechlin and Anurag Kashyap. Photograph: Abhijit Mhamunkar
Are you looking forward to watching Anurag Kashyap's Bombay Velvet?
I've seen it! I really like it!
Ranbir (Kapoor) is absolutely stunning. I love him in the film. Even Anushka (Sharma). She's looking beautiful.
The songs are beautiful. The set is so believable. They have managed to make it really look like Bombay in the 1960s.
Karan Johar is really funny in the film. I never thought he was an actor, but he is!
It's a very different film for Anurag. He's really gone out on the romantic angle, which he usually doesn't invest in, in his films. So I'm excited for him.
How's single life treating you?
Pretty good. I like the attention. I haven't obviously fallen madly in love with anyone but I'm quite happy.
I'm busy; I don't sit around and feel lonely too much. If I feel lonely, I just call my mom and she sleeps in my bed (laughs).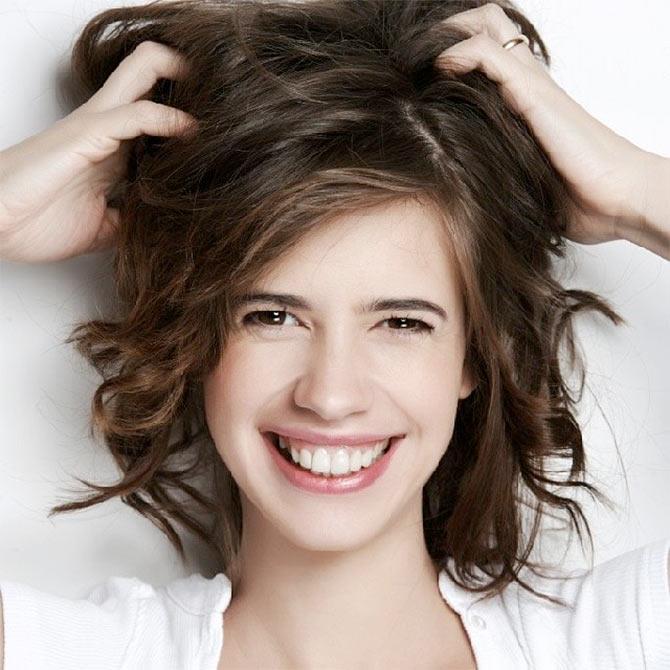 Image: Kalki Koechin/ Instagram
How do you keep your skin so glowing?
There's not one secret remedy. You have to do everything. You can't party every night and then just put on some nice magic cream and feel like you're beautiful again.
It's health, it's lifestyle, it is how and what you choose to eat, not paneer like this (giggles).
Eating fresh, raw fruits and veggies which we forget to do because it is difficult. Drinking a lot of water, keeping fit and also keeping a clean face. In my kind of life, I have so much makeup on that even if I have a one hour lunch break, I'll take my makeup off.
We live in a city that is polluted. So you need to find ways to nourish your skin and replenish it.
So with Olay (the product she is currently endorsing), what I like a lot is that it's all in one. Since I travel a lot, I don't have to carry everything. It all comes in this one bottle which fights the seven signs of aging.
You've been very vocal about the oppression that Indian women face. Would you call yourself a feminist?
Yes, absolutely. I think feminism is equality and we wouldn't need the word 'feminism' if it weren't a patriarchal society.
It's a fact that women are under-represented and we need to fight for it.
Its humanism that I'm more interested in. People should be humans before they become a gender.
I think the word feminism has been bastardised. People have this image that feminists are man-hating and they're aggressive. It's important for people to know that men can be feminists and men can be defending the rights of women.
Do you think that equality is slowly taking root in India?
Yeah, but it's a long way to go. We live in a city so we see progress here but you go back to a small village and it's like 100 years behind. Women are still (treated as) cattle, women are still (treated as) property.
Job opportunities and education means that women are becoming financially independent.
Also, we're becoming a lot more conscious because of the horror stories we read about rapes. It's becoming an international issue and a kind of a shame for the country. It's something we're consciously aware about and talking about.
Is this also having an impact on Bollywood?
I think it will, in a small and slow way. Of course, there are films like Queen which was awesome. I really liked that movie.
Image: Kalki Koechlin
You have avoided playing the stereotypical white girl in Bollywood films. How did you manage that?
I just had to keep repeating my story in the beginning a lot -- that I'm from here, I'm born here, I'm Indian etc.
Now people Google me and they know (laughs), so it's a lot simpler. People have accepted me.
Apart from that, I have many times been offered the role of a white NGO girl, working in India. I've said no unless it's an outstanding role that I just want to do as an actor.
From amongst your contemporaries, who is your biggest competition?
I don't know. All are my friends, Richa Chaddha, Aditi Rao... I don't really see it as competition. I just see it as people.
We're all so different from each other. There's something that Richa can offer that I'll never be able to offer in terms of look, talent or language.
What would your dream project be?
I want to work with Vishal Bhardwaj.
I'd love to work with Irrfan Khan, Farhan Akhtar. I've worked with Farhan but not opposite him. Irrfan Khan is really a brilliant actor.