'I changed because I wanted to excel myself at every point. It's important to look good and take care of yourself as there is so much competition.'
'I have not done any surgery. My lips have always been like this. Today, my face is exactly how it was, when I was 16.'
Shama Sikander up, close and personal.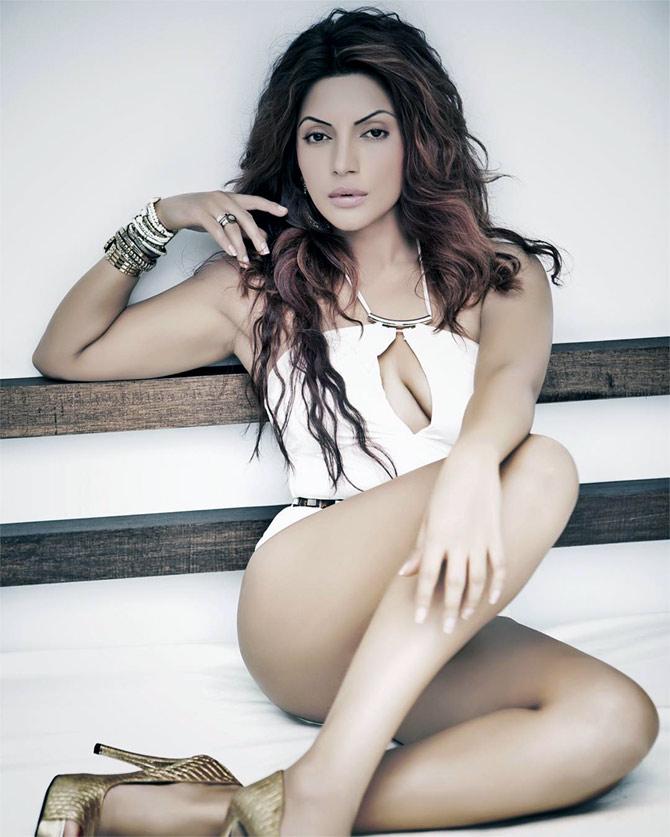 Photograph: Shama Sikander/Instagram
Television actress Shama Sikander, who shot to fame with the hit serial Yeh Meri Life Hai way back in 2003, is back to woo the audience with her acting skills.
From playing a girl-next-door on the small screen to turning into a sexy siren in real life, a lot has changed over the years for this actress.
That includes her choice of projects. After starring in Sexaholic this year, an adult short film by Shailendra Singh, Shama will now be seen in Vikram Bhatt's much-talked about web series Maaya.
Loosely based on Hollywood erotica Fifty Shades of Grey, the series will go on air in October.
As Shama gets ready to turn heads once again, she talks to Rediff.com contributor Rajul Hegde about her web series, battling bipolar disease, her drastic make-over and much more!
Where did you disappear after Baal Veer?
I took a break because I wanted to travel around the world without thinking about work. I have worked so much in my life; my childhood was spent working.
I went to the US, Europe and many other places. I made many friends.
I wanted to give myself time, as I was going through a bipolar disorder at the time. I wanted to understand its causes and what I lacked in life.
I had a beautiful life but suddenly, I felt directionless. I wondered what the purpose of my life was.
I was a loner, and so lonely. My best friend and two-three other close friends were busy shooting. I don't have too many friends.
Why was life so bad then?
Nothing was worth it. You want to be on top and surpass everyone but in that, you forget who you are and what actually matters.
My bipolar disorder led me to a higher experience. I am so glad that it happened to me.
I had literally reached the peak of darkness, at least according to me. You can have everything but if there is no hope, you don't have anything. And I didn't have hope.
How long did you face this problem?
Almost four years. I was on medication for a long time.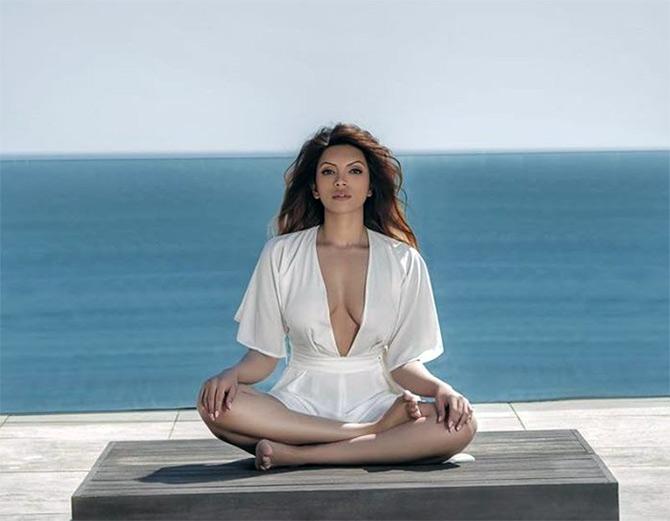 Photograph: Shama Sikander/Instagram

How did you come out of it?
I am a strong and spiritual person. I do a lot of meditation.
I am a professional actor but I was not in a position to act. I think it happens with actors because they are continuously playing with emotions.
This bipolar thing changed me, I feel like I have taken another birth.
I have lost memory. People talk to me and I try to recollect (the things they say).
Medication is only for time being, therapies is what cures you. I did meditation for two years and felt nothing was happening. I thought it was crap but something was happening in silence. One day, I felt alive again. I don't know how to describe it. Meditation helps you to recover quickly.
You look drastically different and stunning. How did the makeover happen?
I worked really hard on myself.
I have not done any surgery. My lips have always been like this.
When you are sad, the structure of your face changes.
Today, my face is exactly how it was, when I was 16.
If you eat and work out right, you can make miracles happen.
I look different because I have changed my hair colour. My body structure is different now.
People still remember you from your role in 2004's Yeh Mera Life Hai.
They had de-glamorized me for that role. But I have done other roles too like Seven and Baal Veer.
While doing Seven, I was going through deep depression. My face had drastically changed but that doesn't mean I'd done surgery.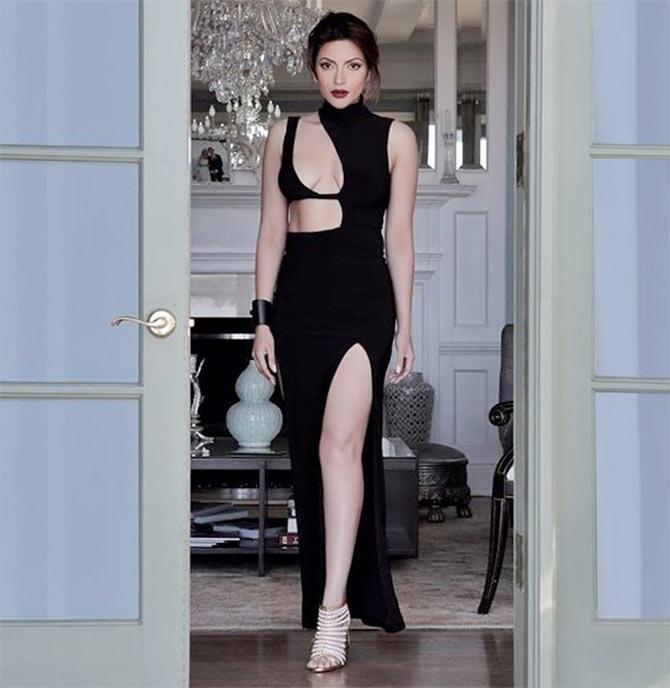 Photograph: Shama Sikander/Instagram
Have you gone under the knife?
No, you don't have to.
Cosmetically, many things are available. I go to my doctor for regular peels, facials, fillers...
My travels around the world have changed me in the way I speak, feel, dress up and treat people.
I work out day and night in the gym.
An actress in my gym came up to me and asked who my doctor was, where I went for my surgery.
She said she likes my nose. I told her I had this nose forever. I told her I work out in that gym everyday. But she didn't believe me.
I told her she feels the difference because I exude that. Everything happened gradually in the last four years, including my dress sense.
Since I made a comeback and my pictures are out, everybody is surprised because they are seeing me after four years.
How important is to look good in this industry?
I changed because I wanted to excel myself at every point. It's important to look good and take care of yourself as there is so much competition.
People are eyeing us every moment. I had the best physique but there came a point when I just lost interest and wanted to become fat.
I didn't want to be perfect anymore. I didn't work out for two years, as I had injuries.
I enjoyed eating everything. We are human being before we are actors.
How difficult is to sustain in the industry?
It's very difficult if you are a person of virtue. It all depends on your priorities. If you set your goal, you will get it.
I was getting offers even when I was travelling. Unfortunately, I wasn't in the right frame of mind.
I did Baal Veer only because Vipul Shahji wanted me to do it. After some time, it started affecting my health.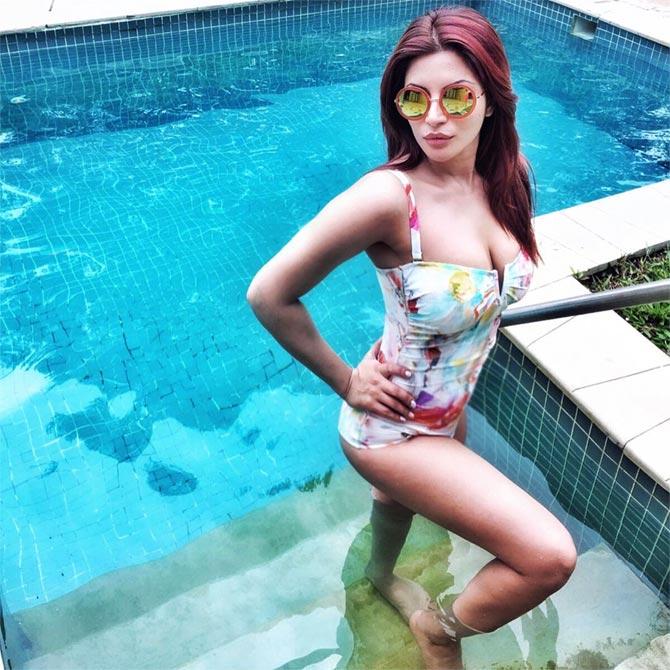 Photograph: Shama Sikander/Instagram
Why didn't you do movies?
I was young when I started my career in films. The only thing on my mind was to make money because I wanted my family to be settled.
I didn't want to be a star. I became a star by luck and because I'm a good actor (smiles). I wanted to work so that my family was comfortable, as we were going through a financial crisis.
My vision was not to be a superstar then. But that's my vision now.
Have you faced the casting couch?
Yes, a lot of times while doing films. I don't think people, who ask for it, are bad; it's just that they expect it. If you don't do it, it's your choice.
I never even thought of going that way. I was dumb because I started young, at 14. If someone was touching me or patting me, I didn't guess their intention. Later, when I got to know, I was shocked.
There was an instance when my father and I were outside a big director's office for 12 hours, trying to meet him. A lot of girls were coming in and out but couldn't meet him. I wanted to work with him, so I just sat there.
He may have noticed that and signed me up for a big ad with a superstar. But then he kept telling me that every girl does this.
I couldn't understand it because I was 15 years old then. He tried his best to explain it to me but I didn't understand.
Meanwhile, my costume got ready and it was time to shoot.
I reached the sets at 7am. I went to the vanity van to put on my makeup. Then, an assistant director came running and said not to do the make up, as they were not shooting my part that day. He asked me to leave.
I found it weird because we were shooting an ad, which would require only a day's shooting. I decided to wait for the director.
When he came, he apologised and said the producer had taken somebody else.
I was amazed because I waited for hours for the meeting, my costume was ready, my father was sitting with me without going to work, and now, he was saying this.
I cried my entire journey back home.
This has happened at least six-seven times and I've been devastated. I saw failures because I couldn't understand what they wanted. It shook me but I have accepted it.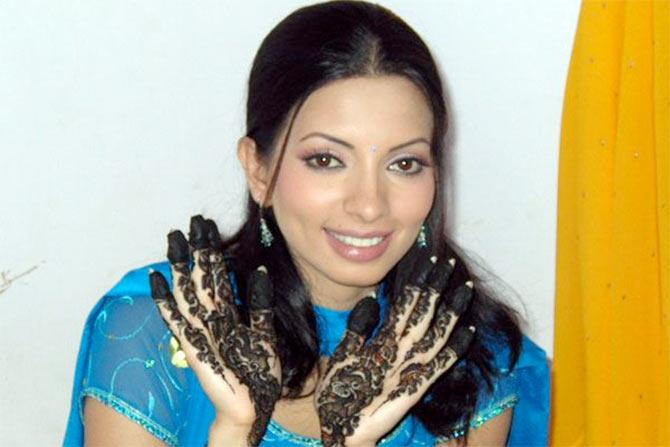 IMAGE: Shama Sikander in Yeh Meri Life Hai
Go on.
The producer and director were older than my father. The director called me later and said he wanted to cast me in a film opposite big stars. He kept trying...
I was launched by Feroz Khan (in 1998's Prem Aggan). The director asked me how come he took me. I said that Feroz Khan took me with respect and loved me like a daughter.
I had so much respect for that director but it went down the drain. I left the office in tears.
That film could have made me a star. He was so keen on taking me because he saw my dedication. I used to think talent matters.
Today, when someone calls a person 'hardworking,' I don't agree. I haven't worked any less in my life. Work smart, that's what matters.
So you switched to TV after that?
I took a conscious decision to work on TV because I didn't want to be a part of the films coming out.
Also, television was doing big time.
I was offered Yeh Meri Life Hai and it did very well. After that, everybody gives you respect.
You have made a comeback with a short film called Sexaholic and now, you will star in Vikram Bhatt's web series.
When I was offered this short film, I was given a reference of nymphomania. So I said no.
But my director (Shailendra Singh) said he wanted to bring this subject to India as it's happening in the world. Somewhere, it touched me.
I have seen women suffer when it comes to sex. Men don't even bother to ask their partner had an orgasm. It's a sad scenario and keeps women frustrated day by day.
She can't even share it with anyone. A lot of women don't know what orgasm is.
This generation is talking and thinking about it. I realised showing it rather than talking about it makes a huge difference. I want to express each and every emotion as an actor.
I feel great doing it. It was challenging for me because I have not done anything like this before.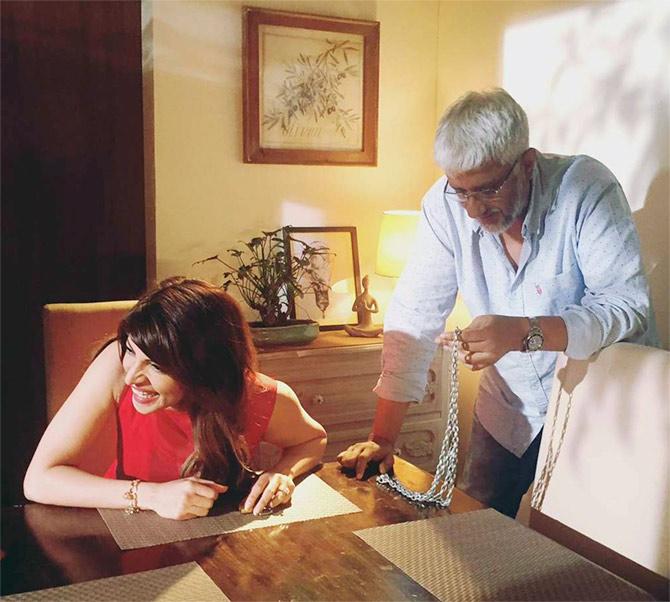 Image: Shama shares a light moment with Vikram Bhatt. Photograph: Shama Sikander/Instagram
How did your family react?
My mother was scandalised. But she had tears in her eyes when she saw my performance.
But yes, she had to go through a lot because people say a lot of things to her. People from my village taunt her. I tell her not to bother.
Tell us about Vikram Bhatt's web series Maaya.
Maaya is an intense adult love story.
Vikram had narrated this story to me five years ago and I was wondering how would make this film with so much censorship.
I probably wasn't ready to do it then. Five years later, he offered the role to me again.
We have finished shooting half of it. I have not shot the intense scenes yet but Maaya is bold in many ways.
I find sex normal and don't like when people make a big deal about it.
What else are you doing?
I'm doing a family drama but cannot divulge the details yet.