'It's high time we show real men and not as knights in shining armour rescuing the damsel.'
Meherzan Mazda is all set to do just that in Dhai Kilo Prem.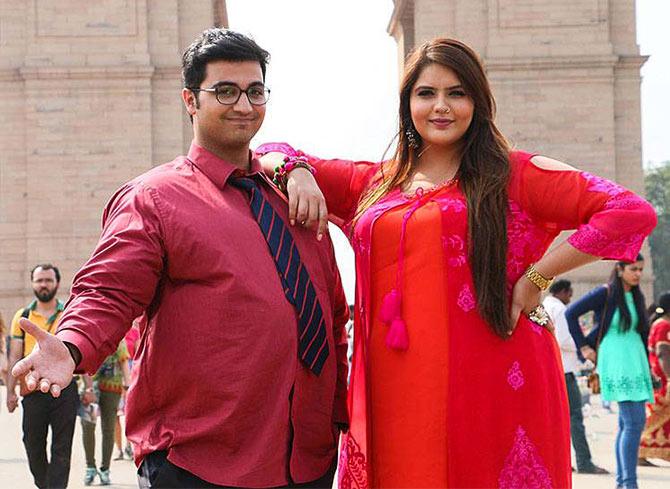 IMAGE: Meherzan Mazda with his co-star Anjali Anand.
Interestingly, his character Piyush in Dhai Kilo Prem likes Deepika Padukone but Meherzan personally likes Alia Bhatt.
Meherzan Mazda, best known for his role in the Star Plus show Nisha Aur Uske Cousins, returns with Dhai Kilo Prem.
The show tells the love story of an overweight couple, Piyush (Meherzan) and Deepika (Anjali Anand), who don't get bogged down by their weight issues.
"I have put on 14 kilos in four months," Meherzan shares. "It was the best time of my life since I got to eat everything! I am a foodie; I love street food and had it almost every day. This is the only character where the actor is paid to put on weight!"
But he admits he felt uncomfortable when he started gaining weight.
"My face has become big now and I am not used to it seeing a big face! I feel bad but everyone around me is happy. I have put on so much weight that when I sleep, my breathing becomes different and I have started snoring," he says, adding "Since I have reached my target, I have met a dietician and started a proper diet which will not increase or decrease my weight."
Meherzan says he was overweight, weighing 112 kilos, till he turned 17.
"I know how tough it is to shed those extra pounds. Taking the decision to do the show wasn't easy because I wondered what would the motivation would be to lose all that weight," he says.
The extra weight, he says, is not to show a stereotypical fat, funny guy. "It's high time we show real men and not as knights in shining armour rescuing the damsel!" he exclaims.
Meherzan says his wardrobe has changed and the fitted t-shirts have been replaced with bigger ones.
But he hasn't thrown his favourite jeans away yet. "I know I will ultimately wear them, so I have kept them aside. Now when I buy clothes online, I am confused whether to buy small or big," he says with a laugh.
"A lot of my girlfriends have been overweight and I have been cool with that," he says.
How is his equation with co-star Anjali Anand?
"I didn't talk to her much during the mock shoot but the next day, I felt I connected to her. She invited me for her birthday and that broke the ice. Surprisingly, she is one of my best friends now. The love for food is common factor between us," he says.
Meherzan was noticed for his very first commercial with Shah Rukh Khan for a beauty product. Later, he starred in Shraddha Kapoor's debut film, Luv Ka The End.
"I didn't want to do anything on TV after Nisha Aur Uske Cousins ended. I loved my character. After that, I wanted to get out of that monotonous routine, so I decided to do something different on television. That's why I rejected a few big shows. That may have been a big mistake but it's okay, as it was the same saas bahu drama," he says.
Meanwhile, he has done web shows like A.I SHA Part 2 and Vikram Bhatt's Gehraiyaan, starring Sanjeeda Sheikh and Vatsal Sheth. It will release in May.