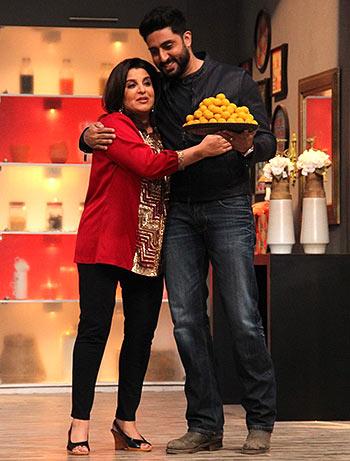 'Malaika Arora Khan is a very good cook.'
'Sonam Kapoor bakes very well.'
'Salman's Khan mom is the best cook.'
'Abhishek Bachchan used to cook food and bring on the sets of Happy New Year.'
Farah Ki Daawat host Farah Khan dishes out secrets of our favourite stars' food choices.
After hosting Bigg Boss Halla Bol, Farah Khan has decided to throw a party on national television, called Farah Ki Dawat.
The director will show off her culinary skills, and also test those of Bollywood actors.
Celebrities like Abhishek Bachchan, Alia Bhatt, Yuvraj Singh, Kapil Sharma, Malaika Arora Khan, Sania Mirza and Karan Johar will make appearances on the show.
Farah tells Rajul Hegde/Rediff.com what to expect.
What is the show all about?
I love cooking. I also love feeding people around me.
As they say, a lot can happen over food. Cooking is calming and therapeutic.
Through Farah Ki Daawat, I hope to bring out the different traits of celebrities -- be it about the food cooked in their kitchens, or their secret recipes and favourite dishes.

At what age did you start cooking?
I have been cooking since I was 17. My granny was old, mom was working and we couldn't afford a cook, so I took charge of the kitchen.
I would cook and then go to college and attend my dance shows.
I enjoyed the process of cooking. I learnt Yakhni Pulao from my granny, and now it's become quite famous! Even my Roast Chicken.
During the shooting of Dil Chahta Hai in Sydney, I tried making Yakhni Pulao in my hotel room without realising the sensitivity of the smoke detectors!
All the guests had to be evacuated. The spot boys were in their kachchas and laughing at me. The hotel smelt of Yakhni for the next three days!
Will your good friend Shah Rukh Khan be on the show?
SRK has promised to prepare some nice pasta on the show.
In the last 20 years, I haven't seen him cooking.
He keeps telling me that he cooks for his children at home. So it will be good to see him cook.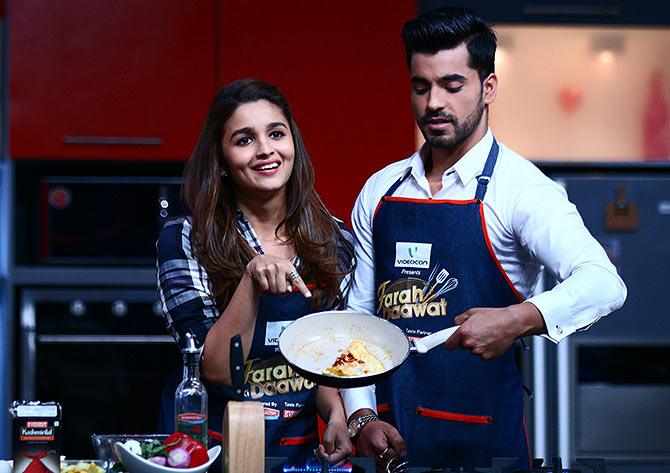 Image: Guests Alia Bhatt and Gautam Gulati cook on the show
Who was the best cook on the show?
We have shot only a few episodes. Abhishek Bachchan prepared Dahi Chicken on the show.
He used to cook food and get it during the shoot of Happy New Year, so I thought he should be my first guest. He's a good cook.

Alia Bhatt does not know how to cook but she was quite excited to come on the show. I taught her to prepare Thai Vegetable Curry.

Who do you think is the best cook in the industry?
There are many but Malaika Arora Khan is a very good cook.
Sonam Kapoor is a good cook too, bakes very well.
Karan (Johar) is planning to come and prepare a dessert.

Salman's (Khan) mom is the best cook. When I am shooting with Salman, I always look forward to his dabba.
I used to get food from his farmhouse during Bigg Boss.
Watch: Farah Khan tests mediapersons on their culinary skills. Video: Afsar Daytar
Are your kids foodies?
My children are not foodies yet, but when (brother) Sajid and I were kids, we were hungry all the time. We would buy very little mutton and everybody had to share it.
We don't allow our children to be hungry at all. They don't know what it is like to be hungry.
I make different types of cuisines but they are fond of Mangalorean food. They are hardcore non-vegetarians but good mix of Muslim and Mangalorean.
My son is very fond of idli and chutney, which my mother-in-law makes.

I give proper homemade food to my children with no restriction on ghee and oil as they are only seven years old.
They haven't tasted aerated drinks and chips yet.

How often do you cook at home?
I cook four or five times a month, but more often when we go on holidays. I like to cook quickly so that I don't spend too much time in the kitchen.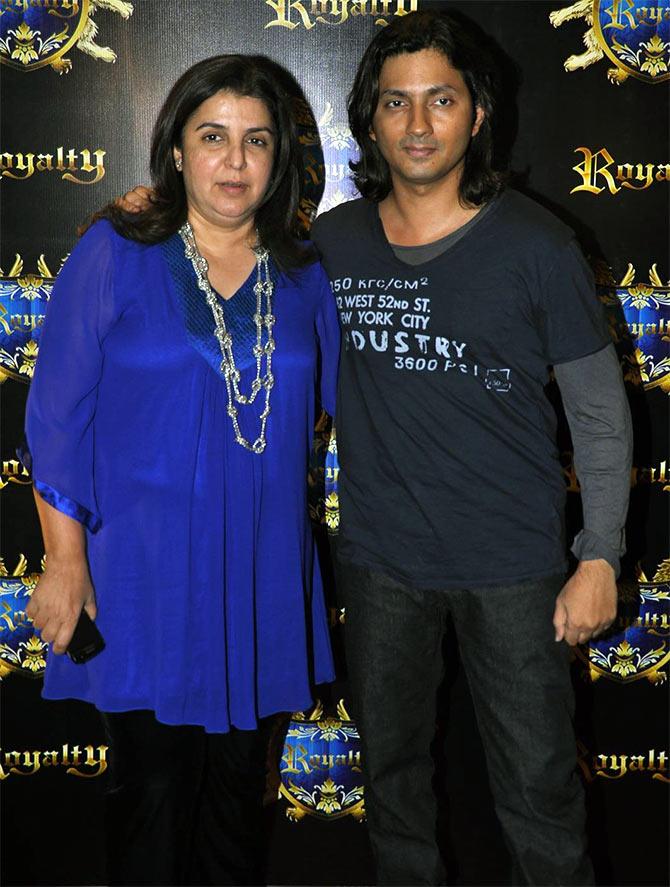 Image: Farah Khan and Shirish Kunder. Photograph: Abhijit Mhamunkar
What has your husband Shirish Kunder cooked for you?
He doesn't enter the kitchen at all. Being a Mangalorean, he loves sea food.
I personally go to buy fish. I do the grocery shopping myself every month.
I am shocked that the prices have gone up so much. I wonder how middle class people survive.
Your favourite cuisine?
I travelled all over the world as a choreographer but I have come to the conclusion that Indian cuisine is the best one.
Who is the best cook in the entire family?
Me.
Farhan (Ahktar) also cooks. Zoya is a foodie. Sajid makes scrambled eggs, Shirish doesn't know even that.