'This is a movie for a lot of people, but for us, it's an experience.'
Dhadak's Ishaan Khatter and Jahnvi Kapoor talk about their success.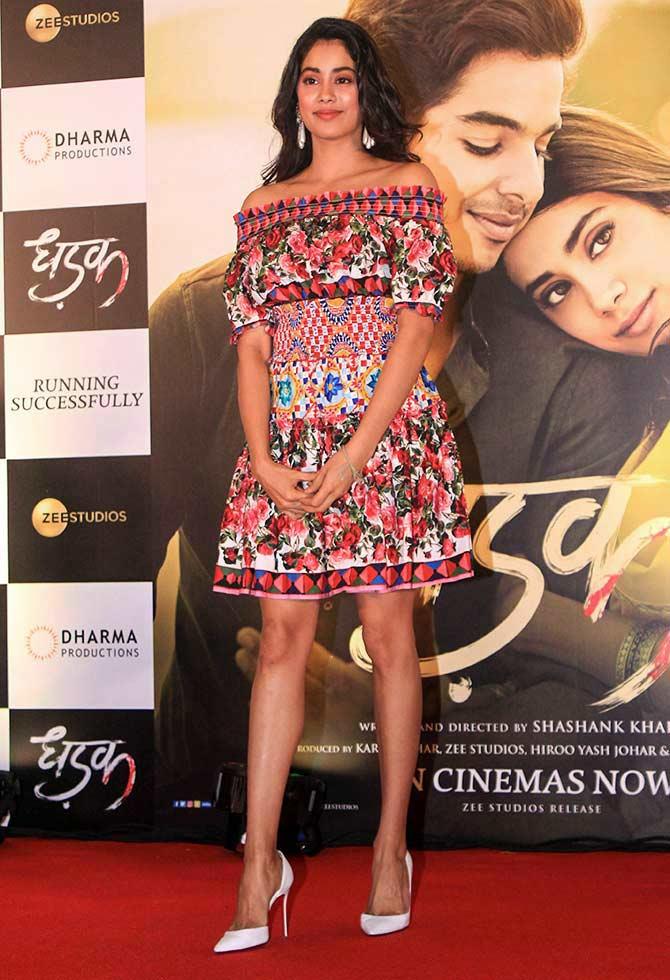 "I can't digest what has happened!" exclaims Janhvi Kapoor. "I am still processing it and figuring how to go about things."
There's a glow coming off her face as she addresses the media and talks about the success of her debut film, Dhadak.
"All the love has been overwhelming. I hope I get more work. I want to keep working hard and keep working at myself to do better and and make people happy."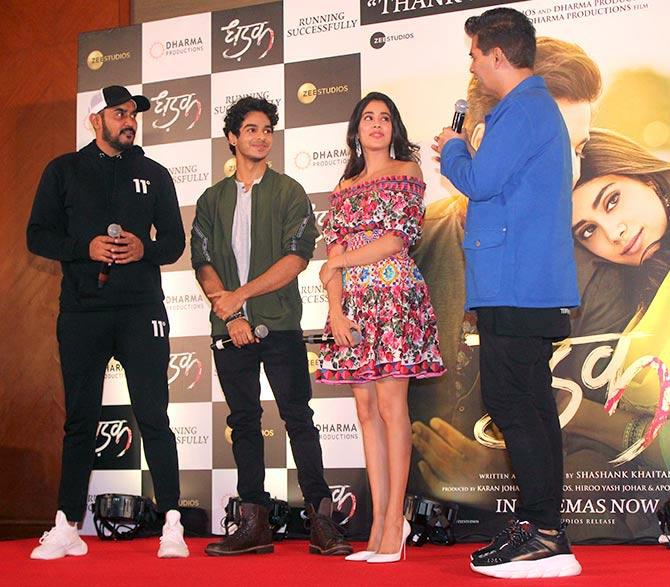 Her co-star Ishaan Khatter is beaming too.
Director Shashank Khaitan and Producer Karan Johar stand protectively on both sides of the young actors.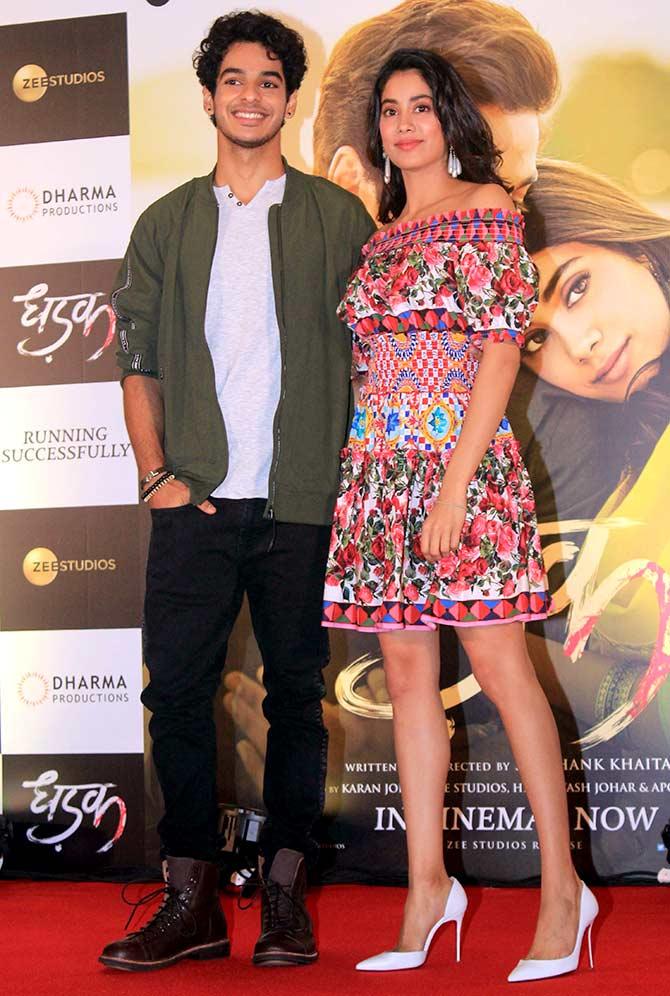 Janhvi says she has read everything that has been written about her, whether it's good or bad.
When it was good, she cheered, and when it was not, she cried in her bathroom.
When Janhvi's family watched Dhadak, there was a lot of crying and hugging, and the experience was naturally overwhelming for her.
"The climax shook everyone. They could not shake off that feeling. I have never been happier making someone else cry," Janhvi says with a smile.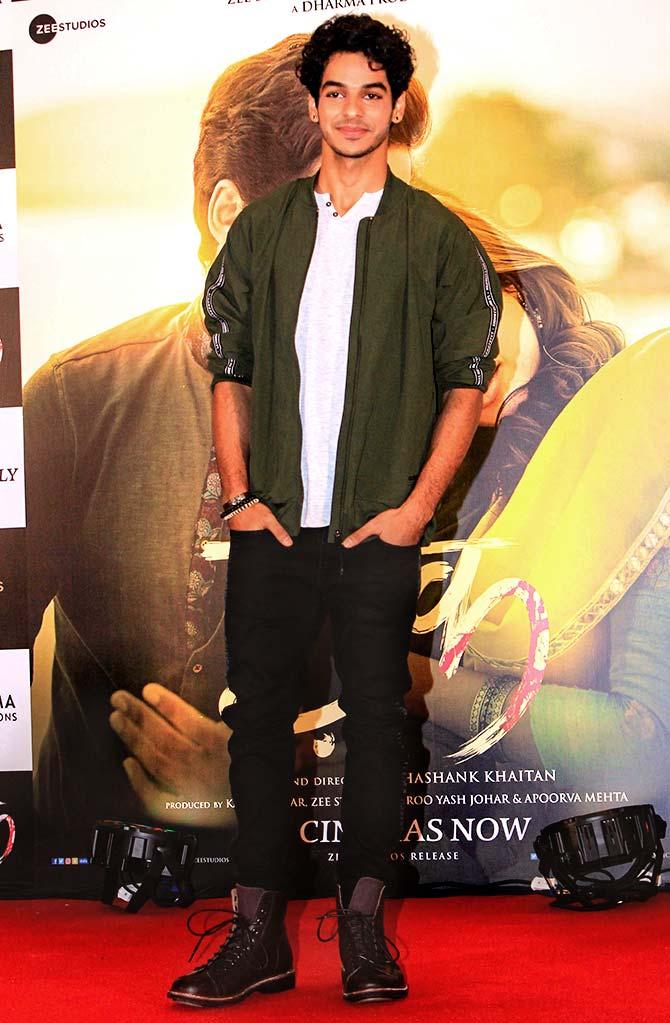 "This is a movie for a lot of people, but for us, it's an experience," Ishaan says.
"I am grateful to everybody, who gave me an opportunity to become a part of the film. These were the most wonderful 45 days of my working career so far. There was so much love on the sets."
"He is a trained classical dancer, he can sing, he can act, he is being trained under Naseeruddin Shah and now he is judging a reality show. So he is the next Karan Johar," gushes Ishaan's mentor.
Karan ribs Shashank Khaitan and asks, "How dare you think of making Sairat?"
To that, Shashank replies, "When I saw Sairat, I knew I had to tell the story as if it was from Rajasthan. I am from Rajasthan."
There was equal amounts of love and hate for the film on social media. How did he deal with it?
"I tried to remain objective. As film-makers, we try to make creative content and put it out. It's important to respect everyone's point of view, whether it's good or bad. I have read all the reviews. When I make my next film, I will keep it in mind," says Shashank.
"I agree to some of it. I am still learning and I'm happy that people are not indifferent to it."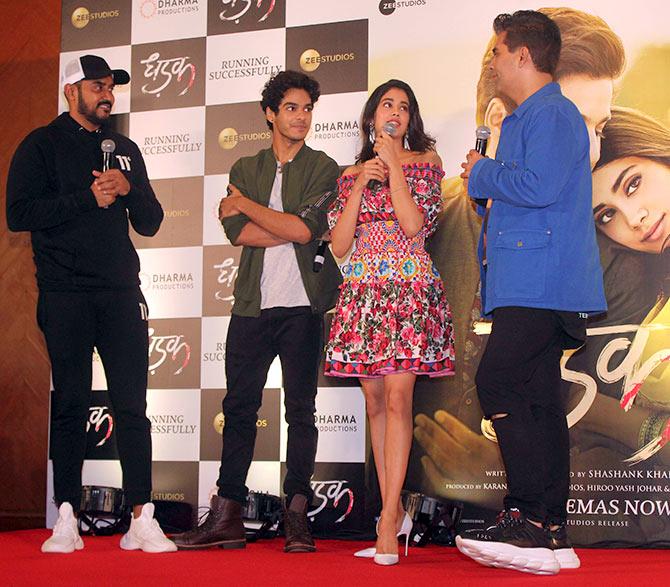 "I was sacred if Shashank would be able to do the film or not because Sairat's film-maker had caught the tone which was difficult to capture," says Karan, who loved Sairat.
But "Shashank's confidence was infectious," so he agreed to go ahead with the remake.
When he saw the first rushes of the film, Karan admits he was shaken up.
"When I left the theatre after watching the film, it took me a while to absorb the experience. I saw the film once again and that's when I realised that he had done an exceptional job," says Karan.
"He has made a new film with new characters, and this will be liked by the pan India audience. I am proud that among all the three films he has made for me, this is his best work so far," adds Karan.
"It's his strongest work as a director."
Video: Afsar Datayar. Photographs: Pradeep Bandekar