'Aryan (is special because he) was the first child, Suhana is special because she is a girl, and AbRam because he is the youngest.'
Shah Rukh Khan chats about his children, movies and Eid.
Shah Rukh Khan celebrated Eid with the media at his home, Mannat, and offered a daawat of biryani, sheer khurma and gulab jamun.
The superstar's fans thronged the gates, hoping to catch a glimpse, and he did not disappoint. Dressed in white kurta pajama, SRK and his son AbRam waved to the crowds from the balcony, much to their delight.
Shah Rukh then settled down for a chat with the media.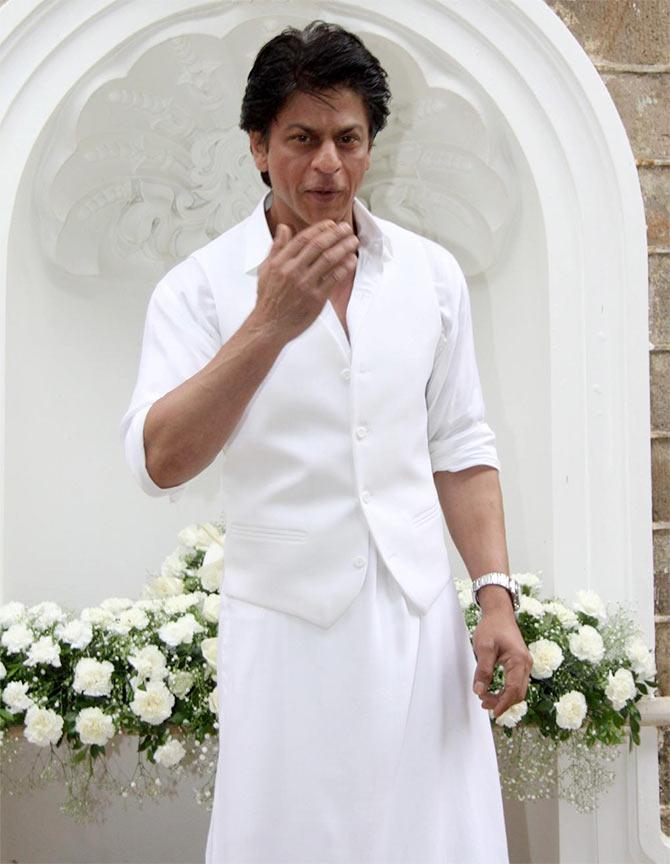 IMAGE: Shah Rukh Khan at the Eid press conference. Photograph: Pradeep Bandekar
"We don't gift anything on Eid at home. We just wear new white clothes. The boys have difficulty wearing the kurta pajama," Shah Rukh said.
Talking about his cycling rendezvous with Salman Khan, he said, "Normally, Salman and I meet at night after work. I had gone to his place at around 2:00 am and we didn't realise it was morning. He said let's go cycling, so we cycled from his house (till mine) and I sent him back in my car."
Will he exchange biryani with Salman, and the other reigning Khan, Aamir? "Yes, of course!" SRK exclaimed. "The food at Salman's place is amazing. So may be Aamir, Salman and I will fix on some place where we can mix the three biryanis and have it!"
SRK's Raees was supposed to release with Sultan on Eid but it has been pushed to January 2017. The actor said there were two reasons for that: "Salman and I have talked about it. A big film has its own level, release wise, and we don't get the theatrical release we want. So till the time we don't have at least 8,000-10,000 theatres, I don't think two big films can release together. Secondly, we are still working on Raees. I was injured, so there are portions that I still have to shoot. Hopefully, we'll come out by January 25 or 26."
SRK will move on to Imtiaz Ali's film with Anushka Sharma at the end of August. In November, he will begin Aanand L Rai's movie, where he will play a dwarf. He is also in talks with Aditya Chopra for a film. His film with Gauri Shinde is complete.
Shah Rukh's eldest son Aryan is going to film school, and the actor has taken it to himself to educate him on movies. "I have made a folder for film with films that I think are classics like Untouchables, Goodfellas, Falling Down... I am showing only English films now. I have made a list of Hindi films too, like Jaane Bhi Do Yaaro, Sholay, Do Ankhen Barah Haath, Devdas, mine and Dilip (Kumar) saab's."
He added, "To become an actor or not will be my children's decisions. For now, I want them to study. I will be equally happy if they become an actor or engineer."
He describes his children: "Aryan (is special because he) was the first child, Suhana is special because she is a girl, and AbRam because he is the youngest. I have a dude child, a pretty girl and a little gangster."
Shah Rukh also shared his fitness mantra: "I eat less, exercise for 30 minutes, and don't eat in between meals. I try to sleep for five or six hours. I have to be fit because I have three young kids and I want to play football with AbRam too."
Aamir had recently said that Shah Rukh and Salman are bigger stars than him. "I feel they are bigger stars than me as well. If you ask Salman, he will say the same. It's out of respect, and we know each other for almost 25 years. The day I stepped into their houses and lives, they've been very kind," he said.
Photograph: Pradeep Bandekar