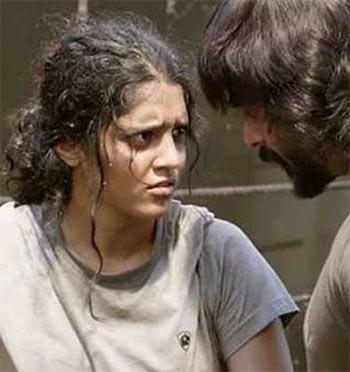 'There is a deep sense of satisfaction in knowing that you know how to do your job and can go on to the next film with confidence.'

Irudhi Suttru director Sudha Kongara discusses her film's success.
Saala Khadoos may not have worked but its Tamil version -- Irudhi Suttru -- is a huge hit, commercially and critically.
Leading Tamil directors like Mani Ratnam, Shankar and Bala have praised director Sudha Kongara for her efforts.
Staring R Madhavan and real-life boxer Ritika Singh, the film is a sports drama that delves into the complex relationship between a coach and his student.
In this interview with Rediff.com contributor S Saraswathi, the director talks about the struggle she went through for the film, and its amazing results.
How does it feel to be praised by the industry's top directors?
I feel absolute relief and a kind of vindication.
Everyone has responded so beautifully to the film that I feel grateful.
Bala sir called me several times to talk about the tremendous reach of the film, while Mani Ratnam sir is supremely delighted with the commercial success of the film.
There is a deep sense of satisfaction in knowing that you know how to do your job and can go on to the next film with confidence.
What sparked this concept of women boxing in India?
After my last film Drohi, I looked back at the stories I had thought of earlier.
I have this huge dossier on sports that I had collected over 10 years. Every human interest story has been cut out and filed away. One of the articles was about little girls -- aged seven or eight -- in Royapuram, primarily a fisherman community area in Chennai, being sent for boxing by their parents.
I wondered what motivated these girls, especially since this area was known to be quite conservative. What I learnt was truly heartrending.
These girls were all looking for a better life. They did not want to be married at the age of 16 or 17 to a person, who is a drunkard like their fathers.
Boxing offers them a way to get out of the morass that they are trapped in. All it requires is a pair of boxing gloves worth Rs 250. Getting into other games was beyond their means.
I was deeply affected by these girls, who were literally fighting their way through for a better life. Irudhi Suttru narrates the story of one such boxer.
What kind of research was involved?
I spent more than two years on research. I watched old films on boxing, studied about professional and amateur boxing, and interviewed boxers from Chennai, Trivandrum, Haryana, Hisar and some of the north-east boxers as well.
In fact, I had spoken to Mary Kom on the phone. I also learnt about the politics of this game, its powerful associations and the favours these young boxers had to dole out to get through each level.
These stories became my scenes, the backbone of my film.
How confident were you that your hard work would pay off?
You can never predict success. You can never predict another person liking what you are doing. But if you are an interesting storyteller and if you strike the right chord, perhaps you will be understood. This was a story I strongly believed in, and I felt it needed to be told.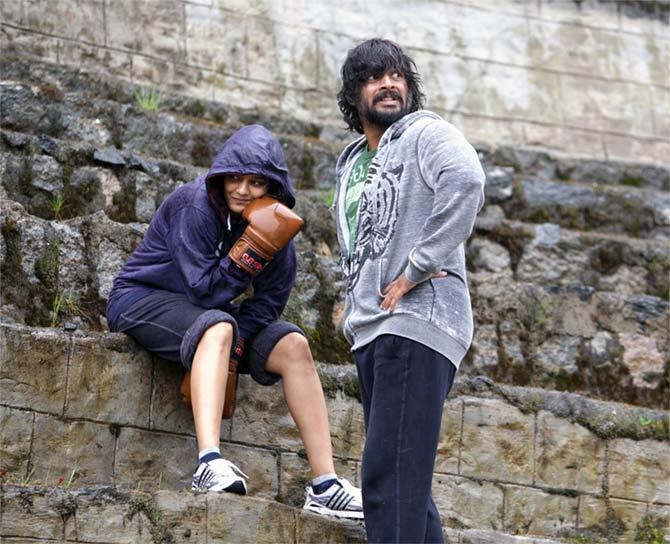 Image: Ritika Singh and R Madhavan in Irudhi Suttru
Was it a struggle finding a producer for the project?
Absolutely, but I was not alone in the struggle. There was Maddy (Madhavan) as well. I felt he would be terrific for the role and had approached him. He came on board soon after he heard the script in 2011.

We saw it like a fantastic script but nobody else saw it that way. Finally, after meeting several producers, we managed to get Sashikanth.
Later, the struggle was to get a Hindi producer as Maddy insisted on a Hindi version of the film, as he felt it was a pan-Indian subject.
Eventually, Sashi decided to produce it in Hindi as well..
What was Rajkumar Hirani's contribution to the film?
Maddy was thinking of producing the film himself, but was scared as this would be his first production venture. He narrated the script to his close friend, Rajkumar Hirani, who absolutely loved the idea. It was his feedback that encouraged Maddy to produce the film in Hindi.
Rajuji later helped us find a Hindi writer. He also sat with me on the script for a week, while we honed the dialogues and screenplay. It was only last February when I showed him the first cut of the Hindi version that Rajuji came on board as producer.
How has the response been for the Hindi version?
The film opened poorly, but then it was released in very few theatres. It did pick up later in the week, but not as well as expected. But since it is such a tiny budget, I don't think they have lost any money. The Tamil version has overtaken the Hindi in a major way.
What were the difficulties of turning a real-life boxer into an actor?
That wasn't too difficult. It is like having a child actor in your film, and they are the easiest to mould. They just need to be told what to do and instinctively they feel in that scene, they do not act.
I did work with her on the language, so she could memorise the dialogues. But Ritika had absolutely no camera fear. She was almost like her character in the film, so she could relate to it.
Image: Director Sudha Kongara,

Mumtaz Sorcar

, Rajkumar Hirani, Madhavan and Ritika Singh
What were the challenges you faced during the making of the film?
All my actors were boxers, be it Ritika or her opponents. Even Mumtaz, who plays Lux in the film, is a boxer.
Tom Delmar, our action choreographer from the UK, instructed the girls on exactly what to do during each of the boxing rounds that lasted two minutes.
So when the camera rolled, the girls would actually be aggressively punching each other. It was complete contact. I could not afford to lose all that spontaneity or ask for another take.
Everybody in the unit needed to be on high alert. We worked with two cameras for the stunts. It would have been very difficult to recreate it and recapture it from a different angle.
Has director Mani Ratnam influenced your style of directing?
I think direction per se is your voice, your style. But there are a million things that he has influenced me in. He has been my master, my teacher, my guru and he is the best in the world, as far as I am concerned.
He taught me to strive for perfection. He has taught me focus. Everything that I know technically, I have learnt by observing him.
Do we have to wait another six years for your next film?
I hope not. I already have plans for my next two films and God willing, everything will fall into place and I will not have to struggle like I did.
After the success of this film, I have at least earned the right to be given a chance to explain my vision. For this, I am thankful to the audience.
It was truly vindicating because we couldn't even get ourselves enough theatres to start with. But now, we are into the fourth week, and still going strong.