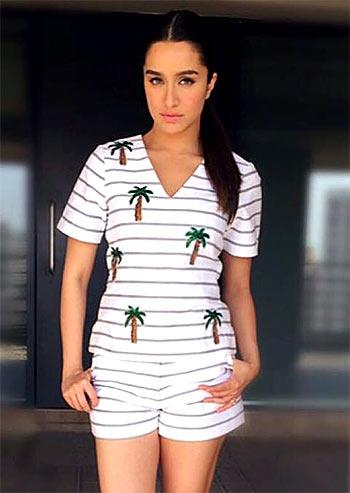 'There have been so many instances where I have auditioned for a film and been finalised, and even cut a cake (to celebrate) but then I got a call saying sorry, that the role went to someone else.'
'It's a very cutthroat industry. When your film becomes a hit, they come to you but when it doesn't do well, nobody comes.'
Baaghi actress Shraddha Kapoor gives us an insight into her life.
Shraddha Kapoor is all set for action in her new film, Baaghi, co-starring Tiger Shroff.
While she praises her co-star a lot, she stop short of calling him her crush, like he did. Her crush, she tells us, is someone else!
Shraddha discusses her movies, her life and her crush in this interview with Jahnavi Patel/ Rediff.com.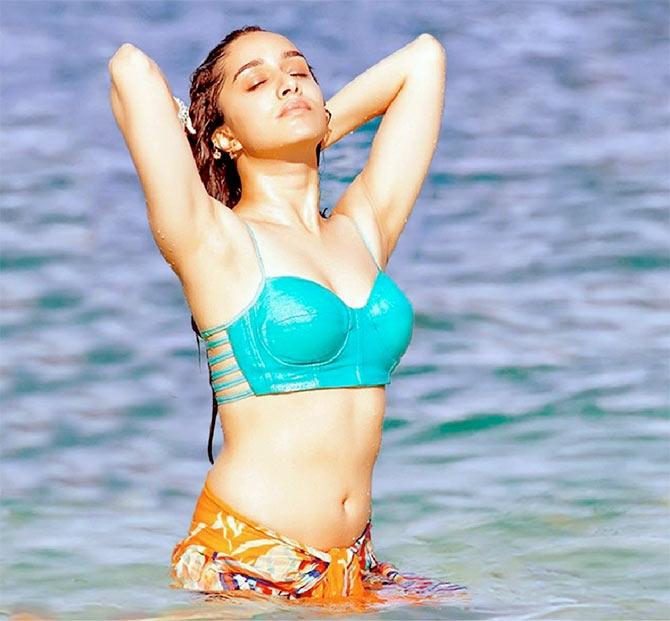 IMAGE: Shraddha Kapoor in Baaghi
We have never seen you do action before. Were you skeptical before signing Baaghi, considering it also stars action expert Tiger Shroff?
It's Tiger Shroff all the way, there's no comparison.
I have done very little action but yes, it's the first time for me.
I had very little time to train for the film. Also, I did not have to train as much as Tiger; he's doing a crazy advanced level of action.
I learnt the basic blocks, kicks and punches.
Was it difficult to match up to his fitness level?
You can't compare. Nobody can do what he does. He is unique for our industry. There has been no actor who can do this level of action.
Tiger is excellent at dance as well. Was it difficult for you to match steps, even though you've done a dance-based film, ABCD 2?
Of course, it was extremely challenging.
I tried my best to match steps with him.
In ABCD 2, Remo sir (Remo D'Souza, director) taught me the 'ABC' of dance, and that is something I will always hold close to my heart. He will always be my guru.
But there cannot be any comparison to the things Tiger can do and his flexibility.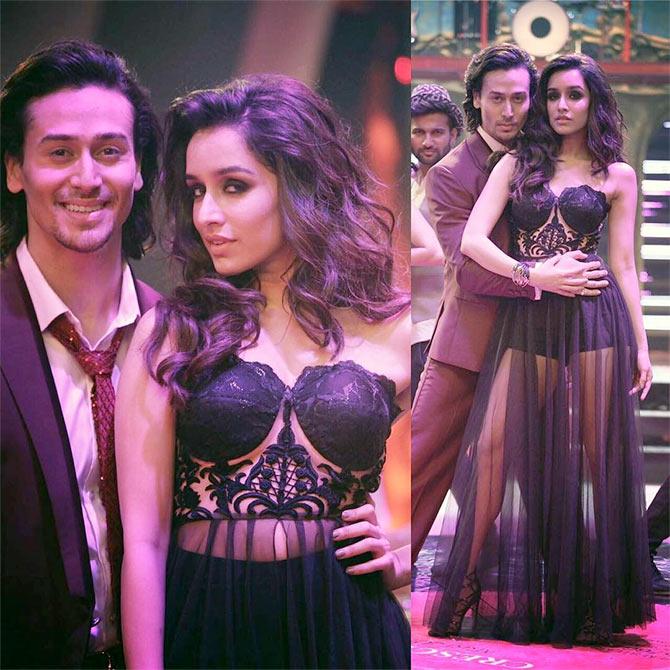 IMAGE: Tiger Shroff and Shraddha Kapoor in Baaghi
Tiger told us that he had a crush on you. How was your equation with him while filming Baaghi?
I don't read magazines really but one day, I happened to flip through one and read about it.
We have known each other since school and it's nice to work with somebody you have known, you can easily communicate with that person. There's a comfort level.
Who was your first crush?
Hrithik Roshan. I think I'll have a crush on him forever.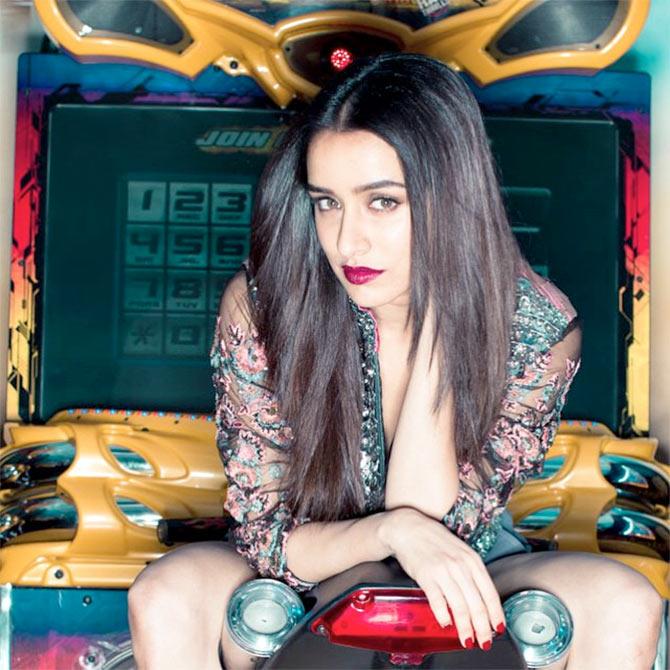 IMAGE: Shraddha Kapoor. Photograph: Shraddha Kapoor/Instagram
Do you think the industry is obsessed with their bodies?
In today's times, actors prepare more. They are fitter and toned.
If you're a good actor, it's not necessary to be fit or a size zero because if you're good at what you do, you will find your audience.
Do you think it is easy for star kids in this industry?
When I auditioned for my first film (Teen Patti), people did not know I was Shakti Kapoor's daughter.
Not too many have seen the film. Some even think Aashiqui 2 was my first film.
My dad has never asked anyone to cast me.
There have been so many instances where I have auditioned for a film and been finalised, and even cut a cake (to celebrate) but then I got a call saying sorry, that the role went to someone else.
It's a very cutthroat industry. When your film becomes a hit, they come to you but when it doesn't do well, nobody comes.
There's a lot of hard work in filmmaking, and in being an actor. With each role, there are different demands you have to keep up to. It's very difficult.
I feel nervous and scared everyday but I'm excited to try something new and push myself more.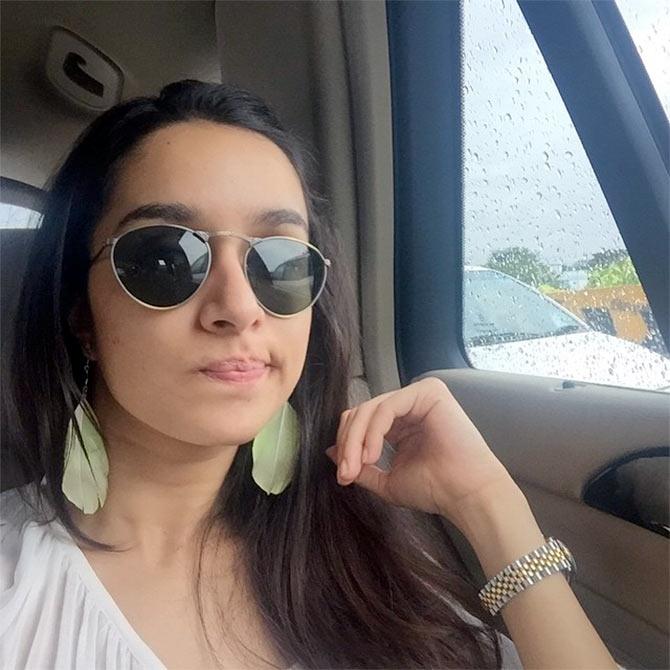 IMAGE: Shraddha Kapoor. Photograph: Shraddha Kapoor/Instagram
Being an actor, you have to be presentable always. Does that bother you?
There's no rule that we have to be presentable always. When you're promoting the film, yes, but I'll still wear what I feel like.
Why don't we see more of you at award functions or filmi parties?
It's because I'm shooting back to back.
I've been working on Baaghi, Rock On!! 2, and now I've started on Ok Jaanu. After I finish that, I will start on Half Girlfriend.
Does it then get difficult to transform from one character to the other?
It is very challenging. For instance, I was shooting for Ek Villain and Haider at the same time and to switch between characters becomes difficult.
But that's the challenge for an actor, right?
The key is to try to keep up with it.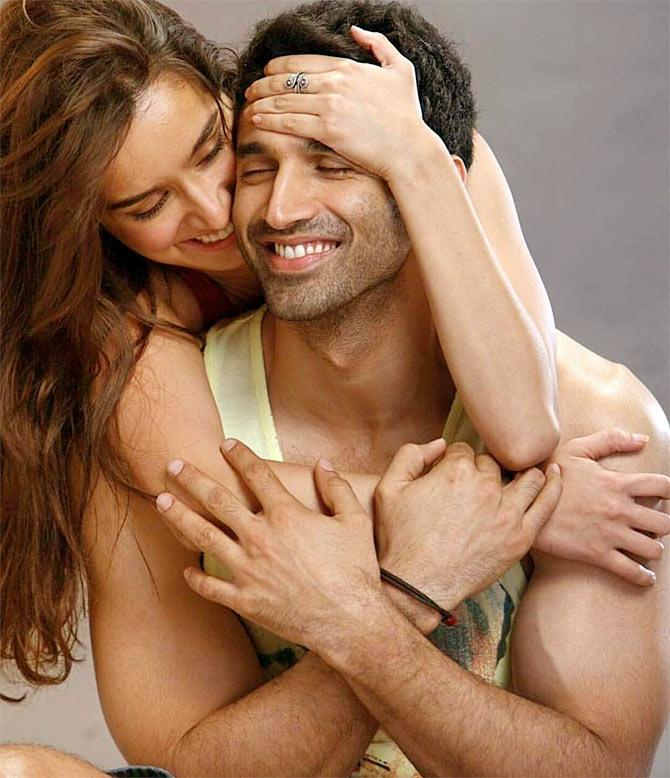 IMAGE: Shraddha Kapoor and Aditya Roy Kapur. Photograph: Shraddha Kapoor/Instagram
Who are your closest friends from the industry?
Varun (Dhawan), Mohit (Suri, Aashiqui 2 director), Aditya (Roy Kapur) are closest friends.
Whom would you like to work with?
Ranbir (Kapoor) and Ranveer (Singh) because they are fantastic actors. I admire their work. I have admired Ranbir's work from his first film (Saawariya).
I'd like to do a Sanjay Leela Bhansali film as well.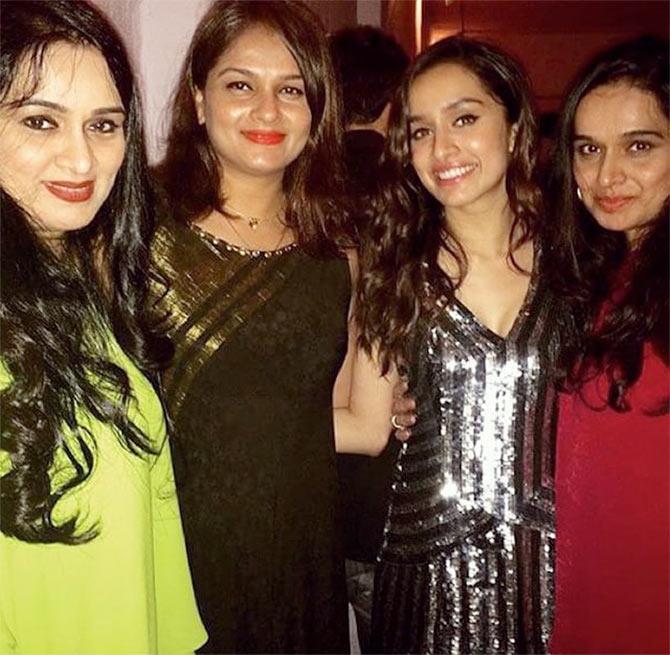 IMAGE: Shraddha with her aunts Padmini and Tejaswani Kolhapure, and mother Shivani. Photograph: Padmini Kolhapure/Instagram
How do you unwind?
My world is consumed with films right now. I wake up in the mornings, work out, promote my film, pack up, go home, have dinner and sleep.
If I'm shooting, I wake up, work out, shoot, come home and sleep. That's my life.
When I get free time, the first thing I do is spend it with my family or friends or watch a movie.
I play the piano when I can.
In an interview, your father had said that you spend a lot of money!
(laughs) My father manages everything. I love shopping!
He also said that you once bought a pair of sandals that you already have. How true is that?
I think it is true. (laughs loudly)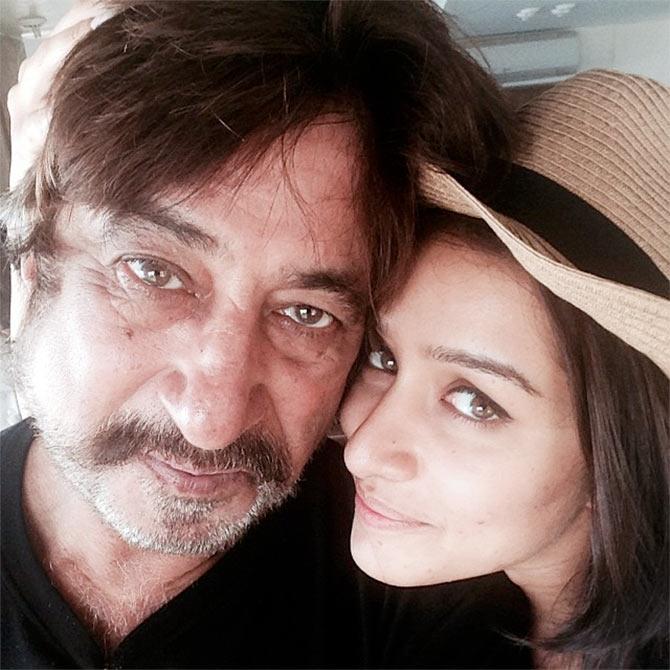 IMAGE: Shakti Kapoor and Shraddha Kapoor. Photograph: Shraddha Kapoor/Instagram
You are very active on Instagram, and even post pictures of yourself wearing no makeup.
My friends keep telling me that you're an actress, you should think about how you're dressed. They care about me and that's why they say this but I am who I am and I want to be myself.
I am not a fashionista, so I won't even try to be one.
I like posting pictures with my dog, my family... so I will do that.
A travel destination on your wishlist?
New York! I have already been there but I want to go again.
I love it; you can get lost in there!
The energy of New York is like Bombay.