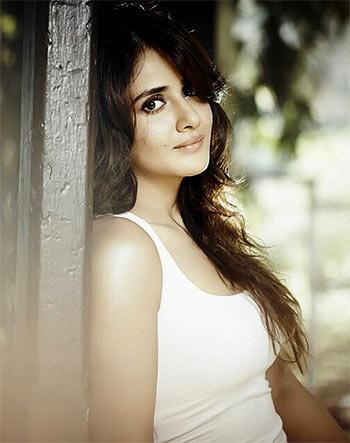 After the blockbuster Bachchan, Parul Yadav will be seen in a Yograj Bhat film for the first time.
She talks to Praveen Sundaram/Rediff.com about working with Yograj Bhat in Vaastu Prakaara and her forthcoming projects.
This is your first film with Yograj Bhat. What were you expecting when you signed the film?
I consider myself to be an actor more than a heroine.
I've always wanted to work with Yograj Bhat because he makes very sensible yet very commercial movies.
He strikes a fine balance.
I met him for a cup of coffee before I signed Vaastu Prakaara. He told me he would call me if he had a strong character for me.
He said I had a strong personality and he did not want to cast me in any mundane character.
Two months later, I got a call from his office. He gave me a narration of my character and I was more than happy to play it.
Yograj Bhat is filming abroad for the first time. His scripts are usually rooted in Karnataka.
That is only because he misses his idlis!
He even took a cook from India to make idlis for us.
The script demanded a foreign location. We did not go abroad just for glamour or opulence sake. The foreign locale is an integral part of this script.
Where did you shoot?
In Bangalore and Switzerland.
What did you think of the filming experience?
Yograj Bhat doesn't plan things; he is very unpredictable.
I once asked for the dialogues one day in advance so that I could work on them.
He laughed and told me that he would give me everything on the spot because he wrote the dialogues only when the camera was fixed.
He would ask me to go in front of the camera and then explain the scene and the dialogues.
What is the film about?
It is about two people who are jobless and they use vaastu to mint money, even though they know little about vaastu.
Even in real life, one or two people know the science of vaastu correctly; the rest just make money out of it by saying whatever they like.
Changing your sofas or furniture is not going to bring you peace; it is all in your heart.
I am an interior designer myself and a lot of people have told me crazy things about vaastu that can make your house look like a mess.
What about your character in the film?
I play a fiery, brilliant lawyer and the kind of feminist who thinks that she is above men.
She is in a constant battle with Jaggesh and Rakshit. She has piled up over 60 cases against Jaggesh.
She hates him because of a particular incident that occurred.
I don't like the character personally because people are going to hate me for it.
She keeps on fighting, is abusive and very dominating, which is so unlike me.
What about your other films, Uppi 2 with Upendra and another film with K M Chaitanya?
Uppi 2, as we all know, is a very big franchise. When it was announced that I was doing Uppi 2, people came up to me at traffic signals to ask when it would release!
That is the kind of craze people have about an Upendra film.
I play a drummer. It's an offbeat film.
I cannot explain it verbally. Uppi Sir himself could not explain it.
He told me that it is very different and that he cannot give me a narration but can only brief me about my character.
What about K M Chaitanya's Aaatagaara?
I cannot talk much about it right now. All I can say is that it will have a Hollywood approach and that it is not regular cinema.
There are no hero-heroines in the movie. There are basically 10 characters of equal importance; may be three or four of them are more important.
No romantic songs and it is a very socially relevant film.
What kind of projects are you looking forward to in the future?
I want to do every genre of movies, driven purely by my passion for good cinema and good roles.
I don't want to do movies just to pay my bills.