'The difference in working with Randeep Hooda is that he is a powerhouse of talent without the frills and fancies of a superstar.'
'The kissing scene in Do Lafzon Ki Kahani was pre-scripted; nothing is spontaneous. We are all professional actors, nothing can happen spontaneously. Nobody gets carried away.'
'I don't believe language is a barrier. I have acted in many languages. It's all about expressing and emoting.'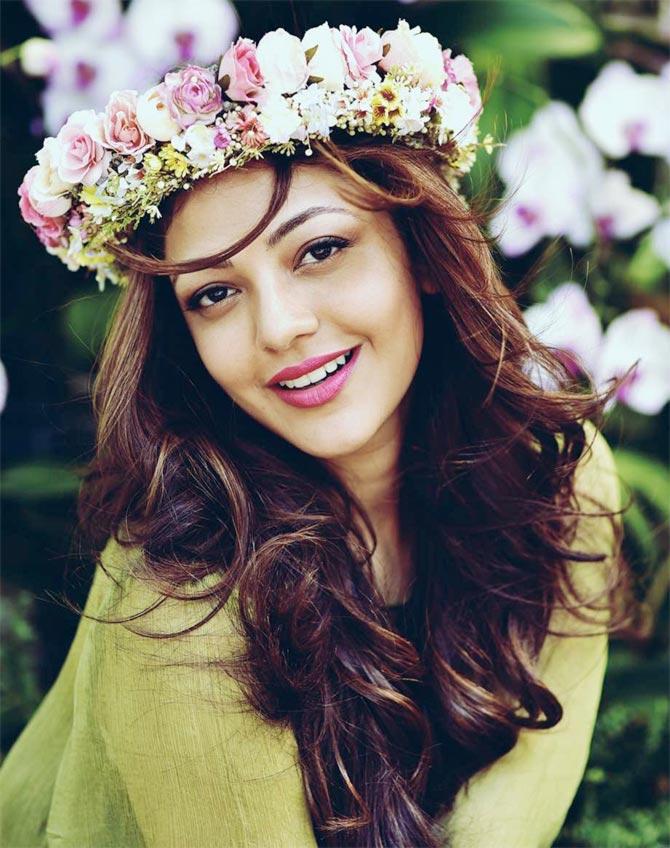 IMAGE: Kajal Aggarwal/Instagram
Kajal Aggarwal is clearly a passionate young lady. And she is most passionate about what she calls "good cinema".
She is also extremely loyal to southern cinema, which has given her an identity. This is why, though her family lives in Mumbai, she won't rush into the arms of a Hindi film.
But the Singham girl, who was last seen in Special 26, has been lured by Do Lafzon Ki Kahani, which co-stars the talented Randeep Hooda playing a martial arts fighter who falls in love with her character, a visually impaired girl.
In this rather interesting conversation, Rediff.com contributor Rajul Hedge discovers the level headed girl behind the pretty face.
How much time do you get to spend with your family in Mumbai?
I used to do about six films a year, so I would barely come to Mumbai. In fact, I would be here for just three days in year -- for Diwali, my birthday and New Year.
Now I am balancing it out. I get a lot more time at home because I am doing a Hindi film (smiles).
Is it a conscious decision to do a Hindi film once in two years?
(Laughs) No. Strangely, it has panned out that way. I would like to do a lot more films but I don't want to do a Hindi film just for the sake of it.
I am doing fabulous films down south. I want to associate with good cinema. That is my primary concern.
I have been offered Hindi films before which did not take my fancy. When something does, here I am.
You are playing visually impaired girl in Do Lafzon Ki Kahani. How did you prepare for this role? Did you meet a visually impaired person?
This is the first time that I am playing a visually impaired person on screen. It is very important to be convincing when you have the responsibility of portraying something so real.
I worked pretty hard on myself for this particular film. I interacted with lot of people at the XRCVC (Resource Centre for the Visually Challenged) at St Xavier's, Mumbai.
There is this kind, gentle man called Dr Sam who has been visually impaired from birth. He is the most positive, radiant and happiest person I have ever met. It was so wonderful interacting with him.
I learnt a lot about people who are visually impaired. They hate self-pity. They taught me basic Braille, made me familiar with the equipment they use like special computers, audio machines, microwaves, watches and mobile phones. I have used one or two of these gadgets in the film.
They have their own way of dealing with things. While pouring water into a glass, they check with one finger so as not to spill the water.
These are commonsense things we don't even think about because we don't need to.
I realised the importance of these basic things from them and have used it in the film.
What are the challenges you faced while playing a visually impaired character?
To not make it a cliche and keep it as real and as believable as possible. It is very hard for some one who can see to convince someone that you cannot see.
It's natural instinct for you to look at a person when he or she calls your name.
We have a tendency to use our eyes for various reactions. I had to control my eye movements.
Throughout the film, I looked with both my eyes on either side.
DLKK was draining emotionally as it is an intense, challenging film.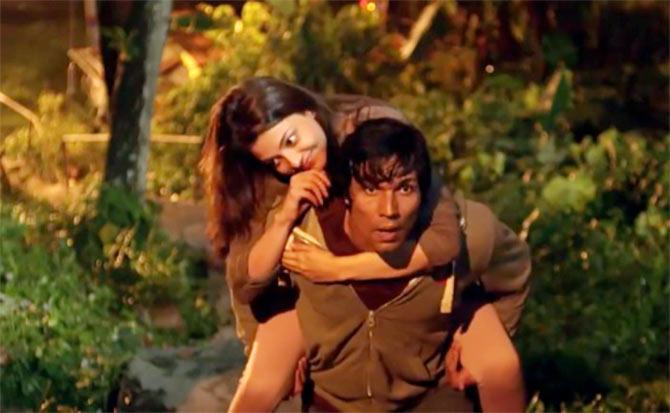 IMAGE: Kajal Aggarwal and Randeep Hooda in Do Lafzon Ki Kahani
DLKK is inspired from a Korean film, Always. Did you watch it?
Of course, that is why I said yes to this film.
When I was offered DLKK, I watched Always because I wanted to know the story. I was sobbing through out the movie. I loved it.
I decided I am going to leave everything else and first focus on this film. But DLKK has been modified to suit the Indian sensibility.
How do you plan your career in both the south and in Hindi films?
That's where the bummer is. If I am doing four films a year, two each in Telugu and Tamil, then I don't have time for anything else.
Since I was doing DLKK, I had to let go lot of films in the south. There is this constant battle of dissatisfaction I have to learn to deal with.
I am a very greedy person; I want it all and that becomes hard. Then you've got to do what you want to do. So I end up choosing the best, in my opinion, from everything that I am offered.
Do you choose films depending on which industry is making the film?
No, it's primarily based on the script and the scope for the performance. I just want to improve and become a better actor.
I don't believe language is a barrier. I have acted in many languages. It's all about expressing and emoting.
I have been doing Telugu and Tamil films for a very long time so, of course, my loyalty lies there.
You have worked with big actors like Ajay Devgan and Akshay Kumar in your earlier films and with big superstars in the south. What was the difference working with an actor like Randeep Hooda who is appreciated for his acting skills?
The difference with senior actors is that they were never my buddies. You can't go and say 'Hey, wassup!' They might look at me and wonder if I am mad!
But, with Randeep, it was easy; he was so chilled out. It was like being with a college friend who you hang out with and do normal things. I was so comfortable.
I am so glad that I did a love story with an actor like Randeep. He is so good at what he does. It raises the bar for everybody when you have a superior actor on the set.
The difference in working with him is that he is a powerhouse of talent without the frills and fancies of a superstar.
There was some buzz that Randeep got emotionally charged while enacting a scene and ending up locking with lips with you, which you were uncomfortable with?
I am not comfortable kissing onscreen. But it was genuinely important in this film because my character can't see her lover. She can express her love only through touch and feel.
I was little uncomfortable initially, but I understood the relevance of the scene and agreed to do it.
The kissing scene was pre-scripted, nothing is spontaneous. We are all professional actors, nothing can happen spontaneously. Nobody gets carried away. We are not having fun, we were shooting and it was scripted.
Did you watch his latest release, Sarbjit?
I loved Sarbjit; I think he killed it. He really pushes his limits, his own potential, time and again. He is very inspiring to work with.
IMAGE: Kajal Aggarwal and Surya in Maattrraan
You have worked with many big stars in the south. Can you recall any interesting incidents?
In the south, you have a loyal fan following. If they follow one particular star, they will love him/her for the rest of their life, no matter how many of their movies flop. There is lot of apnapan. And I am very grateful for that.
In Hindi, a favourite actor film bombs at box office and then we instantly react and move on.
I consider myself lucky because I am accepted (in the south). I am not even a south girl. To be accepted in a different place is a huge blessing. I give respect and preference to all of that.
Go on…
We were shooting in Norway, in middle of some valley, with actor Surya for a Tamil film. We'd been out of the country for two months. And Surya's fan landed up there with some amazing idlis.
I was so happy to see Indian food, especially when you are away and are craving for home. They were the yummiest and most divine idlis I have ever eaten in my life. Trust me, I have eaten lot of idlis.
The biggest frenzy I have ever witnessed was with actor Pawan Kalyan during the Sardaar Gabbar Singh audio function.
In the south, audio functions are treated bigger than the premiere of a film. There were about 50-75,000 people at the event. Though the event was well organised in Hyderabad, I felt I was going to die in a stampede. It was like a political rally.
I was overwhelmed and got goose bumps. His fans are insane but he deserves the amount of love, respect and the adulation they have for him.
This is the difference between south and here.
Do you have a wishlist of actors you want to work with?
I have worked with almost all the big actors in the south. I want to work with Rajni Sir (Rajinikanth).
In Bollywood, I want to work with Salman Khan.
You have done a wide range of character in your 46 films. So which role is special to you?
This is the first time I am playing such an intense character on screen. Even in my films in the south, I have done good roles but nothing which stays with me after the shoot is over.
I have done everything differently for this film, so this is special for me regardless of how it is accepted after its release.
There is another film called Mr Perfect in Telugu; I liked myself in that film.
Also, Thuppakki; that's an original film which is why I like it.
I am critical about my work; I don't like myself too easily.
What's in the pipeline?
I m doing two Tamil films now, one with Vikram and one with Jeeva.
I will start one Telugu political drama with Rana Daggubati soon. For the first time, I will be playing a politically-driven character.