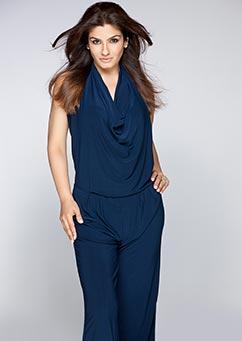 Raveena Tandon turned 40 on October 26 but chose not to celebrate it in a big way.
"My tauji (father's elder brother) passed away," Raveena explains. "There was no pressure as such to not celebrate my birthday lekin dil hi nahin kiya (but my mind was not in it). I was very close to him. We just brought in my birthday with a quiet family dinner, with my husband and children and close friends. The taash (cards) party that was on since Diwali continued through my birthday."
40, she says, is just a number. "And a very attractive one at that! I don't know if life begins at 40 but I feel I have many things to do."
Raveena recently shot 13 episodes of her talk show Simply Baatein With Raveena in five days.
"I don't know how I did it!" she exclaims. "I was out of the country. I came back to a schedule of Onir's film. I pushed it forward by a few days and shot all 13 episodes of my talk show in just five days. It was madness!"
Raveena feels she has the best life she could hope for. "I have a perfect husband and two gorgeous children. I couldn't have asked for anyone better than my husband Anil. He's supportive, but not blindly. He has his own point of view on everything and does not mind expressing it. He's from the film industry and knows what I am all about. He isn't very demonstrative whereas I like to make my feelings crystal clear. With Anil, I feel I have come home. I feel can put my feet up and relax, knowing that he will take care of everything."
Since Raveena is in talk show mode, we decided to do a rapid fire on her life.
The most important event of her life? "When I met Anil Thadani. My life has always been a rollercoaster. Anil was a blessing. He saw me through crisis. He gave me the strength to fight."
The best films of her career so far? "Shool, Aks and Satta. My husband Anil has seen my films but we have never discussed my performances. He did mention once that I was very good in Satta."
The most important songs in her career? "Tu cheez badi hai mast-mast and Tip tip barsa paani. I still have boys coming up to tell me that Tip tip was the song that helped them go from adolescence to maturity. I don't want to probe into what they mean but I take it as a compliment."