'If the film becomes a hit within Friday, Saturday and Sunday, I am relieved.'
'But by Monday, I need to come back to earth.'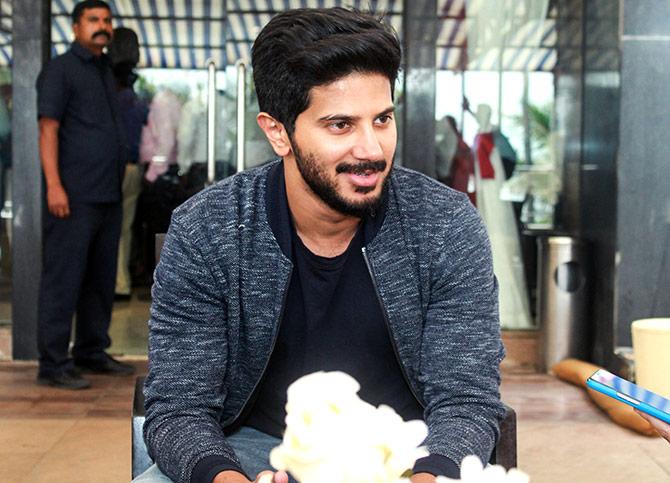 Dulquer Salmaan has no star airs about him.
The actor, who will debut in Bollywood with Karwaan this week, chats with the Mumbai media, and poses for numerous selfies and boomerangs with them.
In fact, he never says no to anyone, and even makes multiple pictures with each journalist just to get the perfect shot.
What keeps him so grounded?
"You are only as good as your last Friday," he explains to Rediff.comPatcy N.
Why is your last name 'Salmaan'?
My father (Malayalam movie legend Mammootty) was very clear, even in school, that I should not have his last name. I should not be entitled just because I am his son.
'Dulquer' and 'Salmaan' are derived from names of two warriors my dad studied in Islamic history. He liked the names and joined them for my name.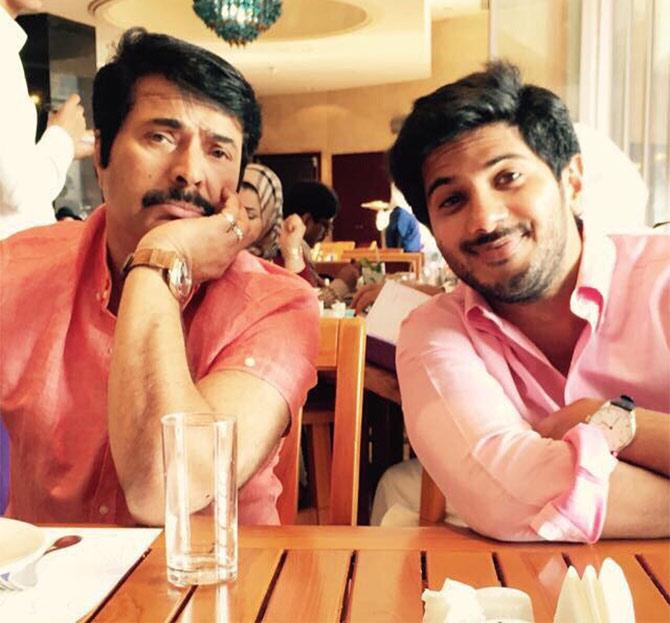 Karwaan isn't the first Hindi movie that was offered to you, right?
I have had offers in the past.
I wasn't looking to debut in Bollywood. I just wanted to do something I could connect with, something that would resonate with me and my sensibilities.
Making a debut here is not something I actively thought about or planned. That goes for my Tamil and Telugu debuts too.
I feel that with every film that you do, more and more doors open up.
Some of my Malayalam films got the attention of Tamil film-makers.
I am sure Mani (Mani Ratnam) sir's film O Kadhal Kanmani got the attention of film-makers here because everybody watches his films.
I have been a part of some really amazing Malayalam movies, which have been watched by people up north. Because they have seen these movies, I have had inquires to sometimes remake my own films. But remakes is something I don't want to do.
Why are you against remakes?
I don't think I will be doing anything new.
I will be only be speaking a different language. As an actor, that's not something I would be excited about.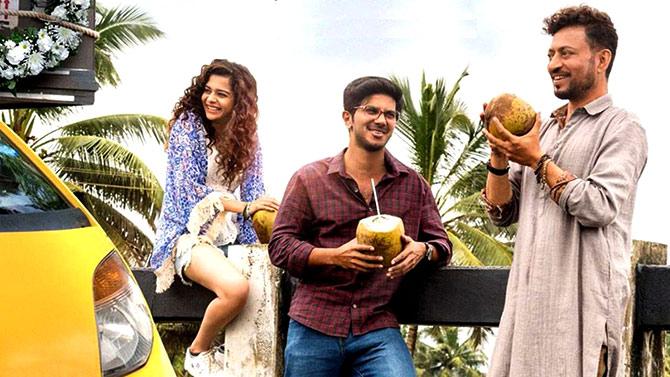 Why did Karwaan resonate with you?
It's not like there is a particular check-list or a science behind which I select movies.
When the movies work, it means my selections are good. If they don't, it means something in wrong.
Like every actor, you go with your instinct.
From a young age, I have liked realistic cinema.
I cannot connect with sci-fi; I did not connect with Star Wars or Star Trek.
I need a level of believability.
I can believe in Batman and Iron Man, but not the other superheroes.
I can believe in Jurassic Park because of the mosquito (In Jurassic Park, cloning was accomplished by extracting dinosaur DNA from mosquitoes preserved in amber) involved.
The (Karwaan) script feels very real.
If someone dear passes away, you are already going through the emotional turmoil of getting the body. And then, it turns out to be the wrong one because of a logistical mistake.
I thought the premise was very interesting.
I loved Irrfan sir's character Shaukat, my character Avinash and Mithila's character Tanya.
Shaukat is eccentric, judgmental and inappropriate, I am a happy number-cruncher IT guy and Tanya is a high school girl.
The film has heart, and the trailer is quite an honest representation of the film.
Director Akarsh Khurana said you speak excellent Hindi.
I hope so. My Hindi is better because of my schooling. It was my second language.
My college had students from everywhere, like Punjab, Gujarat, Mumbai and Delhi.
Sometimes people have a knack for languages.
I have been exposed to the language. I have watched Hindi cinema.
You have made your debut in Malayalam, Tamil, Telugu, and now, Hindi cinema.
It's a privilege to be introduced four times! I don't know how many people get that, so I genuinely feel lucky.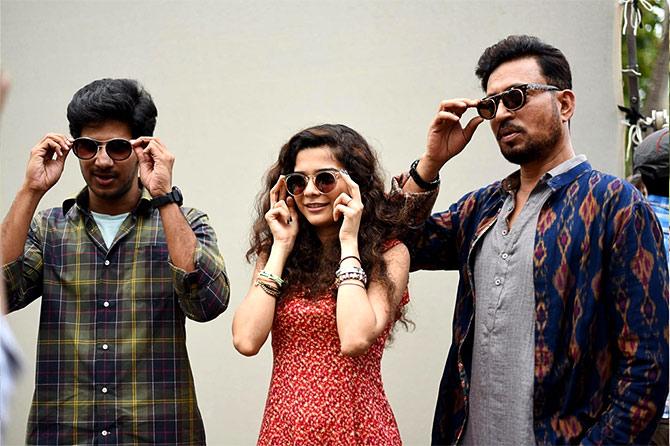 Irrfan has watched Karwaan in London where he is undergoing treatment.
He saw an version earlier in February, and then he watched the final cut. It's nice to have his take on it.
He was one of the key reasons I got on board. People like Irrfan sir and Ronnie Screwvala sir are associated with good films.
I knew that they would have done their homework and that would make my work easier.
I had always decided if I had to do a Hindi film I would do a film that everybody would watch and my role would be interesting, as opposed to me playing a lead, and nobody watching it.
Did you bond with Irrfan?
He is a warm and funny person, so curious.
He is supremely well read and well informed.
He can discuss any topic with you.
At the same time, he will want to know everything about you, whether it is Malayalam cinema, the movies that are working, politics...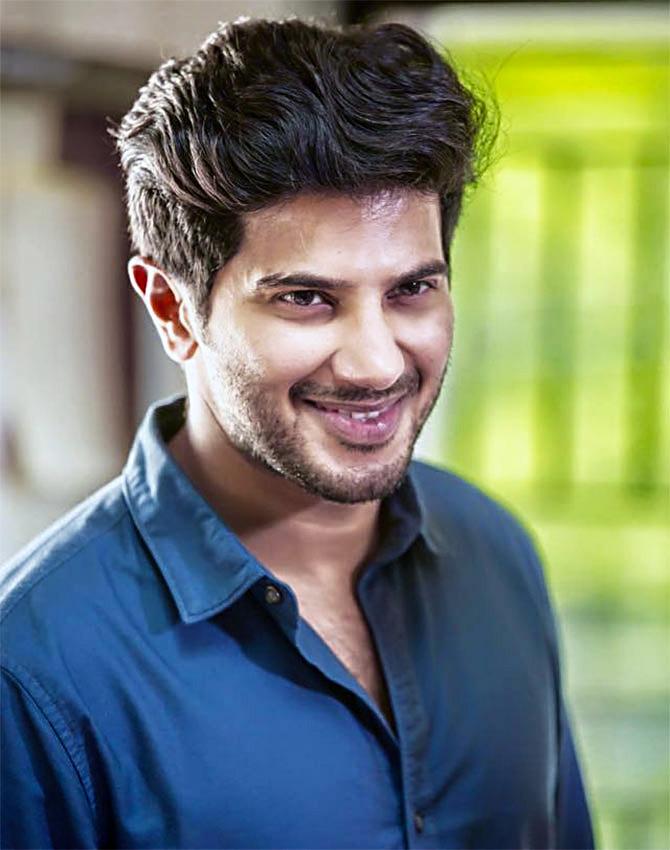 You have always maintained that you have yet to come to terms with stardom; that you're actually a movie buff, who acts and enjoys work.
What keeps you so grounded?
It is a fickle industry. You are only as good as your last Friday.
I don't want to start believing in stardom.
I don't have a guarantee that even if I churn out a bad film, it will make money -- that kind of stardom happens rarely, and over a period of time.
When you make a film, it is a team effort.
If the movie is good, everybody has worked hard towards it. That's how my performance will be considered good.
If the movie is bad, all my effort will go unnoticed.
So I think films are the hero.
How do you deal with failure?
I don't dwell on success or failure beyond Monday.
If the film becomes a hit within Friday, Saturday and Sunday, I am relieved.
But by Monday, I need to come back to earth.
I can't afford to think about a flop beyond Monday either because I have to get back to my shoots.
If I am depressed and have to perform a happy scene, then what? You cannot dwell on anything too much.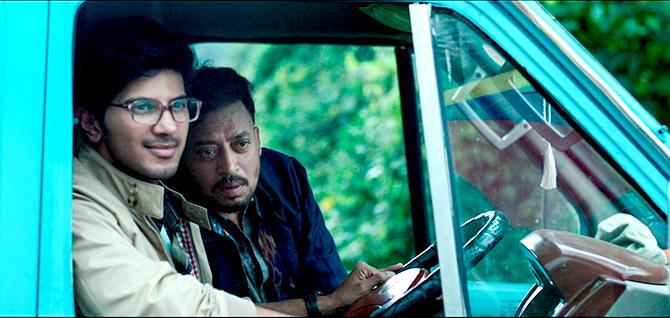 Do you like Hindi cinema?
I have been a Hindi cinema buff.
Actually, I am a movie buff, whether it is English, Hindi, Tamil or Malayalam.
If I understand it and someone recommends it to me, I will watch it.
I grew up with my mum and sister, so if my sister was excited about watching Hum Aapke Hain... Koun!, I would take her to the theatre.
If my mom likes to watch songs, I will be watching with her.
I have loved Shah Rukh's films from that time. I loved his negative films like Anjaam.
You were approached for Anurag Kashyap's Manmarziyan.
A lot of discussion happened, but every movie has its own destiny.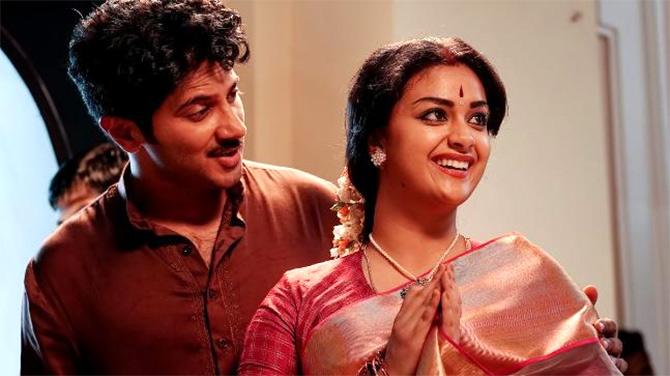 Are you open to doing a biopic?
I did a biopic recently, Mahanati, based on the life of actress Savitri. I played a small role, of Gemini Ganesan.
I will not say that I won't do a biopic.
What's crucial in a biopic is having dates for that long because you will have multiple looks. You should be in a position to give that much time.
It's tricky for me to give a lot of dates.
Now, I am juggling between multiple opportunities in different industries.
I am trying to limit it to light films, so that I can explore more.
Any plans of direction?
Yes, for sure.
I have fully fleshed-out scripts in my head, but right now, there are so many acting opportunities, I don't know if I can take time off (to direct).