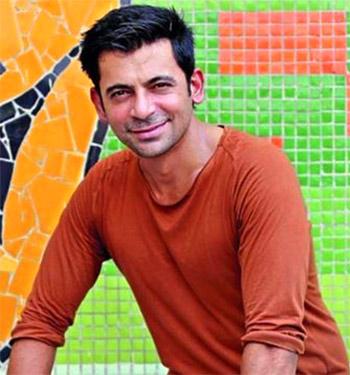 'In real life, I am not funny. I'm a boring person. If you ask me to make you laugh, it will be difficult for me.'
Sunil Grover gets refreshingly candid.
Sunil Grover made you laugh with his comedy avatars Gutthi and Dr Mashoor Gulati.
Now, he's all set to make you laugh even harder in his new film, Coffee with D, where his character is very similar to journalist Arnab Goswami.
After a five-hour wait, Sunil settles down for the interview with Rediff.com contributor Rajul Hegde.
Are nervous about playing the lead in Coffee with D?
No. I am excited because it's a funny film.
We expect to bring a smile on people's faces and if you don't watch it maata rani aapko paap degi (laughs). I play Arnab Ghosh, not Arnab Goswami. The writer has kept a similar name because it will be easier for the audiences to understand that the film is about a journalist.
The trailer has you imitating Mr Goswami.
Those are high tones that we see during the prime time slots on news channels. That's why we have kept those tones in the film.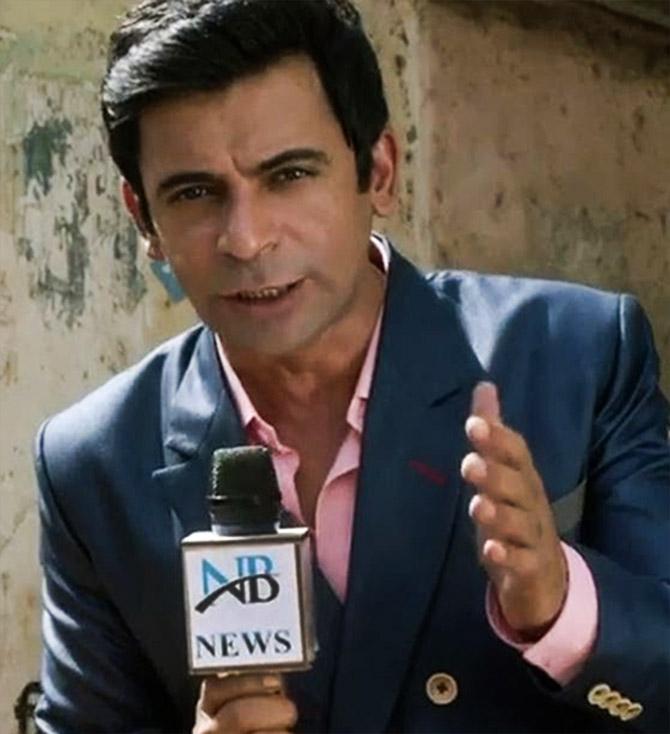 What do you think of Arnab Goswami?
He is very engaging when you watch him. He brings out topics, seriousness and has an immense amount of control. And the pitch he uses, even if you are cooking in the kitchen, you can listen to the news.
If you were a journalist in real life, whom would you like to interview?
Prime Minister Narendra Modi.
I am very fascinated by his journey. Rising from humble beginnings to the chief minister (of Gujarat) and then prime minister with his sincere and hard work is matter of pride and learning for all of us. I am amazed by his emotional strength, which enables him to push forward.
You surprised everyone with your performance in film Gabbar is Back. Do you feel your acting career has been overshadowed because of your comedy shows?
No. Till the time I can connect with the audiences, I am fine.
I was sceptical before Gabbar, as people expect humour from me. But the producers had the courage to cast me in that role.
Before that I did Zila Ghaziabad, where I played a negative role. But the film didn't do well. Only 30 people saw the film -- among them, eight were from my family and five from the producer's side.
As a drama student in college, I would do serious plays like Hamlet, Macbeth... but most of them were tragedies. My training is not of a comedian but of an actor.
I approach comedy through acting.
Seriously, I do not know how to do comedy. I just make a caricature out of a character. I make caricature out of personalities. In real life, I am not funny. I'm a boring person. If you ask me to make you laugh, it will be difficult for me.
You started your journey with television and have seen a lot of success. How much has changed?
I am still the same. Earlier, I would not be able to wear good perfume but now I have moved on to better ones (laughs).
Before I yearned to have a house and car of my own in Mumbai.
I was not that confident before. But now people have accepted me, I have gained a lot of confidence.
Doors would not open easily before but now, every door is open for me. I did not have money for coffee then but still, no one gave me a cup free. Now, I'm offered tea and coffee free of charge!
How do you handle stardom?
It took me years to reach here but I have not taken it to heart. When people clap or cheer my performance, I thank God for making me the medium to bring smiles on people's faces. Sometimes I feel it's my duty to entertain everyone.
When I went to my six-year-old son's annual function, it was embarrassing as the parents and teachers started clicking pictures with me while the students were performing on stage. The next time, I went from the back door, saw the performances quietly and left immediately.
How does your son react to the female characters you play on television?
Initially, my son wasn't comfortable with it. One day, he asked me not to do it.
I asked him why but he did not reply.
Later, I realised that some kids in the building were making fun of him because his father plays a female role.
So I took him to a mall where he saw many people taking pictures with me, shaking my hand and thanking me for making them laugh. I told him that these people are smiling because your dad becomes a girl... is that bad? After that, he understood it and is comfortable now. Sometimes he imitates my character (smiles).
The Marathi film Natrang has highlighted emotions related to gender bias and the sacrifices of an artiste for the love of his art. Have people passed any sexual comments because of the character you play on TV?
Out of 1,000, if one person makes such a comment on social media, it hardly matters. Their mindset doesn't affect me. I see the other 999 people laughing or clapping.
Sometimes, people do it to get attention because they don't know better. It shows their upbringing.
How do you look back at your journey in the industry?
I didn't know that shows like Jaspal Bhatti's Full Tension and Kya Aaap Panchavi Fail Champu Hai? would be the gateway for me to enter television.
I was popular in college because I would take part in drama competitions. But I was never popular with the girls. I had to work really hard for their attention.
Life in Mumbai has been great. You may call it a struggling period but I would call it a learning period. I remember earlier, I wasn't sure how I would pay my monthly rent and I would tell my roommate, 'We are worth lakhs of rupees but people don't know our worth.'
My roommate took it as a joke but I was serious.