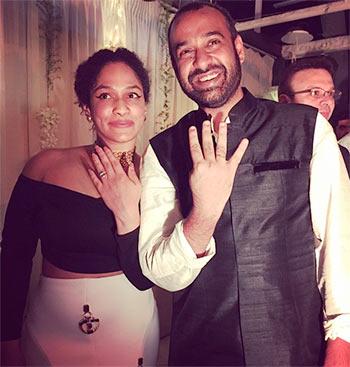 'I was told I was born out of wedlock. I didn't understand the term back then.'
'Now when I do, I wonder what the big deal was. Because my parents are celebrities, my parentage was blown out of proportion. They decided to pull my parents down. Even my birth certificate was published.'
Masaba Gupta gets ready for the next phase in her life: her wedding.
Fashion designer Masaba Gupta got married to producer Madhu Mantena on June 3 in a quiet ceremony.
Now, the duo are getting ready for an 'encore' wedding over the weekend.
This time, the shaadi will be a big fat event with their Bollywood friends in attendance.
Masaba chats with Subhash K Jha.
Why the second wedding ceremony on November 21?
Because we couldn't involve all our friends in the first ceremony. A marriage is the biggest happening in one's life. It's important to celebrate it with everyone.
We will invite my friends, Madhu's friends and my mother's friends. This is especially for my mother, who hardly socialises, and has never had the chance to invite her friends to something of her own.
More importantly, I wanted to celebrate my marriage in a traditional way. All the rituals fascinate me. When I look back, I don't want my marriage photographs to show the two of us just signing papers.
So the encore marriage is more for your mother than you?
It's for both of us. I want to do this because I want to dress up in all the bridal finery. I didn't want to miss out on that feeling of looking like a bride.
Are you wearing clothes designed by yourself?
For the smaller functions, yes. For the larger functions, I am wearing other designers because I don't wear heavily embroidered clothes.
What attracted you to Madhu?
His ability to switch himself off from this high-maintenance film industry.
He's part of the film industry and yet different. I have this perception of the industry and its people because I've grown up within the industry.
There is a certain preconceived notion about the producers I grew up with. Madhu is not like that. For him, making a film is not a matter of life and death. He's very practical in his approach to the business of cinema. He's very professional and has multiple business interests. That keeps him detached from production. I've seen him in crisis situations as a producer but the minute he sorts it out, he moves on.
One has never seen you being friends with the film fraternity.
Oh , I do have friends in the film fraternity, like Prateik, Sonam Kapoor and Alia Bhatt.
But I also have a circle of friends which is not a part of the film industry. I was sent to a school where we had both -- star kids and regular kids.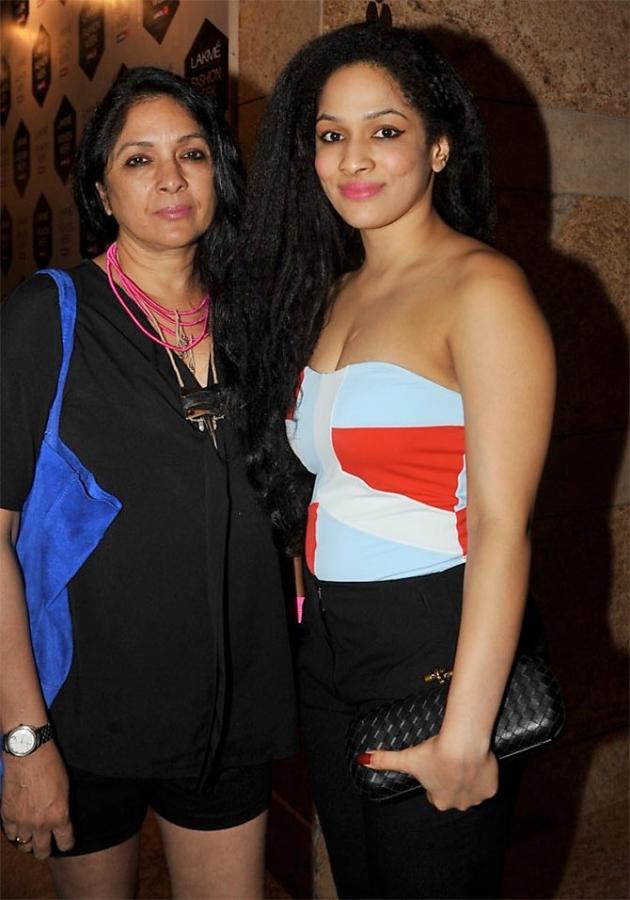 Image: Neena Gupta with daughter Masaba. Photograph: Pradeep Bandekar
Your mother Neena Gupta had to be both the parents to you while you were growing up. Was that tough on you?
It was tough on her. But I never saw her break down or become weak in any way. She kept working and looking after me. She managed her serials, home, me, the maid and everything else. I don't know how she did it.
You're mother is a terrific actress..
I keep telling her to do more work but where are the roles? She can never ask for work. She never has.
Also, television serials during her heydays was more relevant.
How was your life influenced when you got to know you were a love child and that your father was Sir Vivian Richards?
I don't think anything was hidden from me at any point of time. To hear about one's life from other kids at that age can be traumatic. Children can be very mean. I was told I was born out of wedlock.
What did that mean to a child?
I didn't understand the term back then.
Now when I do, I wonder what the big deal was. I still don't know what it means. I've seen parents of friends breaking up because of extra-marital relationships. I think I was comparatively in a more well-adjusted home. Because my parents are celebrities, my parentage was blown out of proportion. They decided to pull my parents down. Even my birth certificate was published.
It was such a cowardly thing to do. The journalist who decided to publish this, what kind of a life did he have? Was he even loyal to his family? You can't sensationalise people's lives. It was my mother's prerogative how and when she wanted to announce me.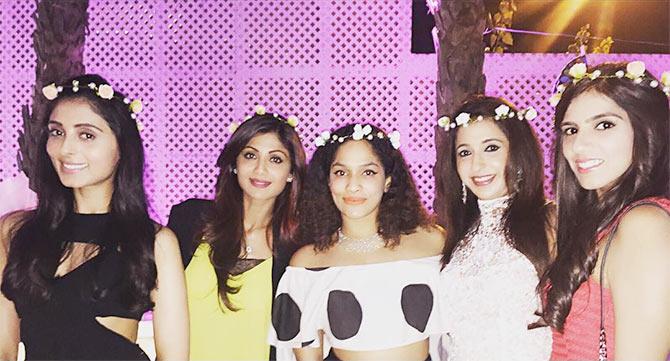 Image: Pernia Qureshi, Shilpa Shetty, Masaba, Krishika Lulla and Nishka Lulla. Photograph: Masaba Gupta/Instagram.
You look so much like your father.
I look ONLY like him except maybe my eyes. I even walk like him, and we both have a sinus problem. So I'd say I'm 80 percent like my father.
Do you crave to see your father more often?
Not really. I am not the kind of person, who craves for anything or anybody. I love being on my own.
Besides, I never had a chance to bond with him during my childhood. I speak to him constantly, and that's enough for me. He isn't the kind of guy who goes out much. I've made peace with the fact that he likes being at home in Antigua with his phone switched off. I respect his privacy.
Do you visit your father in Antigua?
When I am in Europe or America, I make sure I make a trip to see my father.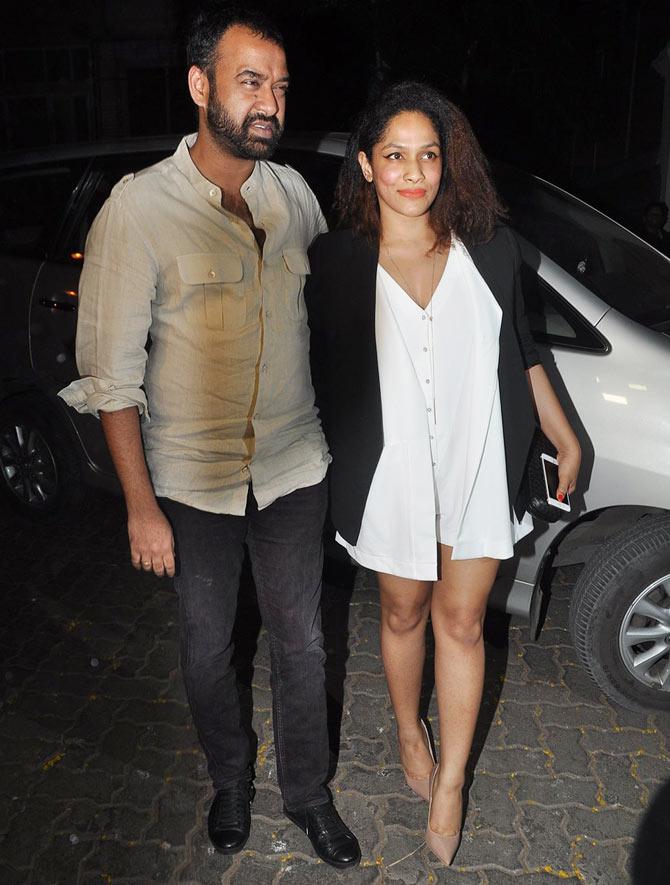 Image: Madhu Matena with wife Masaba Gupta. Photograph: Pradeep Bandekar
Has Madhu met your father?
Yes, they met a month back. They bonded on Bob Marley music. My dad likes Madhu. Getting my father's approval for anyone is not easy, let alone someone his daughter has chosen to spend her life with. My dad has a soft corner for South Indians.
Do you enjoy cricket?
Very much! I was heartbroken was (Virender) Sehwag retired. He's one of my favourite cricketers.
Is your father coming for the wedding?
Yes. I am the first of his children getting married so he doesn't want to miss it.
When will you start a family?
Not immediately. I want to expand my clothes business first. Besides, I already have a baby to take care of.
Madhu?
No, my business. Madhu likes being taken care of but he is not a baby. He has looked after himself all these years. He loved setting up a home with me, coming home to a meal.
You cook well?
I don't cook well but I am good at getting meals organised. I try to get his favourite dishes made. My husband is a foodie. If he starts on sweetened rice, he can't stop.