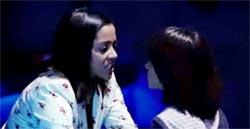 Crtically acclaimed actress Shahana Goswami is very kicked about her upcoming film Ra.One, where she stars alongside Shah Rukh Khan.

"I play Jenny Nair, who is a gaming technician and a colleague of Shekhar Subramaniam (Shah Rukh Khan). Our team of three -- including Akashi (Tom Wu) -- head the gaming department in a company."

While SRK's character handles the software department, the graphic designing is done by Shahana's character. "My character designs the G.One look for the video game," she says.

Shahana, who shot to fame with Rock On!!, is seen shaking a leg with the superstar in the song Criminal and claims that was a bit difficult.
"I love dancing but I was caught off guard during the shoot, as I didn't know I had to dance," she says. "The problem was that my outfit was not helping me either. So I had to slit my gown. I was also wearing high heels, which made it more difficult. But when you have SRK and Kareena Kapoor dancing alongside, you just have to go with the flow."