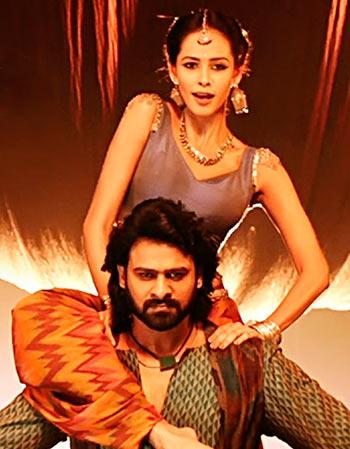 'I am not human... :)'
SS Rajamouli has some fun on Rediff Chat.
Baahubali director SS Rajamouli recently chatted with Rediff readers, and gave them a good look into the making of his mega blockbuster.
For those who missed the chat, here's the unedited transcript:
S S Rajamouli: Hi guys, Rajamouli here. Shoot your questions.
Siva-Naga-Prasad: I think when you start Mahabharat, that will be a serial, not a movie because that great epic with Rajamouli perception cannot fit into time frame of hours. It needs months and years to visualise.

In coming years, there will be a wide variety of mediums in which you watch creative content. The world is changing at a very rapid rate.
Sridhar A: Sir, will the government be inspired to treat tax from movie as a corporate social responsibility fulfillment. Because movies are made for social public. They can get it at a better price if producers get incentives. Great effort Shobu Sir from Arka. Sir please convey my regards.
I don't believe in incentives but the producer should be allowed to market the film as he likes. There are way too many restrictions right now.
Santhosh Lakshmipathy: I feel movies of this kind shouldn't have songs. Do you agree?
Songs in films have grammer too. I cannot imagine Baahubali without the Dheevara song. I could have done away with the item number but I love the choreography of that song.
Devansh b: Would you ever think of doing hyperlink cinema.. shifting between past, present and future. The type of hyperlink cinema that would be nerve wrecking real and yet entertaining?
Never thought of it. If you meant Nolan kind of movies, I can't make them but I do enjoy them like you.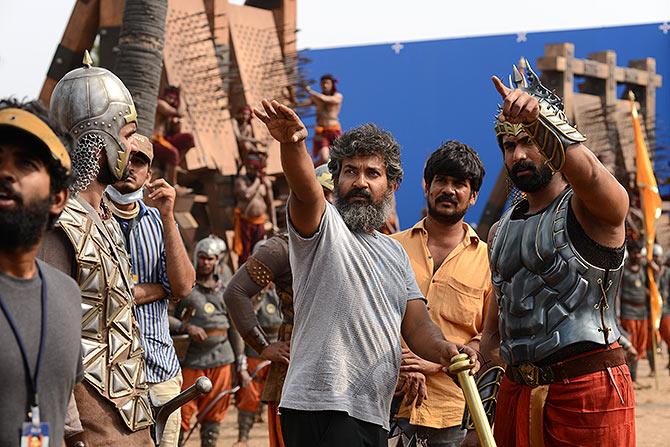 Image: SS Rajamouli with Rana Daggubati on the sets of Baahubali.
Sri: Did you ever think of trying any costume designer other than Rama garu or any music director other than Keeravani garu? They are superb but as humans, we always want more right?
I am not human...:)
Anthony Mangela: Katappa's character has become so strong that it has literally over shadowed Baahubali. Do u agree?
Does Hanuman overshadow Sri Ram?
Rajesh Pillai: Don't you think the ending was abrupt? Were you in a hurry to wind-up part one?
I thought the ending was fantastic.
Sridhar A: Sir, did you have Thar desert in your mind for shooting?
There is no demand in the story for a desert.
Anthony Mangela: One of the weapons used in part one (Lion claw) which is used to kill the tribal king is inspired from famous PS3 game God Of War. Was it a coincidence?
Yes, I copied it from God Of War.
Diwakar V: Mahabharata in English, with your direction, would collect at least 7000 crores, even with Indian actors.
It might. It might not. It might collect even more. But that part doesn't excite me as much as the making the film itself.
Ananda Gupta: Hi, Just one question. What are the difficulties you faced while conceptually visualise the epic Baahubali?
The difficulty lies not in conceptualising but in execution.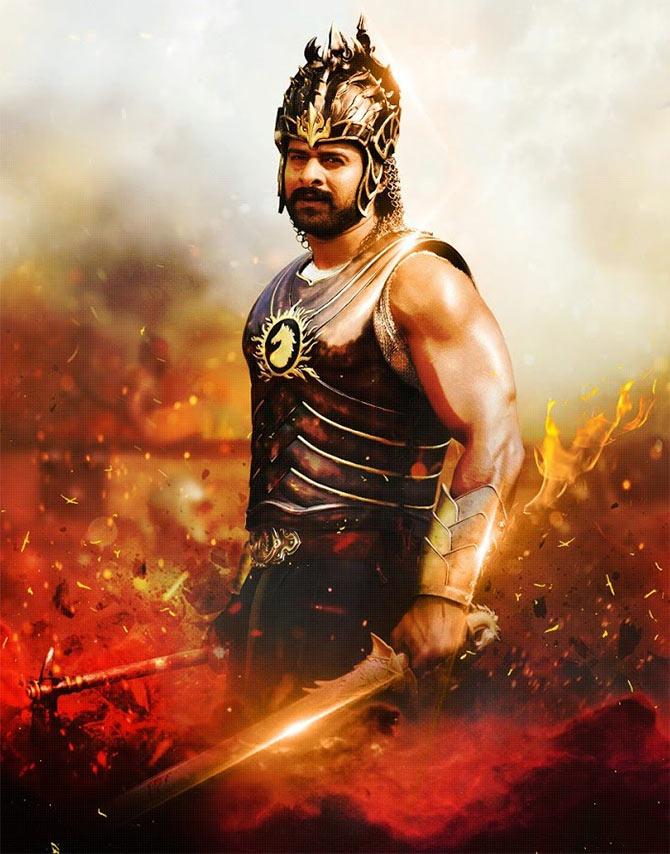 Image: Prabhas in Baahubali
Madu Uppar: Being a Kannadiga, I proud and happy sir. Presently Kannada film industry is against dubbing. I don't know why. What is your opinion about dubbing?
The court has given an order that everyone has a right to dub their film into any language. The Karnataka film chamber is opposing it. Hope the matter is resolved soon.
Siva-Naga-Prasad: Namasthe Rajamouli garu! I heartily congratulate you for Baahubali. I admire movie so much. I had one doubt, can anyone do tatoo in water ?
Mahendra Baahubali can...:)
Sai Swaroop: What drives you talent or dedication ?
Fear of failing to do justice to the script -- a combination of both.
Bethi Reddy: Dear Mouli, Nowadays, people in India are away from movies since they are all routine. Now you came with an excellent movie. So people are interested in watching movies, after Baahubali. The entire movie industry is thankful to you. Madhu
Not entirely true. But a lot of people who stopped coming to theatres came back to watch Baahubali. We are very happy about it.
Anthony Mangela: Use of Animals apart from horses was less used in war scene in Baahubali. Any specific reason?
Heavy restrictions by animal welfare board on usage of animals in films.
Swami Balasubramanian: What next to Baahubali-2? Dont you think you are shouldering heavy weights movies after movies?
Carrying this weight is a pleasure not pain..:)
Vicky Rash: Thanks to make such a wonderful movie. Very happy to see a character -based story, rather than the usual superstars-based masala movie. I think that's why your movie was successful.
Thank you.
Sanjay Kumar: I watched the movie on its 5th weekend after release when it was raining like hell in DELHI....surprised to see almost full house even after 30 days of release in Delhi. Not only families were there but also college going youngsters who love to see movies with modern theme. It is definitely a combination of great story telling skill and marketing strategy.
Thank you.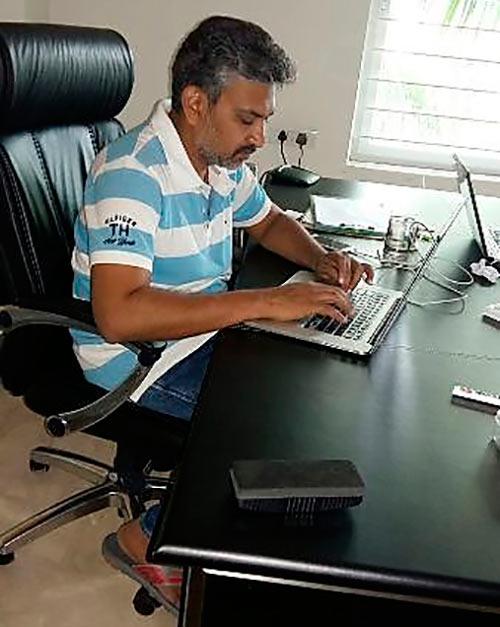 Image: SS Rajamouli takes on questions on Rediff Chat. Photograph: Radhika Rajamani
Patel: What will be in part 2 of Baahubali?
The answer to "Why kattappa killed baahubali"... :)
Nilesh: Why you have not thought for 3D BAHUBALI?
I am not a big fan of 3D. The medium gives you depth but brings down the scale.
Prem: Do you have any idea of making social message movies?
No sir.
Shruthi Paramashivaiah: i wish someone makes the success of movie as a case study in a MBA college. The marketing of the movie was done very well and tie up with Karan Johar is also a very good move.
A reputed institution already approached my producer Shobu to do a case study of the marketing strategies of Baahubali. All credit to him.
TSR: Hi Rajamouli, do you love the waterfall sequence or the war sequence?
In comparison, war ranks a little more than waterfalls.