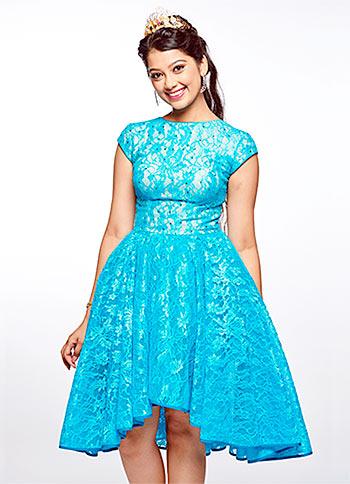 'I was too real for the show,' Digangana Suryavanshi tells Rajul Hegde.
The eviction process at the Bigg Boss 9 house was different the last time, and did not depend on the number of votes the contestants received.
This time, the contestants had the power to evict one among them, and they picked Digangana Suryavanshi.
"It's a mixed emotion to be out of the house," Digangana says. "I am proud that my fans did not vote me out; the housemates did. Later, I learnt that I had got the highest number of votes. If it was on the basis of votes, I would have still been in the house. I am happy that I can be with my family now; I missed them the most."
Digangana, who got typhoid on the show, is recovering now. As she gives endless interviews, the actress can barely speak. "I have lost six-seven kilos. I had to eat boiled and bland food inside the house," she says.
The actress says she's not sad to be out because she had no friends in the house.
Despite being one the most passive contestants, the audience got to see another side of her when she lashed out at Prince Narula and Rishabh Sinha for throwing her in the swimming pool while performing the 'Shararati Baccha' task.
"Though I am just 18, I think I am the most sensible one of the lot," the young actress says. "I took a stand when I wanted to, without going overboard. Nobody could mess with my head. I was not part of any group; I played as an individual. I did not indulge in politics and did not manipulate anyone. I am not a double-faced person but it's interesting to watch double-faced people. I was too real for the show. I didn't do anything that could disappoint anyone outside."
Digangana claims she has learnt a lot of household chores on the show. "I didn't even know to boil water but now I can cook," she says with a smile.
Digangana says she got a chance to sort out her old issues with her Qubool Hai co-star Rishabh on Bigg Boss.
"We met after three years. When he entered the house, I was wondering what to do with him in the house. He wasn't apologetic before but he did apologise in the house. I don't believe in keeping grudges for life so I decided to let it go," she says.
Digangana feels wild card entry Priya Malik is playing a "smart but not dirty game".
Rochelle Rao, she feels, is a sweet girl but has become annoying of late.
"She has changed a lot after Keith's (Sequeira) re-entry. It may be her strategy but I find it funny that she contradicts her own statements sometimes," Digangana says.
"Mandana (Karimi) is two-faced, but in a positive way. She was sweet to me but arrogant with the others," she adds.
What's the one thing she will really miss about the show?
"Bigg Boss' voice and Salman Khan!" she exclaims. I will miss and cherish that for the rest of my life."