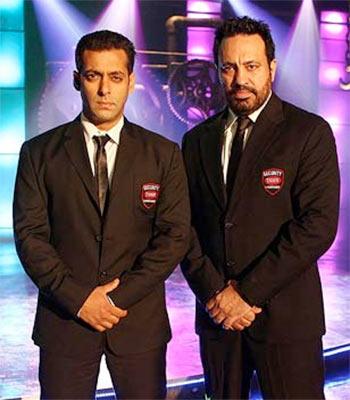 'I've never asked Salman Khan to get married. It's his personal thing. Actually, nobody should tell him. He will get married when he wants to.'
Salman Khan's loyal bodyguard Shera discusses his 'Malik'.
Salman Khan shares such a bond with his bodyguard Shera that he even made a film called Bodyguard, and featured him in it.
The bond makes sense, of course. After all, Shera has literally been Salman's shadow for 18 years.
"People call him 'Salman' or Salmanbhai but I call him Malik because that's what he is," Shera says.
As we continue celebrating Salman's 50th birthday, Shera gives Rajul Hegde/ Rediff.com an interesting insight into the superstar.
Sohail Khan saw me at an event -- I run a security agency -- and asked if I could be Salman Khan's bodyguard. I provided security to Salman a couple of times but my job really started in 1997 during a concert in Indore.
We really bonded then.
Being a bodyguard is a tough job because fans can get crazy -- they want to touch and don't want to leave him. It's not just clicking pictures and taking autographs.
With experience, I have learnt to handle the situation.
I am very professional while working. But when I'm not working, Salman and I are like brothers. We talk about everything. His parents are like my second parents. They take care of everything.
In the last 18 years with him, I have met the biggest stars, the richest industrialists and politicians but I haven't seen anybody with a big heart like Salman Khan. Nobody even learns about the kind of charity he does. I don't want to talk about it either.
When the film Bodyguard released, he asked me to launch the trailer. He even used my company's logo in the film. That's a beautiful gesture and really helped my business.
When I step out, even without Salman, people recognise me and ask 'Salman bhai aa raha hai kya? (Is Salmanbhai coming?)'
I have become a bodyguard celebrity, and now people want to take pictures with me! (chuckles)
My 23-year-old son Tiger is assisting in Salman's film Sultan.
I've never asked him to get married. It's his personal thing. Actually, nobody should tell him. He will get married when he wants to.
If I tell him that, he might say, 'Why don't you get married again?' (chuckles)
I am his loyal man and will be with him forever.