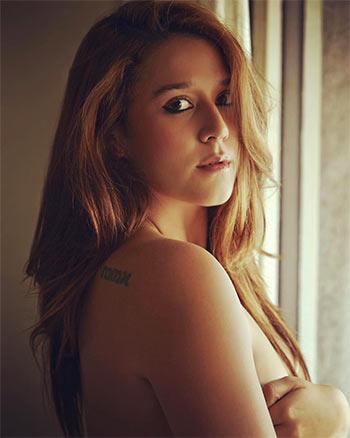 Tiger Shroff's little sister Krishna will now assist director Sabbir Khan in a film titled Munna Michael. Khan has directed Tiger's earlier hits Heropanti and Baaghi.
"I'm getting into the third week of prep with the Munna Michael team," Krishna confirms. "I have done my BA in film production, but honestly, all the theoretical stuff put me off."
She has dabbled in filmmaking earlier -- she made a documentary entitled Black Sheep on thetrans-gender community.
Earlier, Krishna had said she had no plans of following her brother into Bollywood.
"But the more time I spent on Tiger's sets, the more exciting the idea of filmmaking started becoming to me," she says. "Black Sheep was a really difficult journey. Although it was a super-rewarding experience, I was ready to take a break from the world of filmmaking after that. But plans change, I guess."
She is enjoying the challenge of being part of a big Bollywood film.
"I have never worked on a film on such a large scale as Munna Michael, so I'm ready for the challenge," she says. "I'm grateful to Sabbir Sir for this opportunity. This one is extra-special to me because Tiger and I will officially be working together for the first time."
But she has no acting plans.
"I guess it's because people automatically assume every star kid wants to be in front of the camera as an actor or in the limelight in some other way," she says. "I don't blame them since that that has been the norm for generations."
"If people assume I'm trying to get producers' attention, I can't even begin to express how far away from the truth that is," she adds. "I make and break my own rules. I love my privacy and being able to live my life the way I want to. Having said that, I love being part of Bollywood. It is an amazing industry that has given my family so much. But I am not looking at an acting career, not any time soon."
Photograph: Krishna Shroff/Instagram