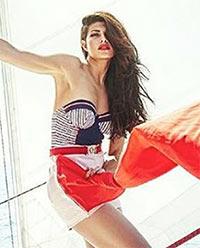 'Since Kick, it's been an amazing dream and I don't want it to end.'
Jacqueline Fernandez is ready with her third release of the year.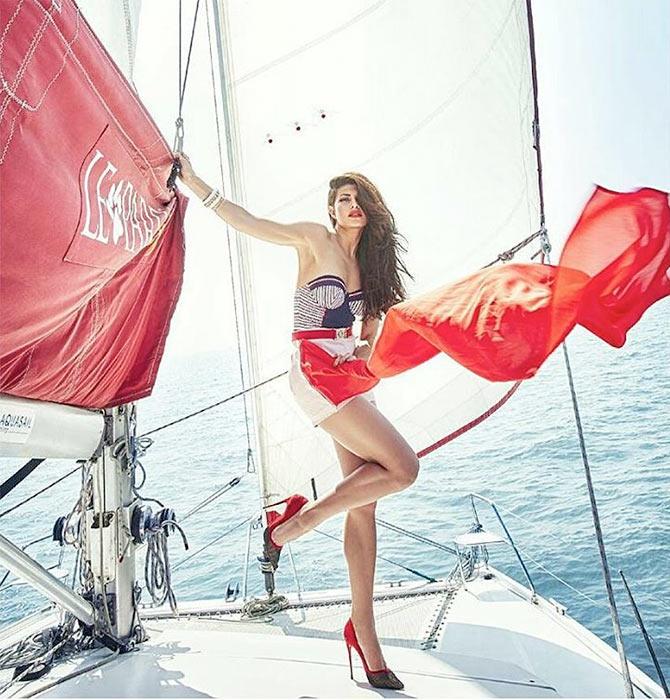 IMAGE: Jacqueline Fernandez/Instagram
Jacqueline Fernandez' laughter is contagious. When she's around, there's never a dull moment.
She's busy with the promotions of her new film A Flying Jatt, and she makes up for co-star Tiger Shroff's shyness with her laugh.
A Flying Jatt will be her third release in the year, after Housefull 3 and Dishoom, and she's extremely excited.
Jacqueline discusses her career so far, and Jahnavi Patel/ Rediff.com listens in.
You have had three back-to-back releases. Would you have preferred if the releases were spaced out?
Yes, but I did not plan the release dates.
I signed A Flying Jatt, Dishoom and Housefull 3. Immediately after that, Housefull 3 was announced with a June release date, then Dishoom was announced in July and now A Flying Jatt is in August.
I was like I am so s******! Sometimes you don't know when the film will release, and then they all come out together.
This has been the story of my life -- either there's nothing or all of a sudden, everything comes at once.
I rather have everything come at once than nothing.

What is your role?
I play an Environmental Studies teacher. Tiger plays a Karate teacher.
It's a fun role because this is the first time that I felt someone tapped me into a bubblier, louder character. Most of the time, I have a sexy, bold or glamorous character. This is the first time I am playing a character that's really loud, and is kind of cheeky.
And I do fall in love with the superhero.
I always wanted to play a teacher. And trust me, I am not hot in the film.
Watch: Jacqueline on Beat Pe Booty, and more. Video: Afsar Dayatar/Rediff.com
Was Kick a turning point in your career?
Yes. After Kick, in the past two years, I have done five movies. This hasn't happened before.
I am starting two more films.
Since Kick, it's been an amazing dream and I don't want it to end.
Work has been good, the offers have been great. I hope I keep growing. That's important for me.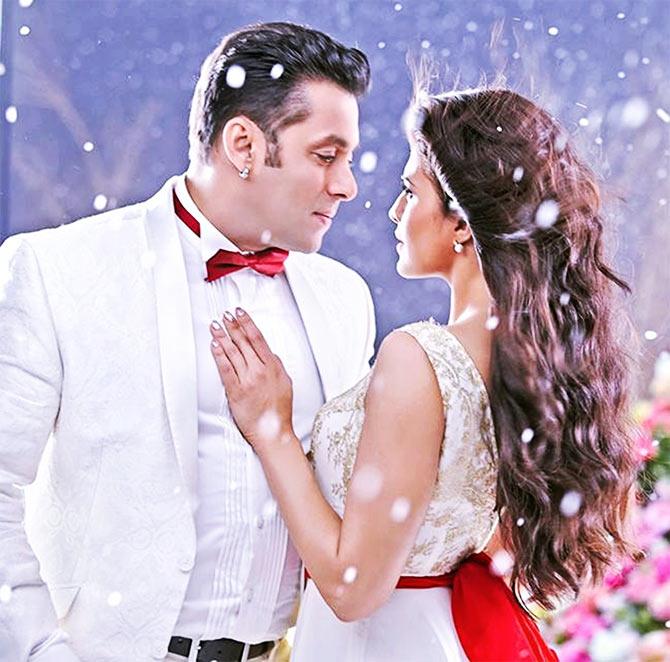 IMAGE: Salman Khan and Jacqueline Fernandez in Kick
Where were you going wrong before Kick?
I did not have any confidence before. I was working hard, and that wasn't the problem.
The problem was that I did not have enough confidence.

After working with Salman Khan in Kick, and Akshay Kumar in Housefull 3 and Brothers, you are working with the younger generation now. Is there any difference in their way of working?
No difference. What Salman or Akshay have is the years of experience. The reason why they are still superstars is because they have the same energy that all of these guys have. They have a different level of focus, dedication, determination and passion.
All of them have one thing in common -- they are all ambitious and want to do really well.

Tiger is very shy. How did you break the ice?
Tiger is extremely shy. I am usually the one talking and cracking jokes. He's a really fun person to be around but he calls himself boring.
I am extroverted, but even though we have different personalities, we have a lot of common interests.
Like, we are both into fitness, dance, healthy eating, travel and movies.
I like embarrassing him especially now that we are promoting the films. But sometimes he gets back at me.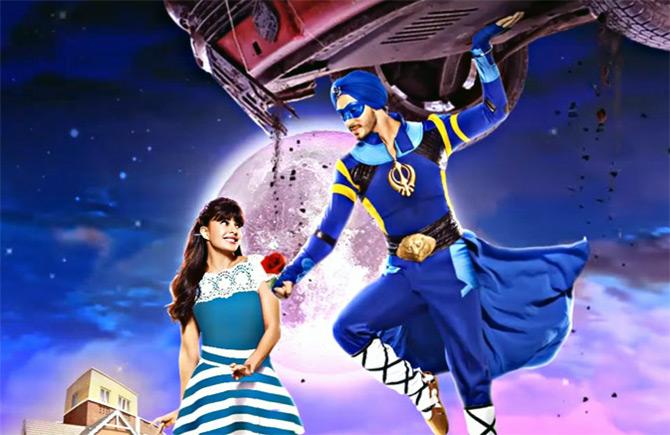 IMAGE: Jacquline Fernandez and Tiger Shroff in A Flying Jatt
You have worked with Tiger's father Jackie Shroff in Brothers. How similar are they?
They are very similar. I can see Tiger in the future through Jackie Shroff.
They are so loving and kind to people, sweet and considerate.
The moment Jackie sir came to know that I would be working with Tiger, he was so happy. He told me he couldn't wait to see us work together.

When will you start shooting your action film with Sushant Singh Rajput, which is a co-production of Salman Khan and Dharma Productions?
We will start sometime next year. It's an interesting script and role. I want to take on meatier and challenging roles.
Do you feel like an outsider in the industry?
I have never felt like an outsider. There's no chance of feeling like one now, as I am working with so many great people. I am very comfortable and happy here.

Are you going to be a part of Judwaa 2?
The casting is on. I know what Sajid Nadiadwala is working on but it's not confirmed. So far, I only have a film with Sidharth (Malhotra) and Sushant.