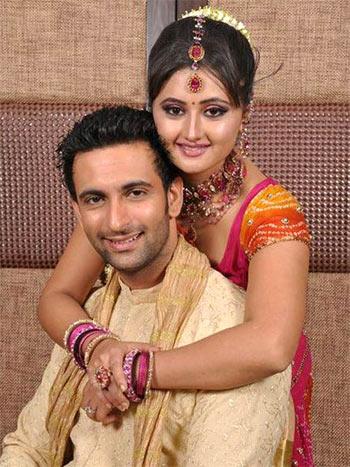 Television actors Nandish Singh and Rashami Desai have been in the news recently for their impending divorce.
They had met on the sets of the television show Uttaran and have been married for four years.
There have been reports that Nandish's closeness with former Miss India Ankita Shorey is the reason why the couple's marriage is in trouble.
According to sources, they have been living separately for three years. Rashami had filed for divorce last year.
"I am not dating Ankita Shorey," Nandish asserts. "I am not dating anyone. Whenever I get into a relationship, I will be vocal about it. I will not hide it. It's always been that way for me. Rashami asked me for divorce last year when she sent me a notice.
"We got together for Nach Baliye and spoke about this on the show as well. We were not on talking terms before the show but decided to give it (the marriage) one more try. Things got better but after Nach Baliye, Rashami approached me for divorce again on September 23. We mutually decided to finally part ways.
"I met Ankita at a friend's birthday party in October. We have a lot of friends in common and so we bumped into each other a couple of times. She has become a friend. But how can a girl who I met in October be responsible for a divorce that was decided on September 23?
"I have consented for divorce not because there is someone else in my life but because I have given my marriage the best shot possible."