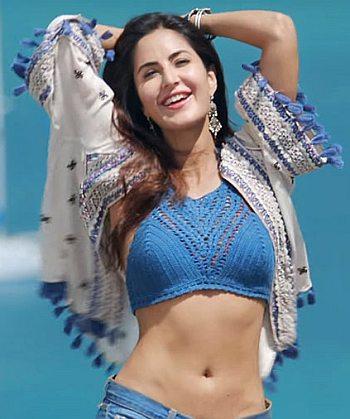 'When a woman is at home and not getting that kind of importance or attention or made to feel special from the man in her life, it's very frustrating.'
'At times, women are made to feel inconsequential. It's a sad, painful and a lonely feeling.'
Katrina Kaif gives us a peek into her life.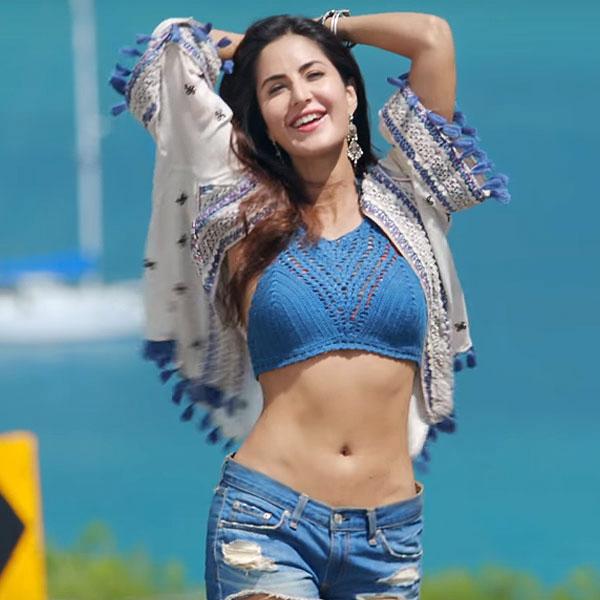 IMAGE: Katrina Kaif in Baar Baar Dekho
Katrina Kaif looks visibly tired after a long day of promoting her new film Baar Baar Dekho but she doesn't take a break.
"Normally, my voice runs out before my energy does. Right now, my voice is still okay, so I am fine. Last night, I just could not talk," Katrina reveals, explaining her state of mind.
She looks amazing in the trailer of new film Baar Baar Dekho, co-starring Sidharth Malhotra.
She tells us more about that, and also fields questions on former beau Ranbir Kapoor expertly. Rediff.com contributor Rajul Hegde listens in.
How was the Dream Team tour?
It was really nice, such a positive experience.
We got so much love. The audience response was amazing. To see that support from the audience, I don't think I had expected that. Even though the boys (Aditya Roy Kapoor, Sidharth Malhotra and Varun Dhawan) are relatively newer, they received amazing response too.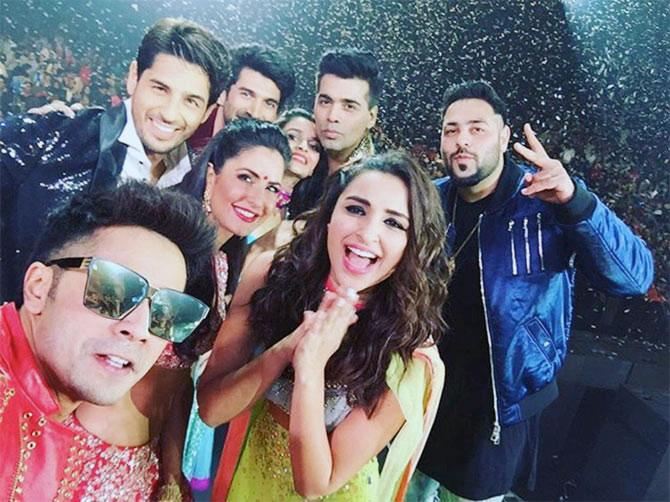 IMAGE: Varun Dhawan, Sidharth Malhotra, Aditya Roy Kapur, Alia Bhatt, Karan Johar, Badshah, Katrina Kaif and Parineeti Chopra. Photograph: Varun Dhawan/Instagram
You went through a lot in your personal life while shooting for Baar Baar Dekho. Was that ever a problem?
I think everyone should separate their personal and professional lives. Although there's a lot that can be said on this topic, I am sure people will understand what I would say if I was to say something. Having said that, I have taken a decision to not talk about my personal life and stand by that. I have my own reasons.
But when the other person gives a television interview, does it seem unfair?
(Smiles) So you take every moment in life as it comes.
I still say, every time someone from the media asks me this question, it comes from a place of love and care. You can dissect my statement but my answer would still remain the same.
There is moment in the trailer where Sidharth says that he wants to focus on career, not marriage. Do men really want to run away from marriage?
It's a personal thing, not a gender thing.
There are women who don't want to get married and want to focus on their careers.
But yes, if one has to generalise, then I have to admit that women are more inclined towards having a family, and towards attachment. There's a book called Lean In by Sheryl Sandberg that deals extensively on this topic.
I would like to have both.
Would you give up on your career for a family?
Absolutely!
If I wanted to do that, not forced to do that, if I felt that my heart was at home to raise children, then why not? Every woman should follow her own instinct.
Are you commitment phobic?
I am not commitment phobic at all.
Who is the most influential person in your life?
I have people whose opinions matter a lot to me.
Honestly, in the hardest times in life, beside mom and my friends, the person I need to trust the most is myself.
If you are a believer in God, that's the greatest help.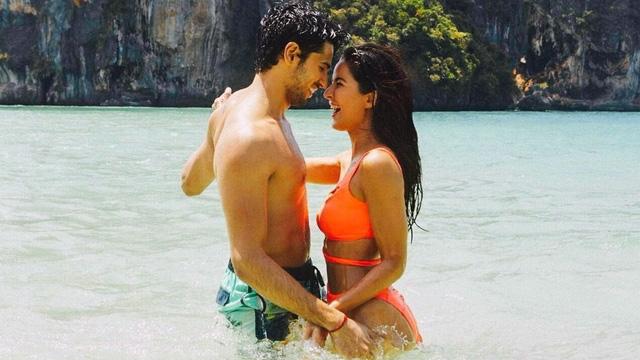 IMAGE: Sidharth Malhotra and Katrina Kaif in Baar Baar Dekho
How tough was it getting into a bikini body?
The physical shape for that portion was not intended for glamour. It was intended to create a different look between two ages in the film.
There is an age in the film just after their marriage, and there wasn't much we could do with add-ons like clothes. So we wanted to give that difference in physicality.
We have mainly seen guys like Aamir (Khan) bring about change, and the way they do that is change their weight. In Dangal, Aamir has a huge transformation. But that obviously is on a different level.
Where do you picture yourself at ages 35, 46 and 60?
The age 35 is pretty nearby while 46 is far away. Honestly, I can't even picture myself three days from on!
It's been a whirlwind of a year for me, and there's a lot on my plate. So my focus is on what I would do immediately, a short-term plan.
What are your top five reasons to watch Baar Baar Dekho?
It has a great story, real emotions, a fantastic director, a wonderful character for women and Sidharth for the girls (smiles).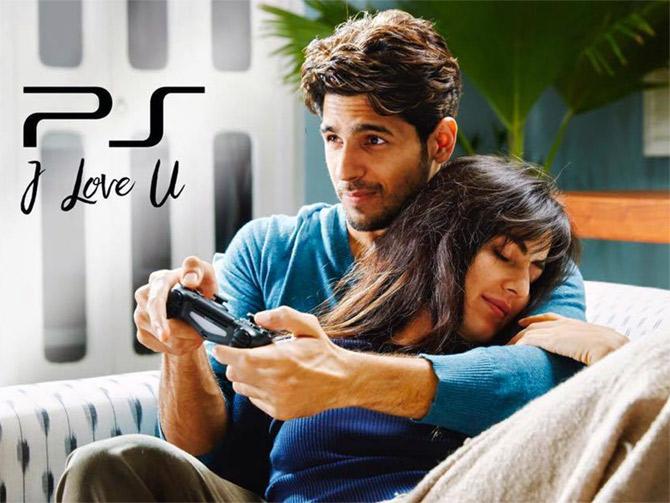 IMAGE: Katrina Kaif and Sidharth Malhotra in Baar Baar Dekho
How was your equation with Sidharth?
It was amazing.
In a romantic film, there's a need for the chemistry in the script, for it to be portrayed by two actors. You are looking into another person's eyes and expressing your emotions. It helps if there is a comfort level and a nice vibe.
There was never any moment when he came in as a newer person, thinking that I have done more films. Both of us came in with the same passion and mind set.
Sid is an easy person to work with. He's is very steady and in control of what he is doing. He is a great performer and that helps you.
I thought he was a strong romantic hero in Ek Villain. He has a strong physique, even his voice has a commanding presence.
What message will the audience get through this film?
The message I took with me is that we need to remember that it's not always about the destination, but also about the journey. We are all in such a rush to achieve something, a name, a position or a place, that we forget to ask ourselves if we are happy with the journey. Are we enjoying every day, every moment?
Apart from that, as a woman, it resonated very strongly with me. When a woman is at home and not getting that kind of importance or attention or made to feel special from the man in her life, it's very frustrating. Especially in cases when the woman is raising children.
At times, women are made to feel inconsequential. It's a sad, painful and a lonely feeling. The loneliness and the frustration that my character goes through in the film was emotional. It's a film that today's generation, or everyone for that matter, will relate to.
Does it bother you when people talk more about your personal life more than your films?
I don't give it too much attention. No one is stopping me from doing my work; everything else is just incidental.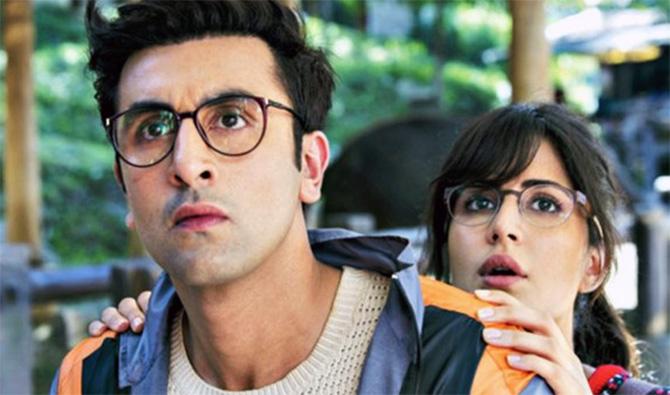 IMAGE: Rambir Kapoor and Katrina Kaif in Jagga Jasoos
What's the update on Jagga Jasoos?
I believe they have announced the release date in April. I have known (director) Anurag Basu for a long time. He is a dear friend.
During the making of Barfi! also, I remember similar things had happened and everyone was saying the film is taking so long, everyone was frustrated and saying, 'Dada, what you are doing?'
I believe Dada makes beautiful and unique films, and they take extra time. It is as simple as that.
Dada is a true artist, you cannot rush him. Until he has everything in the right place, he doesn't move on. That's risky but admirable as well.
Jagga Jasoos is not a normal film. When you see it, you will understand that it is an attempt at a genre which has never been done before in Hindi cinema. When you are trying something that has never been done before, there is lot of trail and error.