'I don't know how many people will watch Toilet: Ek Prem Katha. But even if five per cent can set up toilets, I will feel my film is successful.'
'I am more concerned about the eye-balls the film will get.'
This August, Akshay Kumar gives us Toilet: Ek Prem Katha.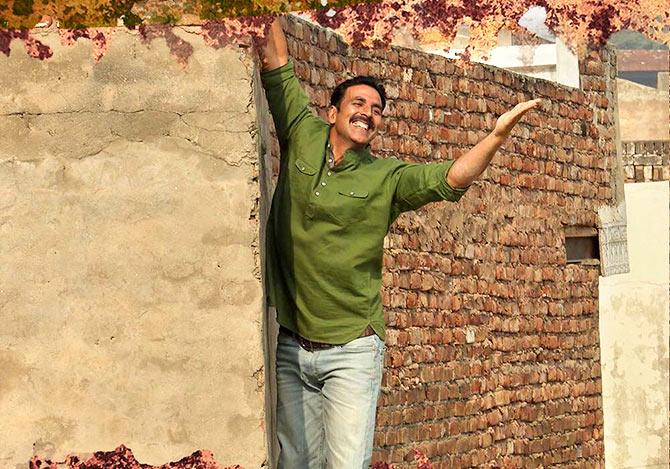 IMAGE: Akshay Kumar in Toilet: Ek Prem Katha
One of the main reasons why Akshay Kumar took up Toilet: Ek Prem Katha was because it was inspired from a real story.
"I wondered how these women actually told their spouses that they wanted a divorce because there's no toilet at home. I found it very intriguing. It was a big step for these women from villages; even women from the city would not take this extreme step," he says.
The script did the rounds for four years before it came to Akshay, and he grabbed it with both hands.
"I don't know how many people will watch the film. But even if five per cent can set up toilets, I will feel my film is successful," he says. "I am not bothered about box office collections. I am more concerned about the eye-balls the film will get. If my producer-distributor can reduce the ticket price, I will be very happy."
Directed by Shree Narayan Singh, Toilet: Ek Prem Katha also features Bhumi Pednekar, and will release on August 11.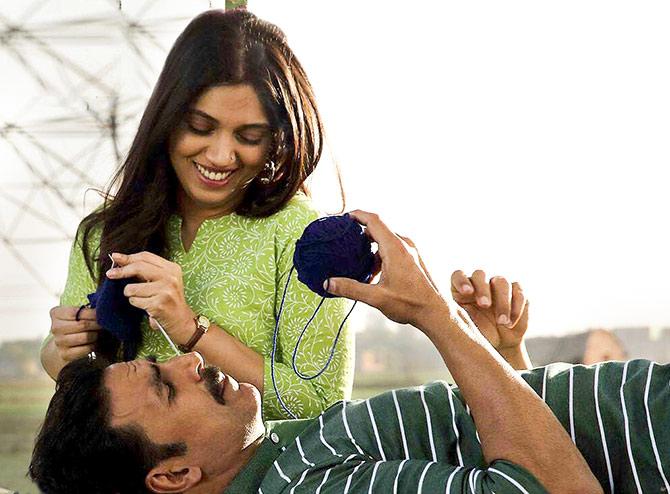 IMAGE: Akshay Kumar with Bhumi Pednekar in Toilet: Ek Prem Katha
The National Award-winning actor hopes the film will bring about a change in people's mindset.
"In some places where I have gone, people have said, 'We don't do it in the same house where we cook food.' But how can they defecate openly on the field, where the food comes from?" Akshay asks. "The government is doing its part by sanctioning public toilets. People should also take a step."
He admits that the topic is quite taboo as well.
"When I had to say the line, 'Biwi wapas ghar aye na aye, sandas toh main laa kar hi chodhunga,' people on the sets were actually discussing if I should say the dialogue or no. It's a very taboo thing. But I didn't find it taboo at all; it's a must. Who doesn't go to a toilet? If you are talking about a subject like this, you should speak about it openly," Akshay says.
"Our youth will understand the necessity of using the toilet," he adds. "Some people have already started talking about it. It means awareness has been created."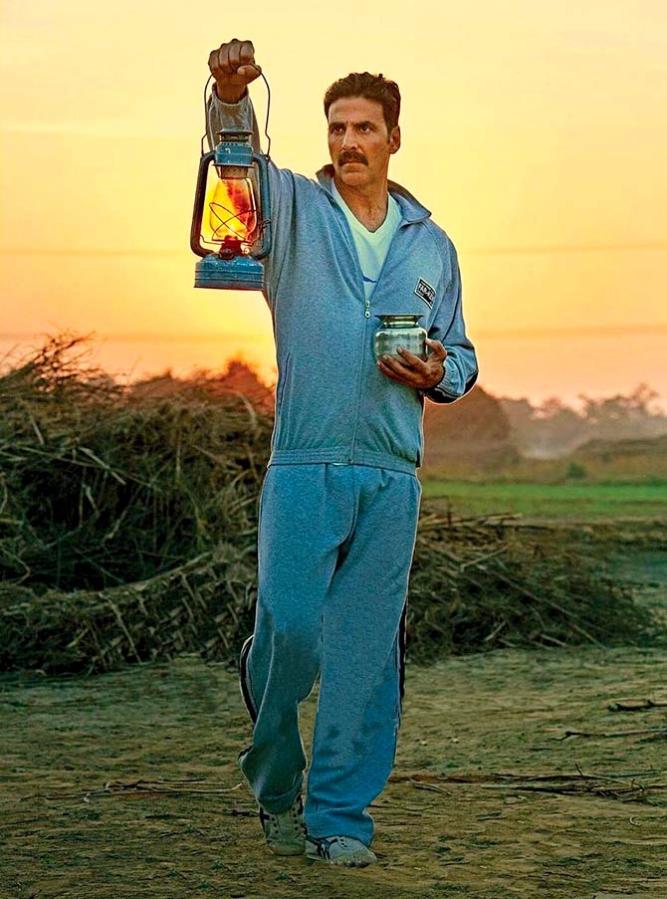 IMAGE: Akshay Kumar in Toilet: Ek Prem Katha
Akshay has been working in issue-based movies lately, like Airlift and Jolly LLB 2. Toilet: Ek Prem Katha is also an effort in the same direction.
"Being a successful actor by God's grace, if my association gives a film better mileage and if the story intrigues me, I do it," he explains.
But he clarifies that Toilet is a romantic comedy, not a documentary.
"I do not preach to you in this movie," he explains. "It's a complete entertainer. Only towards the end, the movie gets a bit serious. Toilet humour is said in a different way, in a real story."
Quiz him about the dipping success rate of Hindi films, he says, "Maybe it has something to do with our content, which is not right. Also, the south is very systematic. They don't spend more than Rs 2 crore on publicity. They don't do reality shows or too many press meets. But like us, they also release big films during (festivals like) Diwali and Pongal."
Akshay is happy to avert a box office clash with Shah Rukh Khan's Jab Harry Met Sejal, which releases a week earlier.
"It is happiness for everybody if films don't clash. But ultimately, there are only 52 weeks and 180 films. So some films are bound to clash with each other. Then, Hollywood and South Indian films also get a grand release here, so more and more films will release together," he says.
Akshay reveals the film's budget is quite small, at Rs 18 crore only, so the box office returns may just be in his favour.
Ajay Devgn recently released a poster of his new film Battle of Saragrahi, which Akshay had planned to make with Salman Khan.
Does he find it worrying that two films are being made on the same subject?
"My film is my film; my story is my story. Everybody has the right to make films on whatever subject they want. It does affect to some extent but I keep doing my work," he says.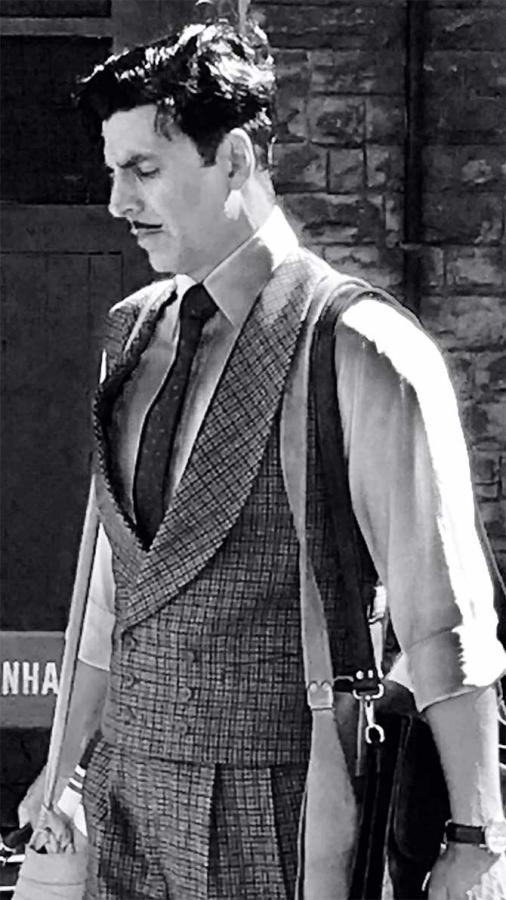 IMAGE: Akshay Kumar in Gold. Photograph: Akshay Kumar/ Instagram
Akshay is one of the busiest stars in the industry, with multiple releases in a year.
The actor jokes that he isn't going to slow down any time soon.
"I have finished shooting for Padman and 2.0. I have shot around 50 percent of Gold. It will wrap up by the end of September," he lists.