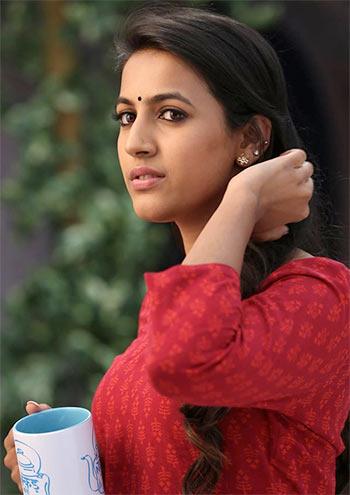 'I was tense the night before the shoot; I developed cold feet.'
'However, when I got up in the morning, I was confident and looking forward to playing Sandhya.'
Niharika Konidela gets candid about her first film, Ok Manasu.
We have seen many actors turn superstars from the Konidela family, like Chiranjeevi, Naga Babu and Pawan Kalyan. The next generation -- Ram Charan Teja, Sai Dharam Tej and Varun Tej -- have also tasted success.
Now, Niharika Konidela, who belongs to the same family, is all set to make her screen debut with the Telugu film Oka Manasu, releasing on June 24.
In this exclusive chat with Rediff.com contributor Radhika Rajamani, the enthusiastic actress dwells on the film and more.
You come from a reputed filmi family. How did you decide to take up acting?
As a kid, I wanted to be a doctor and I thought acting would also be a passing phase like that.
I was more interested in production. So I did a Bachelors degree in Mass Communication, and was part of my friend's short film.
When I got the offer for the TV show Dhee Juniors, I did it. As a person, I do not like monotony. The first session of Dhee Juniors was a lot of learning. Since there was no script, one had to be spontaneous.
While doing the show, I was looking forward to signing a movie.
Did your parents support your decision?
Hundred per cent. I have to take their, and the entire family's consent. They said that it might be easy for a guy but a girl has to try harder.
They gave me the pros and cons. I thought for a while and then took a decision.
How did you prepare to become an actor?
After I heard the story of Oka Manasu, I thought it was the perfect debut.
My brother Varun told me to go for an acting course. So after I signed the film, I took a short course in acting.
There are glamorous roles and then, roles with depth. I am not a fan of glamorous roles.
I am open to doing Malayalam, Tamil and Telugu films. People are encouraging good scripts and actresses with strong characters.
Why did you choose Oka Manasu as your debut film?
The character was very beautiful. It is the epitome of womanness and that attracted me. I thought I should do movies which the audience should be proud of and I should challenge myself to do the role. Love is in such a pure form in the film.
Sometimes when I watch a love story with my parents, I feel awkward but in Oka Manasu, one will not feel awkward.
Love stories are dime a dozen. How different is Oka Manasu?
Oka Manasu is about Sandhya and Surya. In the film, the two characters share unconditional love and this is what makes it special.
Sandhya is a doctor who is calm when she is with Surya. It is like she has two personalities. When she is with Surya, she is very happy and open and like a butterfly. With others, she is quiet.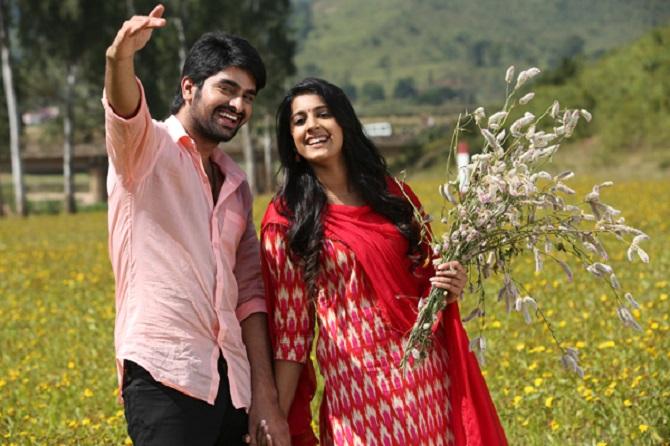 IMAGE: Naga Shourya and Niharika Konidela in Oka Manasu
Did the character haunt you after you finished the film?
Yes, it did haunt me. From the first day itself, I started living and thinking like her. I really like Sandhya. I already took something from her. She is a role model for every girl -- very perfect!
How was your first day of shoot?
We did the muhurat shot at a temple. Then for two days the shoot was in Hyderabad. I was tense the night before the shoot; I developed cold feet.
However, when I got up in the morning, I was confident and looking forward to playing Sandhya.
How was it acting with Naga Shourya?
I had never met him before even though I meet many from the film industry because of my brothers. When I was told that Naga Shourya was the lead, I could imagine him as the lead character.
He did a fantastic job. Since it was my debut film, he supported me so that my scenes came out better. Eighty 80 per cent of the film has both of us.
Director Rama Raju's Mallelo Theeeram Sirimalle Puvvu was a well-made love story. What is it about the filmmaker that made you work with him?
I had not seen the film before but when I saw it, I was bowled over. Since the film was his brainchild, he wouldn't let anything happen to it.
Are you feeling nervous before the release?
I cannot believe my film is releasing now. I am excited and eager to watch the final output even though I saw parts of the film while dubbing.
I am nervous about what my dad would say. My mom did my costumes and she was with me throughout while we shot in Araku and Vizag.