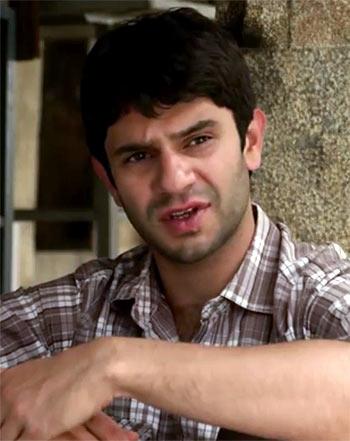 'Films are not my bread and butter. I've survived through ads.'
'Since I was not getting the big breaks and blockbuster films, I thought I might as well do smaller films.'

Coffee Bloom actor Arjun Mathur recounts his journey as an actor in Bollywood.
Arjun Mathur, 33, has been acting in Hindi films since 2008, when he appeared in two of the four shorts Mira Nair produced under the title AIDS Jaago, to bring attention to the HIV/AIDS crisis.
Since then, Mathur has appeared in a couple of big Bollywood films as a supporting actor (Luck By Chance, My Name Is Khan), but the bulk of his work has been in small indie films (Barah Anna, Fireflies, I Am).
Mathur plays the leading role in Coffee Bloom, director Manu Warrier's moving story of mistakes of the past, guilt and how one man sets out to change his future. The film releases this Friday, March 6.
Sugandha Garg (Tere Bin Laden, Patang) and Mohan Kapoor (Hate Story, Jolly LLB) play opposite Mathur in a three-character plot.
Aseem Chhabra/ Rediff.com spoke to Mathur about Coffee Bloom and his career via Skype.
I liked your performance in Coffee Bloom. Is this your biggest role so far?
Yes, it was definitely so in terms of a leading man. It is the most complex and layered character that has come my way.
Your character has grey shades that make him and his actions believable. How long was the shoot?
We were in Coorg for about 25 days and then two-three days in Bangalore.
Had you been to Coorg before?
No, this was my first time.
Did you do much to prepare for a role like this? It was very inward looking.
When I heard the story, there was an immediate connection with the character, and in fact with the grey shades of the character.
I think we all have these shades in us. We are such emotional creatures.
You are not worried that audiences may not be fine with some actions taken by your character?
Not at all. That must be the biggest reason I am attached to this character.
I am dying to play a negative character. Whenever possible, I seek scripts with negative characters but people see me as the sweet boy next door.
It is something I want to break out of.
Had Manu Warrier seen your work before he cast you?
Yes, they had seen Positive, Barah Aana. Tess Joseph, the casting director, contacted me. She just said they were looking for a lead. There wasn't an audition.
They gave me a narration. I loved the story, loved the character.
The fact that Manu was a first time director didn't bother you?
No, it didn't. Strangely, I have worked with many first time directors.
Raja Menon's first film was Barah Aana...
And now he is making a film with Akshay Kumar...
Fireflies was Sabal Shekhawat's first feature. I think perhaps it is the first-time directors who feel they can take a risk with me.
How did you land in Mumbai?
I am originally from Delhi. I lived in Mumbai when I was a kid. Then I lost my mother in a car accident and we moved back to Delhi.
By the time I was 12 or 13, I knew this is what I wanted to do.
After school, I came straight to Bombay. I did whatever acting courses I could find with Kishore Namit Kapoor and Barry John.
I came to Mumbai in 2001. I started working as an AD (assistant director) on a few big films like Bunty Aur Bubli, Mangal Pandey and Rang De Basanti.
But the work doesn't stop for ADs. So after Rang De Basanti, I made the decision.
I was 25 and I had to jump into acting, since that was what I originally wanted to do.
As an AD, wasn't there a chance of being noticed?
At that point it really wasn't where I was coming from. I was a lot bigger than I am now and I had long hair.
After Rang De Basanti, I took a year off. I joined a gym for the first time.
I came to New York and joined the Lee Strasberg school. Shortly thereafter, Mira's film happened.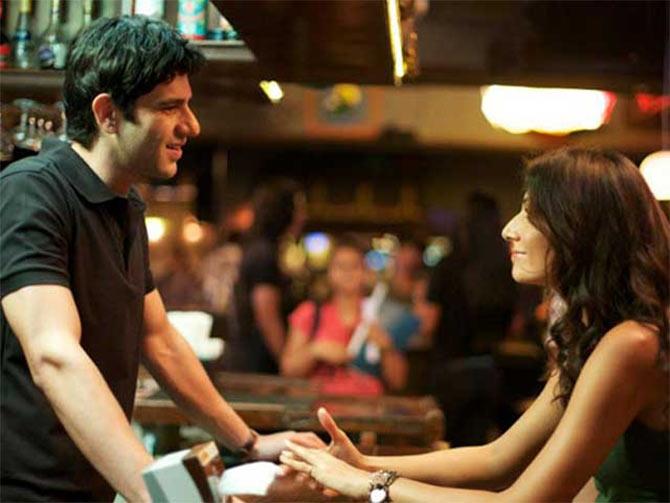 Image: Arjun Mathur and Monica Dogra in Fireflies
What did you learn from all of these acting programmes that you would not have been able to learn on your own?
The first one by Kishore Namit Kapoor helped me get rid of my inhibitions.
You interact with many different people from different walks of life and that experience is important for an actor.
I don't know how much acting you can be taught. I feel a lot of it is your life experiences.
The more experiences you have lived through, the more emotions you have to draw upon.
Life is the greatest teacher for acting. Lee Strasberg taught me how to do that very well.
You auditioned for the AIDS Jaago shorts Mira was producing. She directed Migration, right?
Yes, and I also acted in Positive, which was directed by Farhan (Akhtar).
And that work with Farhan led you to Luck By Chance.
Yes. I was friends with Zoya (Akhtar) and Farhan.

Zoya had helped me pick out my first portfolio pictures. She was a big help. So that's how it started.
These were big films, including My Name Is Khan. And then you did some smaller films. I think Barah Aana is absolutely lovely but my sense is it hasn't been easy for you.
It hasn't. I won't lie. I couldn't have expected it to be. I don't come from a film family. I don't come from the industry. I don't have a godfather sitting here.
Some of these films were big films but the industry is very quick to typecast you, especially if you have appeared in these films as a supporting actor then that's what you will be.
It was the smaller films that took a chance with me, starting with Raja Menon.
I am still trying to find my ground and also making sure I don't get typecast.
You were in Bhoomi and Indian Ocean did the music for the film, but it was never released.
We made about 80 per cent of the film. It had a stellar cast, good story. But it was never finished.
And in Onir's I Am, which section were you in?
I was with Rahul Bose!
Ah, I remember. You got to kiss Rahul Bose.
Yes (laughs).
I Am was also a small film. I thought that since I was not getting the big breaks and blockbuster films, I might as well do smaller films.
Those films actually connect much more with the person I am. By nature, I am not comfortable singing and dancing around trees.
Have you turned down that kind of work?
I have said no to films like... (hesitates) Ragini MMS 2 and Welcome Back. I just didn't see myself fitting into those films.
Even within commercial cinema there is good work -- films like Bhaag Milkha Bhaag.
I've said no to a lot that I felt would only solidify my being typecast as a 'best friend' or the like. Some of them were big films with big stars.
I looked at how much of an opportunity I was getting to perform, irrespective of the production house or the budget and scale of the film.
I'm attracted to work that will reach a wider audience than just the Indian masses.
I think I could do a film that would be out there forever; would I cringe watching myself in a film like that?
I don't want to look at my filmography and say 'Oh god why did I do that?' Maybe I am an idealist.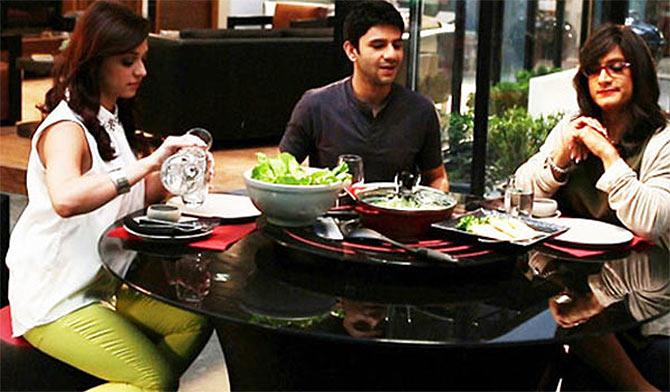 Image: Nauheed Cyrusi, Arjun Mathur and Aamir Khan in a Godrej ad
So then how do you survive in Mumbai?
Films are not my bread and butter. I do ads. I've survived through ads. Godrej has been very good for me. They put me on a three-year contract. I have shot 26 ads for them.
The first 10 were a series with Aamir Khan. After that, they have been using Nauheed Cyrusi and me.
So I am comfortable. I just bought a house in Goa this year.
What else are we going to see you in? I see on imdb.com that you are in a film called Angry Indian Goddesses. Is that with Tannishtha Chatterjee?
Yes, she is in it too. That's Pan Nalin's film. I have done a small part in that film.
I have done a small part in Waiting, with Naseeruddin Shah and Kalki Koechlin.
I play the lead in another film, Crouching Tiger Manu. It's a very commercial film.
It's the first comedy I have done. It has a great supporting cast -- Vijay Raaz, Sanjay Mishra and Tinu Anand. That one I am really looking forward to.
So is this what you wanted to do when you were 12 years old?
When I was 12, I thought I would be singing and dancing around trees. But life had other plans and I am quite happy with those plans.