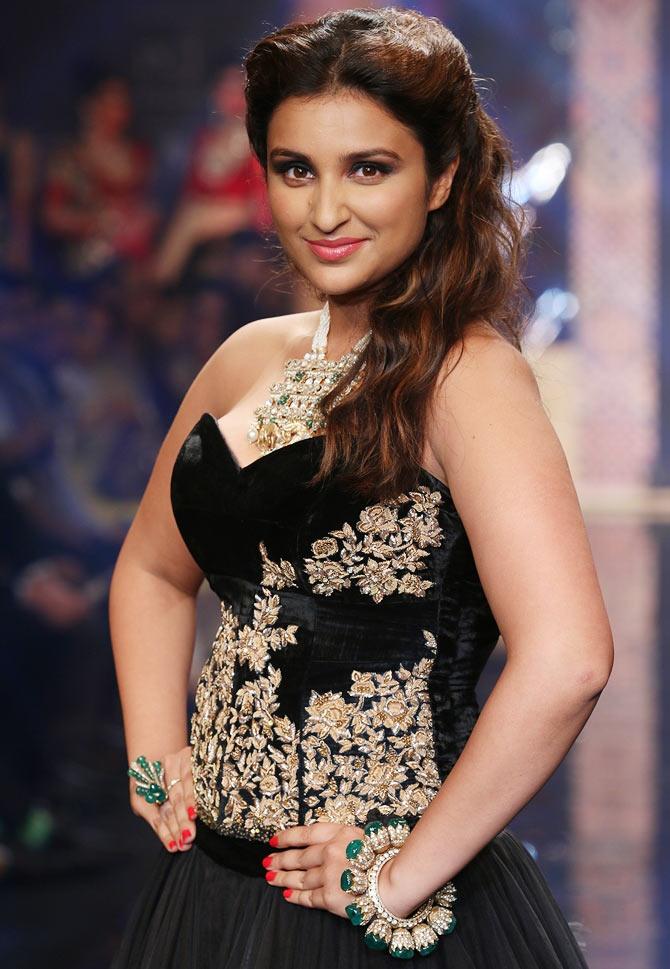 'I have been singing from childhood. I am a trained Hindustani-classical singer. I graduated in music as well.'
After charming the audience with her acting chops, Pari is now going to woo them with her vocal skills!
Parineeti Chopra took time off movies, and concentrated on changing her body image, and shedding all the extra kilos. And what a WOW job she did!
Now, she's busy with films again, and announced her next film Meri Pyaari Bindu through a video recording.
Pari plays Bindu and there is nothing vampish about her character.
In this candid conversation with Subhash K Jha, the actress reveals how the film happened.
Welcome back, Parineeti.
Thanks. But where had I gone? I was right here, busy with so many things.
Going by the number of people who have been calling and messaging, it feels like the film has already been released (laughs). Seriously, it feels really great. The video has worked.
We wanted to announce my film in a new way. Also, it shows everyone how I am looking these days.
The song in the video is sung by you, right?
It's an amazing track composed by Sachin-Jigar. I am their big fan! I loved recording the song with them.
I have been singing from childhood. I have inherited the singing genes from my father. He put me on to a music guru from childhood. I am a trained Hindustani-classical singer.
I graduated in music as well.
In the film, I play a aspiring singer.
You are a graduate in Hindustani classical music?
Yes! All my family and friends know I can sing. I am constantly humming. Music directors did suggest in the past that I should sing for myself but it never happened.
I am glad Maneesh Sharma (who is a co-producer on this project), Aditya Chopra and my director Akshay Roy convinced me to sing in Meri Pyaari Bindu.
Coincidentally, Ayushmann Khurrana, your co-star in Meri Pyaari Bindu is also a singer?
Oh, but he is a professional singer. The world knows how well he can sing. He has released many songs. I am new to professional singing.
What took you so long to accept a new acting project?
Well, the script had to work for me. When I read the script of Meri Pyaari Bindu, it connected immediately with me. It's a feel good script. I think Akshay Roy will make a good film.
That I get to sing is a bonus. Adi (Chopra) is the producer. So it's like coming home.
More acting assignments coming up?
Of course!
Meri Pyaari Bindu is the first film I have announced. There are others coming up.
I am going to do everything this year that I wanted to do. You will hear of many more announcements from me. I am back in action.
When do you start shooting for Meri Pyaari Bindu?
In April. We finish in June.