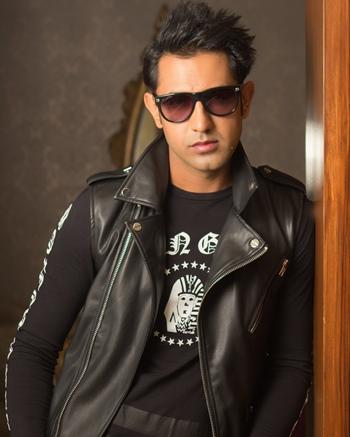 'We have tried to make a good film as newcomers and if it receives appreciation that'll be very good for us'

'While Bollywood has a huge reserve of good directors, there are only a few decent ones in Punjabi film industry.'
Singer-actor Gippy Grewal gets ready for his Bollywood debut.

Punjabi singer-actor Gippy Grewal makes his Bollywood debut along side Govinda's daughter Tina Ahuja in Smeep Kang's directorial debut Second Hand Husband.

The film releases July 3 in theatres.
In this interview, 33-year-old Grewal, who has frequently collaborated with Kang on successful Punjabi films like Carry on Jatta and Bhaji In Problem, talks about his Bollywood aspirations and just what we can expect from his Hindi debut.
Tell us about your role in the film.
I play a divorcee who pays alimony to his ex-wife (Geeta Basra) and is in love with another girl.
The girl's family tells him to get rid of the alimony business only then he can marry their daughter.
So I am the second hand husband in this film.
How did this movie come about?
When I heard this script for the first time, it had come for a Punjabi film. But that also happened to be the time when I was looking for a suitable script for a Hindi film.
I got a bunch of offers from corporates for a Hindi film but didn't find anything that I would be excited to do.
When I heard about Second Hand Husband, I thought this film had a Punjabi backdrop but if we change the language to Hindi, it'll be fun.
It's a high-end concept and an intelligent subject for a film -- there has not been anything on alimony in Hindi films so far. So I thought it's a novel concept and people will like it. It's packed with sensible humour and will make everyone laugh.
How was it working with debutante Tina Ahuja?
When we read the script and set out to find the female lead, we realised that it'd be better to cast a new face.
After a few days, Tina's name came up. We had a few meetings and found that she had a good comic timing.
Also, since this is more of a content-driven film and not a big, expensive commercial potboiler, and Tina's father (Govinda) has done so many films of this kind, we felt lucky when she came on board.
What can we expect from Second Hand Husband?
I think this film has come the right time. Intelligent films with good humour are working these days.
We have been working on this one since Vicky Donor came out. Recently, Piku and Tanu Weds Manu Returns have done well so we think our film in on similar lines in terms of content.
Second Hand Husband is also musically strong. We have tried to make a good film as newcomers and if it receives appreciation that'll be very good for us.
Have you sung any songs for this film?
I have sung three songs out of the album's six, including Mitthi Meri Jaan.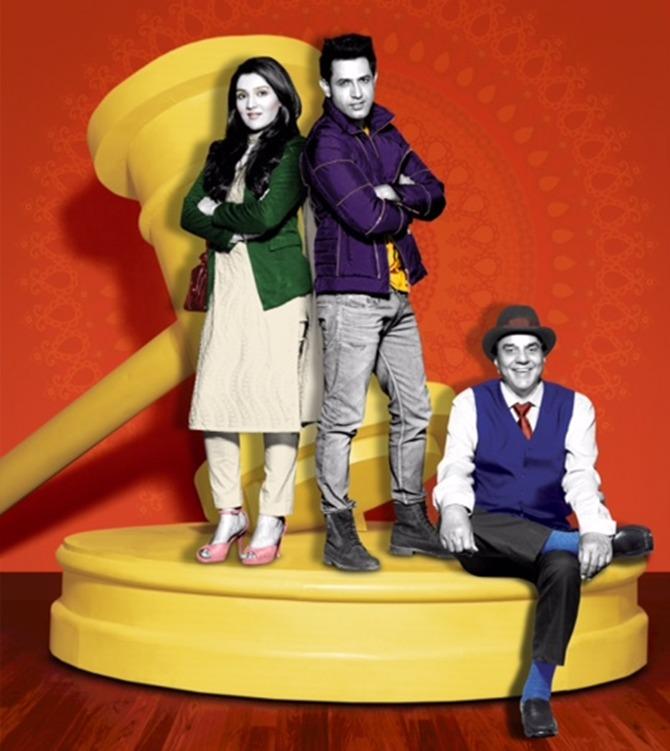 Image: Tina Ahuja, Gippy Grewal and Dharmendra in Second Hand Husband
You said this film was started when Vicky Donor was released. Why did it take so long to make this film?
This film's idea came up around the Vicky Donor had released so I thought we should make this film in Hindi because Vicky Donor-type content-oriented films are being appreciated.
It was all in the initial stages. After that, we looked for producers, cast, then we also started working on the script further.
I want the film industry to watch the film and say how newcomers have made such a nice film.
What are your plans for your Bollywood career?
I didn't come here thinking I'll do tons of movies and songs. For now I have a couple of commitments in Punjabi films that I have comleted.
Besides that, let's see how my work is received here. If it works out, I'll take up more work. I'm here to work after all.
What's happening in your musical career?
There's a lot happening there too, I have a music album complete that has been delayed because of this film, that'll come out soon.
Then there are a lot of musicians from Punjab in Bollywood who I work with like Badshah, Honey Singh, Dr Zeus, so I'm lining up more work with them.

Watch Gippy Grewal sing Mitthi Meri Jaan from Second Hand Husband below:
Do you feel there's any difference between Punjabi and Hindi films?
The only difference is the language.
That said though, Punjabi films aren't made on a scale of Hindi films. The maximum a Punjabi film's budget can go up to is Rs 8-9 crore.
We can't go above that kyunki hamari itni recovery nahi hoti (because we don't have that big a recovery).
Other then that it's all the same -- we work with technicians from Bollywood, big stars like Dharmendraji, who has worked with me in a Punjabi film (Double Di Trouble) and Akshay Kumar, who produced one of my previous films (Bhaji in Trouble), are also involved.
Any Bollywood directors in particular you'd like to work with?
There's a bhandar (huge reserve) of good directors in Bollywood unlike Punjabi films that have only a handful of good directors.
For example, I'm a big fan of Rohit Shetty, I like his Golmaal-type films and Abbas Mustan's Race-type films.