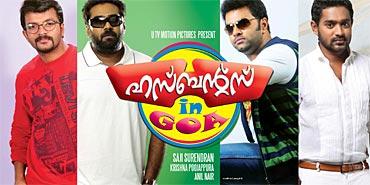 UTV Motion Pictures will kickstart its operations in Malayalam with a laugh riot, Husbands in Goa, to be directed by Saji Surendran.

Jayasurya, Asif Ali, Biju Menon and Indrajith will play the leading roles in the film.

Saji shot to fame directing television serials before switching over to the big screen with the hugely successful Ivar Vivahitharayal.

Now, he will team up once again with scenarist Krishna Poojappura and cinematographer Anil Nair. In fact, the trio will shortly begin shooting for their new film Kunjaliyan, with Jayasurya in the lead, this week.

"This

is indeed a big honour and we are thrilled to be associated with UTV," says an excited Saji. "I have to clarify that the new film is not a sequel to my earlier Happy Husbands. We have a completely new star cast for the project."

According to Krishna Poojappura, the story of Husbands in Goa revolves around three husbands (Jayasurya, Indrajith and Asif) who are on a trip to Goa to take a break from their messy married lives. "During the trip, they become friends with a man (Biju Menon), who is on the verge of a divorce. Things get more interesting when their wives join them in Goa and from then on, it is a cat and mouse game."

Bhama, Bhavana and Samvritha Sunil are the heroines. The shooting of Husbands in Goa will start in February.