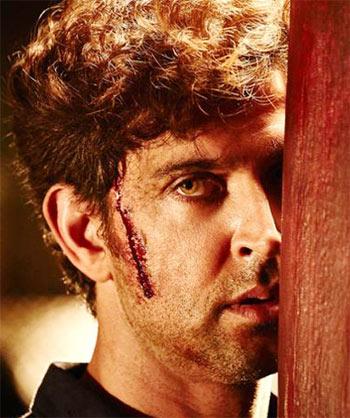 'Hrithik is 10 years junior to Shah Rukh, so I know there will be an impact on the box office.'
'Star power matters, they bring in the crowds. But that is only until Sunday. From Monday, the star doesn't work, the film does.'
Director Sanjay Gupta talks Kaabil.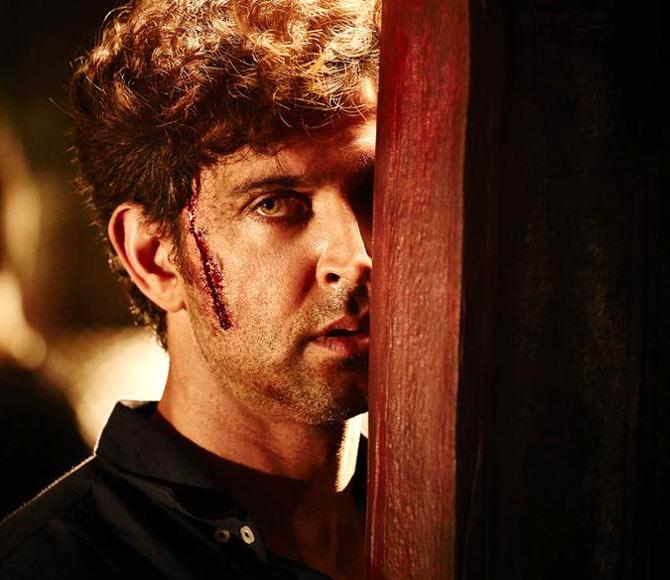 IMAGE: Hrithik Roshan in Kaabil.
"I am not getting any sleep!" Sanjay Gupta exclaims.
The director, who has directed 12 films in his career, has never bothered about the box office before.
But things have changed with his new release Kaabil, starring Hrithik Roshan and Yami Gautam, which will release on January 25.
Why are things so different this time? He gives Patcy N/ Rediff.com all the answers.
What gave you the idea to make Kaabil?
I was in the middle of making Jazbaa when I met this writer, who narrated a story idea that I liked. We started working on the script instantly.
We finished it just as I finished shooting Jazbaa.
I met Hrithik and narrated the story to him. After that, I met Rakeshji because he had called me and asked, 'Kya sunaya mere betey ko jo usse itna achcha laga? Mujhe bhi sunna hai.' (What story did my son listen to that he loved so much? I want to hear it too).
I narrated the story to him and he said right then, let's do this.
You usually produce your own films.
I had developed this film for my company, as I have never directed outside my banner since 2001 when I started it.
I was spending time with Rakeshji before starting Jazbaa in 2014, and we had an understanding that I would direct a film for his company. That is why when Kaabil happened. He said he would like to take this film under his banner. I was okay with it as I was directing it.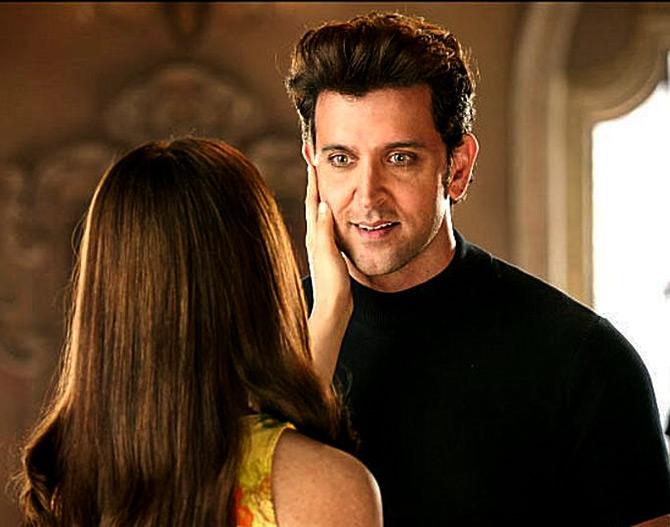 IMAGE: Yami Gautam and Hrithik Roshan in Kaabil.
How difficult was it to make Hrithik look convincing as a blind man?
It's very difficult normally but not for me. I just had to create the atmosphere and the scenes and Hrithik did the rest.
We were very clear that at no point in the film would he will turn into a superhero. There was extreme intelligence and logic in the script. You will not question Hrithik's character in the film. It is very real.
His performance is fabulous. I take zero credit for that, as he did his homework. I had to do nothing with his process.
Was Hrithik your first choice?
I had nobody in mind when I was writing this script; it was very difficult to imagine who would do this role. But I needed a good performer, who would give his 100 percent.
Ekta Kapoor was initially supposed to make this film with me. At that time, we were not sure who would pull off this character.
When you have a fantastic script, production house and director, there's no point making the film with a smaller star. We were very clear we needed a big star to do justice to the film.
Hrithik's manager asked me if I had something for him. I said I had a script but it was not like Bang Bang or Dhoom 2. I told him that this was a Rs 200 crore film to make, and a very intense one.
After Hrithik got to know about this, he wanted to meet me that day itself. I went and narrated the script to him and he instantly said yes. Then it took time for me to sync in the fact that Hrithik was doing the film. After that, I did a revision because I had got a megastar, who is also a fantastic actor.
Hrithik does not play Hrithik Roshan in every film; he becomes that character.
I was very excited on the first day of the shoot because I knew he would surprise me. There are a lot of scenes that are extremely demanding.
I narrated the script to his mother, as she is one of the producers in the film. She had tears in her eyes.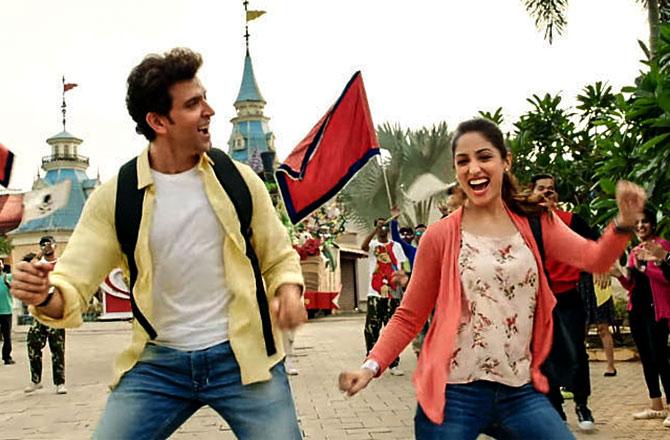 IMAGE: Hrithik Roshan and Yami in Kaabil.
Why didn't you make the film with Ekta?
We will work together in future. We have an amazing relationship. But right now, they are in their revamp structure and are going slow. Once she decides, I am always there to work with her.
Did Hrithik's personal life affect the film?
Not at all. Not his personal life nor the fate of Mohenjo Daro.
Yami Gautam was not the first choice.
We approached other actresses. I wouldn't want to name them as they were A-listers. Both of them had valid reasons for not being in the film -- one was a genuine date problem and the other had just done a similar role.
We also looked at newer and unconventional actresses like Radhika Apte.
I had met Yami before. When her name came up, I knew she was a wonderful and pretty actress.
The other actors in the film are Girish Kulkarni -- you know him now because he played the coach in Dangal -- but I have seen his Marathi films. I really fought for him with Rakeshji because I had thought about him while writing the script.
Then there is Narendra Jha. You don't see much of these actors.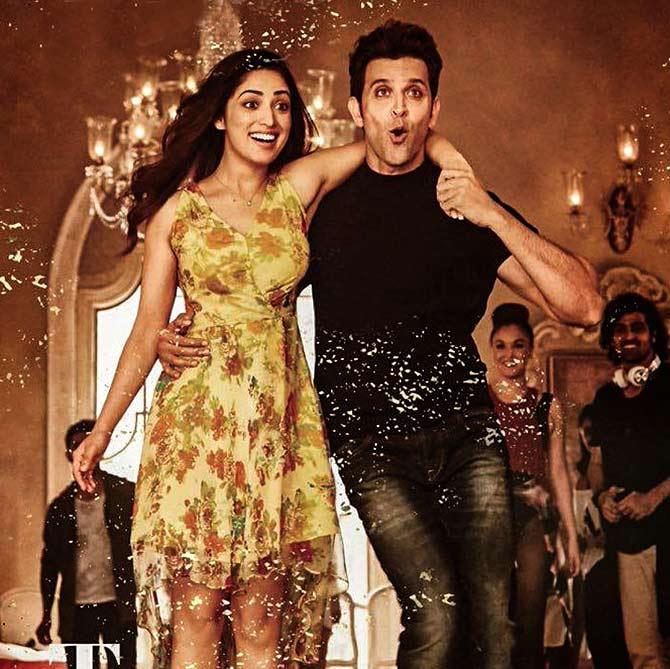 IMAGE: Yami Gautam and Hrithik Roshan in Kaabil.
Did Rakesh Roshan ask for changes in the script?
When I met Rakeshji, the script was ready. There were no major changes. But we did a complete revision of the script with Rakeshji and brought in another writer called Sanjay Masoom, who did the dialogues.
Rakeshji gave his valuable suggestions, which we incorporated. Luckily, our visions matched.
I do not like improvising on the script once we start shooting because we have spent months on it. On the sets, you can get a great idea but I don't have time to sit and analyse as much as I have done before. So the best thing is to stick to the script.
In my entire career, whenever we have deviated from the script for one or two films, they did not turn out well.
How similar or different are Rakesh and Hrithik Roshan?
I can say one thing: I don't even have 20 percent of that zeal and focus like Hrithik and Rakeshji.
I have spent a year with Hrithik working on this film. Till today, he has not discussed any other film or hero or even box office numbers of films, including Raees (which will release on the same day as Kaabil). That is the kind of focus he has.
When you are sitting with Rakeshji, there is no industry talk. Although he watches all the films on Friday, he never discusses them. Normally, when industry folk meet, they discuss movies or box office. But they (the Roshans) don't talk about these things at all. They are not bothered. Their concern is the film and how they can better it.
Do you think Kaabil has an edge over Raees?
I don't feel my film has an edge over any film. That is just putting the other film down and I don't want to do that. They have worked equally hard.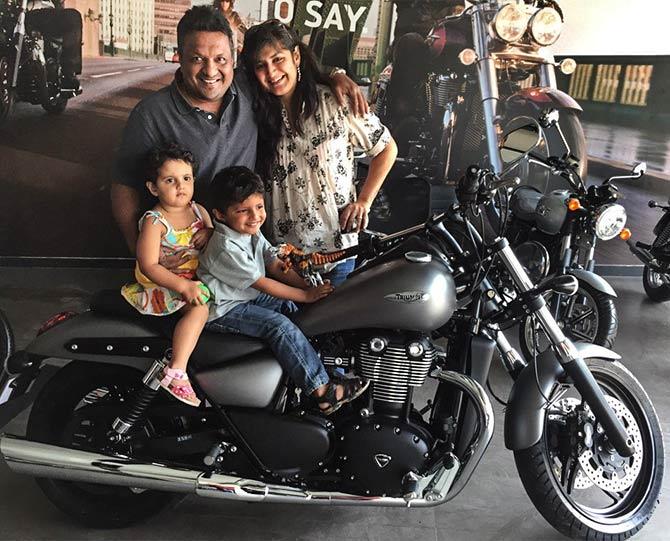 IMAGE: Sanjay Gupta with his daughter Dalai, son Shivaansh and wife Anu Lekhi.
Is there anxiety as the film release inches closes?
Yes, I am not getting sleep!
I have been very thick-skinned. I have never bothered about box office; I move on. This is the first time when I am sitting up because Kaabil is very important.
I have changed today. I am a father with two small children. Everything that I do impacts their future. So yes, in that sense, the film is very important for me.
Secondly, in my earlier films, the risk was mine because I was the producer. Even if there is a loss, I take the hit. But here, I am responsible to somebody else. I don't want anyone to lose money.
Shah Rukh Khan has a bigger fan following than Hrithik. Will that impact the box office?
Numbers are bound to go up and down. Hrithik is 10 years junior to Shah Rukh. Shah Rukh's competition is Salman Khan and Aamir Khan, so I know there will be an impact on the box office.
Star power matters, they bring in the crowds. But that is only until Sunday. From Monday, the star doesn't work, the film does.
Today, if a new actor is launched and there is enough buzz, the film will fly.
Why do your film characters, even the heroes, have grey shades?
When I was growing up, I had an issue with Hindi film heroes. They were too white.
Dharmendra was too white, too nice. I feel nobody is like that in real life.
My father had his flaws, so did I. I would find it irritating to see things that were not real.
When I did my first film Aatish in 1991, during my first narration to producer GP Sippy, the story was about a lecherous man who tries to rape a widow. His son kills him, the mother takes the boy to a mafia don and says look after my son, he should not go to jail. The son grows up to become a gangster.
GP Sippy scratched his head and said, 'You want to make a film where the mother gives her son to the mafia don?'
I explained that she did not want him to go to jail and that is very practical thing to do. If it is a gangster film, I want the roots in the childhood itself. I convinced him.
Since then, I have been looking at elements of darkness in my characters.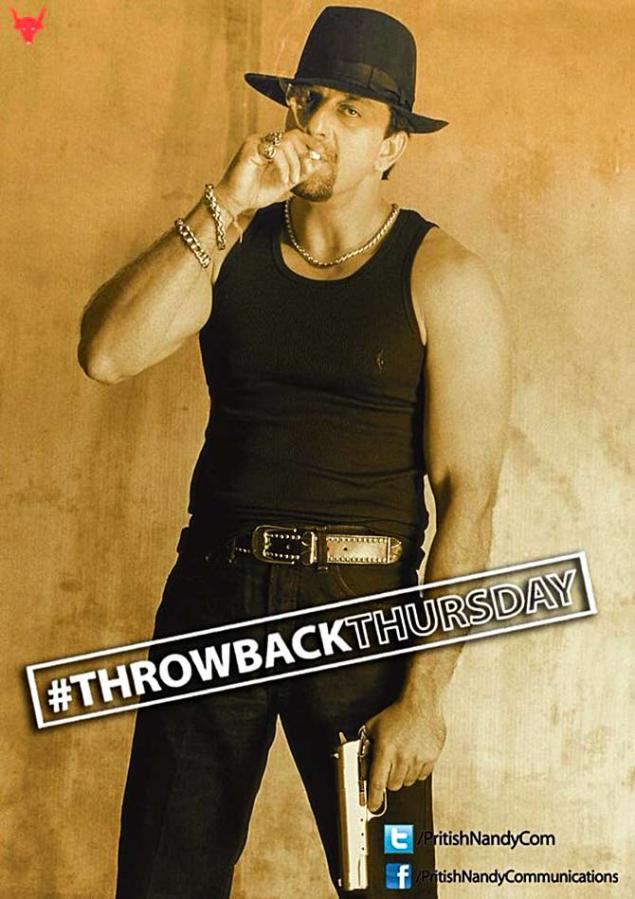 IMAGE: Sanjay Dutt in Kaante. Photograph: Sanjay Gupta/Twitter
When will you collaborate with your erstwhile business partner Sanjay Dutt?
I have no idea. Earlier, we would decide an actor and then look for a script. But now, I wait for a good script and then accordingly chose the actor.
So when I get a good script, I will (work with Dutt). In fact, I am dying to work with him. We have had a fabulous association.
Are you looking forward to his biopic to be made by Raj Kumar Hirani?
I don't think his biopic should be made. I have been very vocal about it. He is very much around. He is making a comeback as a hero again, so what is the need?
He has had an interesting life but everybody knows that life.
Will we see your character in the film?
No, I am not in the film. I want to be the hero, not the hero's friend. (laughs)
What are your thoughts on Ranbir Kapoor playing Sanjay Dutt?
Ranbir will look the part to a certain level because the young Sanju had so much of innocence on his face, which Ranbir has.
Ranbir is probably the best actor we have today. He can pull off anything.