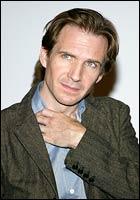 Guess who plays He-Who-Must-Not-Be-Named in the next Harry Potter film?
Ralph Fiennes will essay the part of Voldemort, the evil wizard at the heart of all the Harry Potter stories.
The British actor -- elder brother of Joseph Fiennes (Shakespeare in Love) -- has etched both heroes (The English Patient) and villains (Schindler's List) in an impressive career.
For those who don't know or live on another planet: He-Who-Must-Not-Be-Named, because no one ever utters Voldemort's name in the Potter books or films.
Even a mention of his diabolic presence could incur his wrath.
This is the first time audiences around the world will see the man who has replaced Star Wars' Darth Vaader as the very symbol of evil.
Voldemort only appeared in likeness in the first three films, Harry Potter and The Sorcerer's Stone, Harry Potter and The Chamber of Secrets and Harry Potter and The Prisoner of Azkaban.
J K Rowling, author of the Potter stories, has veto rights on the casting and has always insisted that the cast only consist of British actors.
However, for this, the fourth film, she appears to have made exceptions. Stanislav Ianevski -- who is apparently of Polish origin -- plays Viktor Krum, an ace at Quidditch.
Also in the film is French actress Clemence Poesy who plays a Gallic student at Hogwarts. Scotland-born Katie Leung -- who imdb.com says 'beat over 3,000 girls' to bag the role -- plays Cho Chang, a girl Harry Potter is very interested in.
Brendan Gleeson, the Irish actor who played Menelaus in Troy. Gleeson is Mad-Eye Moody, the Defense Against the Dark Arts teacher, a role that inevitably meets its doom in the Potter films.
Harry Potter and the Goblet of Fire is the first of the Potter films to be directed by an Englishman.
The first two films were directed by American Chris Columbus; Prisoner of Azkaban was directed by Mexican director Alfonso Cuarón. 
Goblet's helmsman is Mike Newell, whose Four Weddings and a Funeral revived the British film industry and made Hugh Grant an international star.
Harry Potter and the Goblet of Fire began shooting in Britain (where else?) June 25.
Photograph: Getty Images