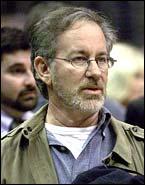 Iconic director Steven Spielberg is reportedly in talks to bring the beloved nanny Mary Poppins back to the big screen with a new version of the 1964 musical, which starred Julie Andrews.

Sir Richard Eyre, the director of the London stage show of Mary Poppins, said he had been approached by the Jurassic Park director for a remake of the evergreen children's classic.

'Spielberg wants to make a new film of Mary Poppins and we've talked about it a lot. It will be hard to outdo the original but kids love the story and I'm sure that the remake will be a real success,' Femalefirst.co.uk quoted him as saying.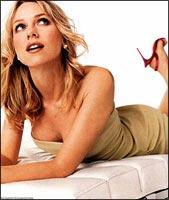 After Kong, it's Bond?
James Bond bosses were apparently so blown away by Naomi Watts' performance in the blockbuster hit King Kong that they are offering her the role of Daniel Craig's leading lady in the upcoming Bond film, Casino Royale.

According to reports, the actress has already received a phone call from the Bond team Eon Productions, inviting her to play Russian vixen Vesper Lynd in the upcoming movie, and they want her to do a screen test.
However, the actress' friends fear that she will turn down the offer because of the superstition that it will jinx her career. Oscar-winner Halle Berry's career nosedived after she did the Bond film Die Another Day in 2002.

Some analysts say the reason why famous actresses turn down the chance to appear in a Bond flick is because they don't want to be typecast.

The new Bond movie's team has already hit a brick wall while trying to sign Angelina Jolie and another Oscar winner, Charlize Theron, who have already rejected the role.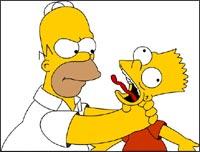 Now, Homer Simpson accused of encouraging drunk driving!

After Russian lawmakers tried to get the hit cartoon series The Simpsons banned on grounds of obscenity, makers of the serial have found their lead character Homer Simpson once again in hot soup, this time for apparently promoting drunk driving.

Amanda Roberts, of the Campaign Against Dangerous Driving, said showing Homer getting behind the wheel after drinking alcohol would only encourage others to do the same.

'Showing Homer in this light is more than careless, it is downright dangerous,' the Mirror quoted her as saying.

However, The Simpsons fan club member Richard Kalman said the show always portrayed Homer's drunken driving as meeting with harsh consequences, thus sending out the message that it's dangerous to drink and drive.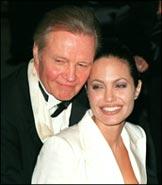 Jolie's dad clueless about her wedding plans!

Angelina Jolie's dad Jon Voight may have given his approval to her rtomance with Brad Pitt, but he has no idea whether the couple will tie the knot or not.

'I don't know what's going on, but if Brad and Angie are going to make a life together and care for each other deeply and are happy together, then I certainly wish them the best,' he was quoted by femalefirst.co.uk as saying. 'I have no idea if they will marry and I'm as interested to find out as anyone else is,' he added.

Voight, who has had problems with the actress since he went on a US chat show and spoke of her alleged 'serious mental  problems,' hopes Angelina and Brad have a happy life together.

The 66-year-old also admitted he hopes Angelina, who has two adopted children, has her own babies.

'I think it's a great thing she's done in adopting them and she certainly seems to make them happy, but I think it would be nice, too, if she'd have her own. I don't know why she hasn't. Maybe she just needs to be with the right guy,' he was quoted  by the Daily Mail as saying.

J Lo's blackmailers caught

Two New Jersey men have been arrested in New York for allegedly trying to sell Jennifer Lopez and Marc Anthony's  stolen wedding video back to them for $1 million.

A 31-year-old conman Tito Moses and retired postal employee Steven Wortman, 40, were reportedly caught in a police operation, which had the culprits believe that the stars' representatives were waiting with the ransom.

'They were shocked because they thought they were coming for their payday -- and instead, they got the surprise of their
lives,' Ratethemusic.com quoted Major Case Squad Inspector Michael Hines as telling the New York Post.

The couple's 2004 wedding tape was on Anthony's laptop computer, which was stolen along with the singer's cadillac in New Jersey on October 30.

Police received the information about the scam from Access Hollywood, which got a call from Moses earlier this month, offering to sell the video for a hefty price.