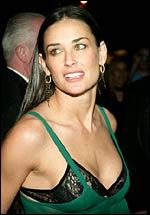 Striptease actress Demi Moore has been chosen as the new face of fashion giant Versace.
According to Femalefirst.co.uk, the actress will shoot six images for the new campaign. The photographs will be shot by top shutterbug Mario Testino, and will appear in glossy magazines in August.
Moore replaces singer Madonna, who appeared in the spring summer campaign for the fashion house.
'I have known Demi Moore for many years, and never has she been as beautiful as she is now,' Donatella Versace told Women's Wear Daily.
'Her presence is magnetic because it is entirely natural and never forced. Her personality comes shining through,' she added.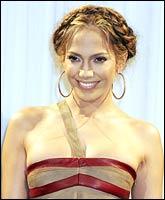 J-Lo to launch a fashion range for pets
Latino pop singer and actress Jennifer Lopez is set to design a new fashion range -- for animals.
The diva, who launched her own fashion range, Sweetface, for women earlier this year, has now turned her hand to a new range of accessories for pampered pets.
'Jennifer thought it would be fun and unusual to extend the range of accessories to animals,' Femalefirst.co.uk quoted a source as saying.
De Niro angry over paparazzi interviewing kid
Robert De Niro has slammed an American newspaper after he found out they interviewed his nine-year-old neighbour about a theft in his house.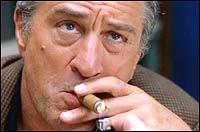 The New York Post spoke to the child after news of De Niro's housekeeper being arrested for stealing jewellery from the actor

was revealed earlier this week. The actor is set to appear in court on Friday.

 

De Niro is furious with reporters who tried to get comments from a child who lives in his New York building.

 

'It's beyond reprehensible. Children are off limits. There is white heat coming out of Mr De Niro over this,' De Niro's spokesperson Stan Rosenfeld told the New York Daily News. 
Oprah vows against Hermes
Television show host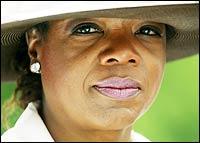 Oprah Winfrey, who was denied entry by the Hermes store in Paris, has reportedly vowed to snub the designer handbag store for good.
Last week, when Oprah had gone to the store, she was denied entry because the store's staff was said to be having a problem with North Africans, and they had no clue who she was.
But, according to Femalefirst.co.uk, sources revealed the staff did recognise the talk show host, but refused entry because she wanted to shop after the store had closed for the evening.
'They knew exactly who she was. They specifically said, "We know who you are",' a pal was quoted as saying by the New York Daily News.
The friend, however, claimed that Oprah was turned away because she is black. 'If it had been Celine Dion or Britney Spears or Barbra Streisand, there is no way they would not be let in that store.'
Photographs: Getty Images