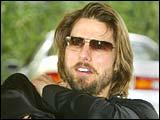 According to Hollywood Reporter, Tom Cruise will take a turn for the worse!
Cruise will costar with Val Kilmer in Collateral, a thriller in which he plays a hired killer who kidnaps and forces a Los Angeles cabbie (Jamie Foxx) to drive him to his death-dealing appointments.
Kilmer, who is still in talks with studio executives about the film, might play the detective who tries to track him down.  The film, which has been scripted by Stuart Beattie, will be directed by Michael Mann (Ali, The Insider, Heat). Shooting starts in October.
Free Willy whale loves his fans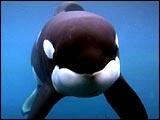 Nearly a year has passed since Keiko, the whale in Free Willy, was freed into the sea.
Keiko, who is estimated to be 26 years old, was captured near Iceland in 1979 and sold to the marine park industry. Later, in an effort to return him to the wild, he was trained to catch live fish. Though he was released in Iceland in July 2002, he swam straight back to Norway in a 870-mile trek in what seemed to be a search for human companionship.
Now, he lives in his new home in Taknes Bay, Norway.
Associated Press says the killer whale still draws 200 to 400 fans a day.
Keiko T-shirts apart, local farmers charge 20 kroner (about $2.70) to allow vehicles to park in dirt lots with Keiko signs.
The game of their lives
| | |
| --- | --- |
| | More on Rediff! |
| | |
They may not have the cup, but they sure have won a lot of hearts, says
Associated Press
.
The 1950s American soccer team saw their fan following increase when they beat the English in Brazil.
Now, director-writer duo David Anspaugh and Angelo Pizzo, who have made sports films like Hoosiers and Rudy, are making The Game Of Their Lives, based on the 1950 US World Cup team.

Slated for a 2004 release, the film focuses on five players in the starting lineup from St Louis, where most of the players hail from.
Gregory Hines hid cancer battle for two years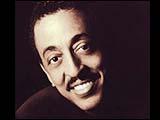 Tap dance legend, actor and choreographer Gregory Hines, who passed away this month, secretly battled liver cancer for two years before he died, reports The Enquirer.
The 57-year-old icon passed away on his way to the hospital on August 9 after collapsing at his California home.
Hines, who has films like The Cotton Club and Waiting To Exhale to his credit, valiantly tried to live a normal life throughout his illness. He continued performing until just two months ago and was planning to wed his fiancée, bodybuilder Negrita Jayde.
Unfortunately, his health worsened dramatically towards the end of May. Hines had to hire a live-in nurse in the weeks before his demise and had to be hospitalised briefly.