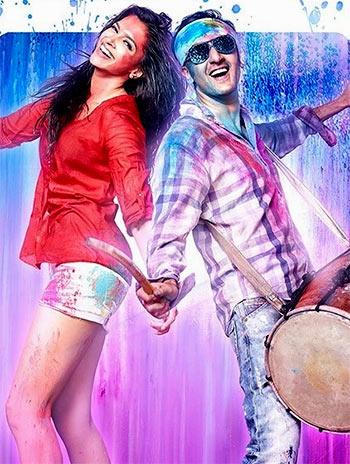 Holi Hai!
Gulaal, gujiya, pichkari or thandai, the Holi paraphernalia is all about fun, fun and FUN.
And a teensy bit of traditional bhang just gives it an added kick.

Well, Bollywood sure believes so.
With the festival of colours just around the corner, we dig out some lively bhang-soaked ditties just for you.

Because, what the heck, Holi Hai!

Jai Jai Shiv Shankar, Aap Ki Kasam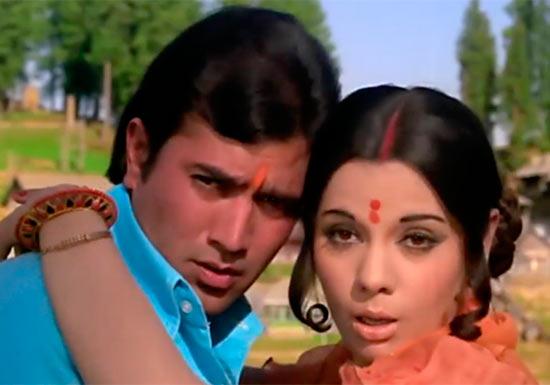 Image: Rajesh Khanna and Mumtaz in Aap Ki Kasam
Rajesh Khanna and Mumtaz turn into a pair of dizzy bobbleheads after glugging down 'Shivji ka prasad' resulting in an 'ek ke do do ke chaar' vision.
And that's what we love about this zippy rendition of the RD Burman chartbuster aka the ultimate bhang beat of Bollywood -- Jai Jai Shiv Shankar.

Rang Barse, Silsila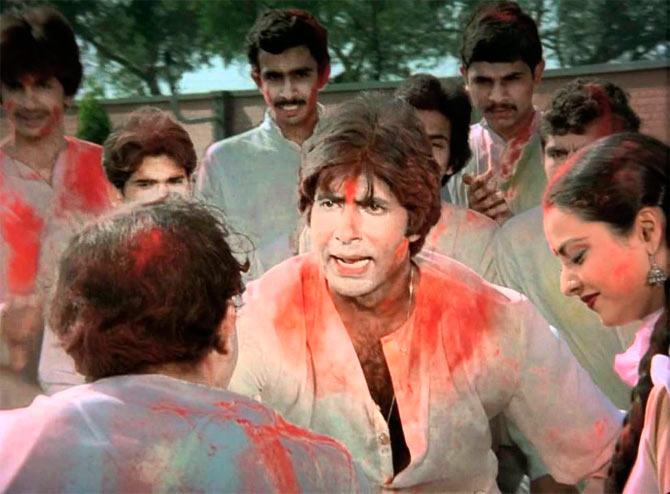 Image: Amitabh Bachchan and Rekha in Silsila
Bhang puts Amitabh Bachchan in unforgettably high spirits during the Rang Barse sequence of Silsila.

Our man throws caution to the winds and openly flirts with his ex-flame in front of their stunned spouses.
As Bollywood insists, all is fair in love and Holi.

Khaike Paan Banaras, Don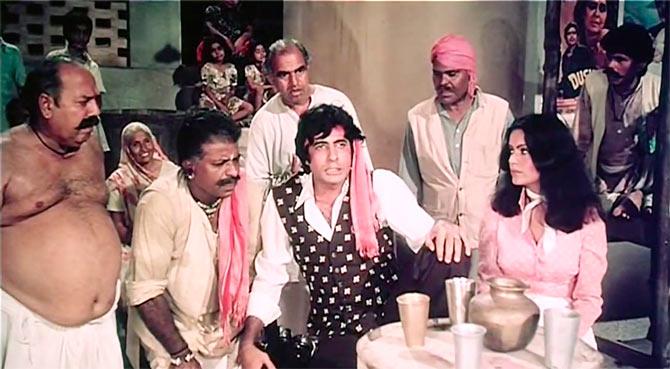 Image: Amitabh Bachchan and Zeenat Aman in Don
Big B's Don takes a breather from dodging cops 'n' crooks to take in a heady combination of 'bhang ka rang' and 'Banarasi paan' only to break into a lively, spontaneous jig.

What entertaining side effects, yes?

Balam Pichkari, Yeh Jawaani Hai Deewani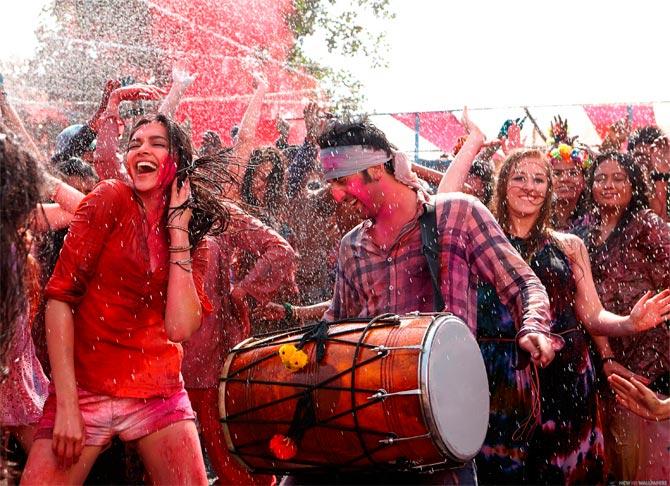 "
Image: Deepika Padukone and Ranbir Kapoor in Yeh Jawaani Hai Deewani
Itna maza kyun aa raha hai? Tune hawa mein bhang milaya?" wonders the erstwhile uptight Deepika Padukone tossing her specs and shyness out of the window.
The leggy lass doesn't waste a second to join in the Holi revelry with Ranbir Kapoor for Yeh Jawani Hai Deewani's vivacious tribute to the colourful festival.


Zara Si Aur Pila Do Bhang, Kaajal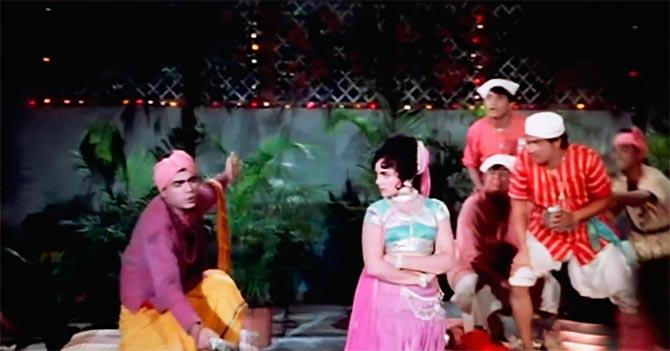 Image: Memood and Mumtaz in Kaajal
Mehmood and Mumtaz document the post-Bhang effect with hilarious gusto during one light-hearted interlude of the Meena Kumari weepie, Kaajal.
Bhang Ke Nashe, Koyla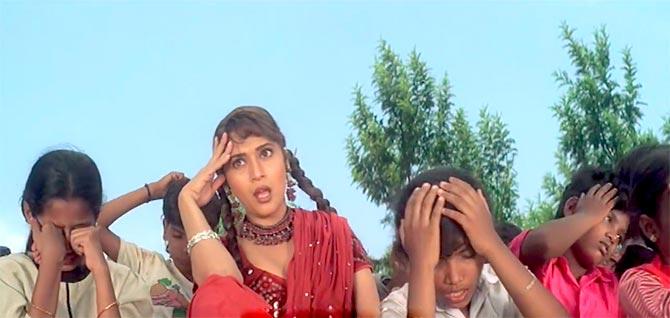 Image: Madhuri Dixit in Koyla
What happens when Madhuri Dixit and a trail of her knee-high followers gobble bhang-spiked offerings for Lord Shiva mistaking them to be regular motichur ladoos?
The world turns topsy-turvy and dancing queen Mads finds another opportunity to romp her way out of it as evident in Koyla's Bhang Ke Nashe.


Nadiya Se Dariya, Namak Haram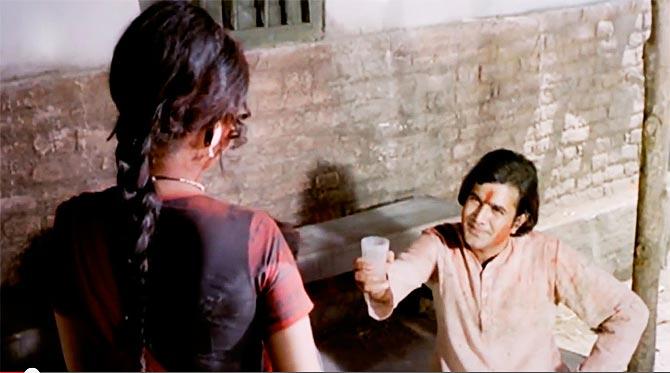 Image: Rajesh Khanna in Namak Haram
In Namak Haram, Rekha's 'special' Holi concoction has Rajesh Khanna's senses swaying in no time.

And how does he express that reeling feeling? By pouring out his heart and philosophy in Nadiya Se Dariya's wry poetry.

Ganga Ko Dekha, Paap Ki Duniya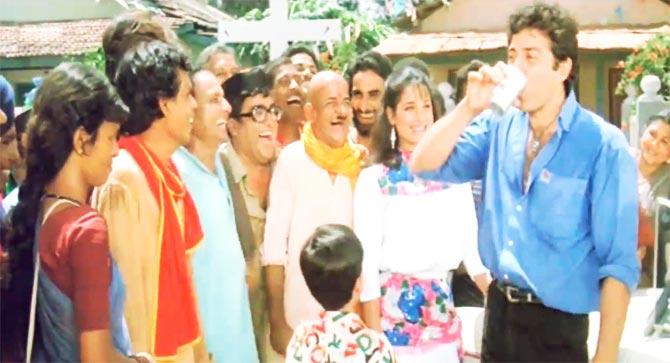 "
Image: Neelam Kothari and Sunny Deol in Paap Ki Duniya
'Saagar nadiya taal ghumein ghol ke yaro bhang. Phir na kahin ho maara maari phir na kahin ho jung,' recommends a high and happy Sunny Deol.
Guzzling down a glass has given him guts to tell Neelam 'Pyaar Bina Yaar Yahan Kuch Bhi Nahi' in a typically 1980s basti track from the potboiler, Paap Ki Duniya.

Madhubala, Mere Brother Ki Dulhan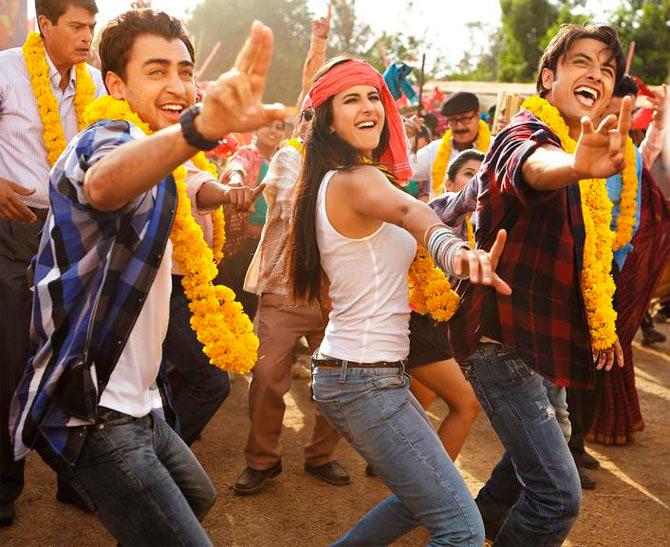 Image: Imran Khan, Katrina Kaif and Ali Zafar in Mere Brother Ki Dulhan
Siblings Imran Khan and Ali Zafar bond over numerous rounds of bhang even as Katrina Kaif's wild child ensures she's not left out.
When they're sufficiently intoxicated, the troika shake their hips to convince us of the same against the zany Madhubala in one of the more tolerable moments of Mere Brother Ki Dulhan.
Hum Hain Bhangedi, Pardesi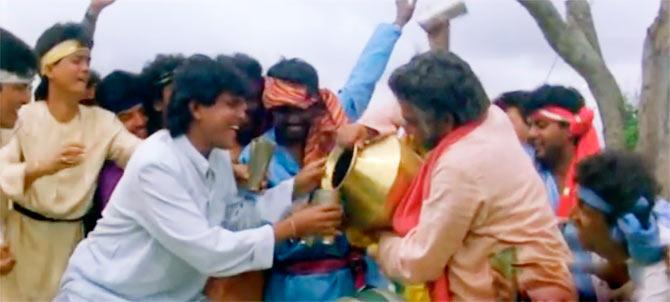 Image: Mithun Chakraborty in Pardesi
A big chunk of Mithun Chakraborty's career is defined by B-action movies.

And one of them is Pardesi, which features the disco forerunner saying cheers with bhang and lip-syncing to lyrics that go "Hum Hain Bhangedi Humein Bhang Pila De."
Stuff guilty pleasures are made of, don't you think?
Preetam Aan Milo, Angoor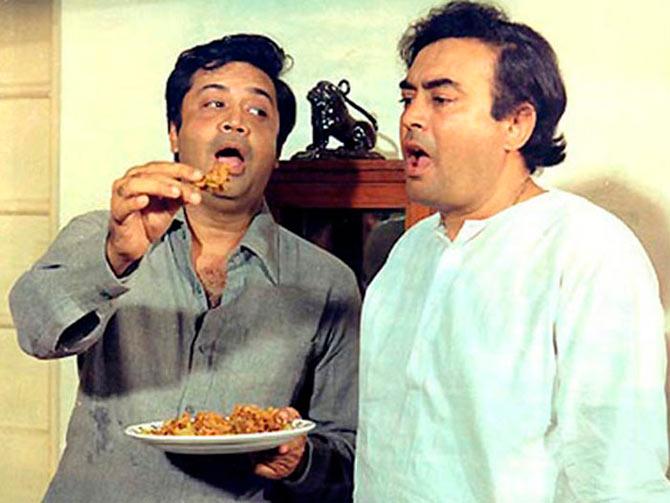 Image: Deven Verma and Sanjeev Kumar in Angoor
Technically, it's not even a bhang song.

But any mention of the intoxicant is incomplete without Deven Varma's pakoda aftermath in the tale of double twins, Angoor.
The late veteran is a hoot crooning 'Preetam Aan Milo' to beckon Sanjeev Kumar in a bhang-buzzed state.