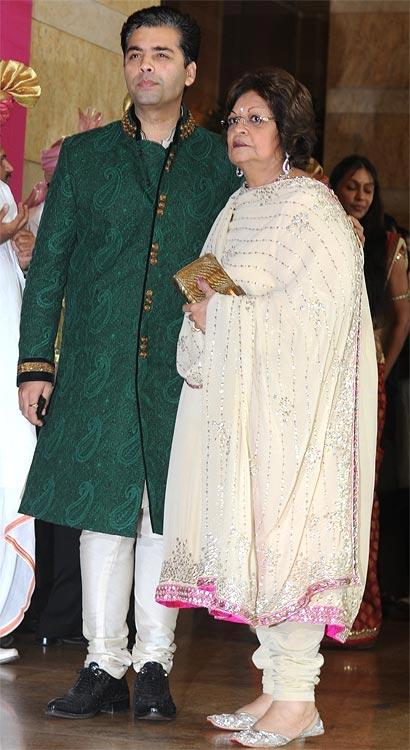 Karan Johar, who is busy with his Student Of The Year promotions, was not always as witty and confident as he is today. In fact, his mother Hiroo Johar claims he was an introverted child.

She looks back with affection on her son's impressionable years and how he transformed from a shy kid to being such a livewire, who'd later go on to host popular chat shows:

Karan was a dreamer as a child, and that I say that in the literal sense.

Till grade seven, at Green Lawns High School in Breach Candy, he was a very shy kid, very unlike the Karan Johar the world knows today.
He wouldn't open up very well to people and would keep to himself. Till then, he wasn't very good at his academics, just about average. Never did I think that he'd go into the movies despite the fact that his father (the late Yash Johar, founder of Dharma Productions) was a very successful film producer at that time.

I was disappointed to learn that he wanted to be a director. We thought he'd go to France to pursue his Masters degree and later maybe join the family's export business.

But there's a little story behind the transition.

For his grade seven, I decided to send him to a boarding school in Panchgani. He was reluctant but went there and stayed for four days.

I could see he was petrified of leaving home. Nobody knows what happened in those four days but Karan came home a dramatically changed person. It changed the person he was from within. It was almost as if he felt, if boarding is what would make him become brilliant in academics; he'd rather be brilliant in the same school back in Mumbai. That experience shook him, but for good.

Soon, his grades began to excel and his personality was transformed. He became more extroverted and participative in other activities. I started expecting a very academic career from him. But he chose the movies. I was uncertain about that but he was sure he wanted to follow his father's path and carry on the legacy.
Today, my son is at the top of his game, much loved and acknowledged by his peers.
NEXT: How Karan Johar became the Student Of The Year at HR college, Mumbai.