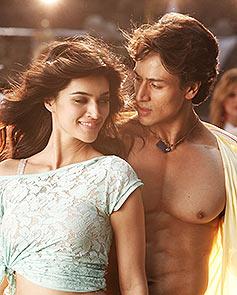 Tiger Shroff could not have asked for a shoddier launch with Heropanti. Yet, somehow beneath the pin-up torso, the soulful eyes and an awkward smile -- a genuine, graceful, likeable boy comes through, writes Sukanya Verma.
Amazing how Bollywood beats science when it comes to experiencing time travel.
Watching Heropanti transported me to an era when the leading man would fall in love with the girl after one fleeting glimpse, when her earring/anklet/scarf would invariably fall off and land in the hero's possession, when rescuing the lady from five omnipresent molesters after a prolonged fight sequence would cut to a romantic duet against a mountainous landscape, when a star son's launch vehicle meant a show reel to flaunt his expertise in stunts, dance and superficiality.
Unfortunately, director Sabbir Khan's out-dated filmmaking has no room for nostalgic wonderment even if that's just what it means to cash on.
Heropanti, which marks the debut of Jackie Shroff's son, Tiger shamelessly guilt trips the emotional viewer into summoning memories of his father with its strategic title and steady supply of the iconic flute play, here modified into a catchy whistle theme.
Certainly Tiger is not the first star son to receive such privileged treatment but Jackie or Jaggu Dada, as fans lovingly address him, is not like every other Bollywood celebrity we know. His stardom is built around an everyman aura -- the eternal Biddu after Subhash Ghai's Hero captured that raw, relatable intensity to memorable results more than three decades back.
What the makers -- producer Sajid Nadiadwala, director Sabbir Khan -- probably don't realise is that Tiger is different. Despite a physique that's ready to dwarf the screen, he doesn't have Jackie's innate, effortless machismo. This comparison wouldn't even arise if Heropanti wasn't so hell bent on making Tiger pose, walk or talk like his daddy. That it's also an irredeemably scatterbrained movie doesn't help his case either.
One rarely sees anyone work in the movies but in this dim-witted remake of Telugu flick, Paragu, nobody even pretends to have anything close to a job.
Somewhere in aimless Jattland where jeeps bear a sign that reads Jatt Do It (says a lot about Heropanti's humour) a family of brawny, bearded men and their growling patriarch (Prakash Raj) go hysterical in the mad pursuit of the latter's absconding daughter and her beau. Household's social standing is at stake if they don't break the pair, insist the bickering hooligans in their fake Haryanvi accents.
As part of this hunt, the extended family cum henchmen holds the runaway dude's friends hostages in their house. One of them happens to be Babloo (Tiger Shroff) who keeps harping the same bunkum all through the movie -- Sabko aati nahi. Meri jaati nahi. Was Sanjay Kapoor the inspiration behind such awful lines?
Babloo's in love with Dimpy (Kriti Sanon), the still upset Prakash Raj's younger daughter who seems clueless about what she's supposed to do or why she's in the movie given how Tiger upstages her in the so-called heroine territory as well -- song and dance.
Kriti is pretty and says her lines exactly like Twinkle Khanna but even her earring collection shows more range than her limited number of expressions.
Her chemistry with Tiger is so bland; it makes coconut water look sexy. Babloo is besotted by a girl he barely even knows yet one minute he's getting whipped for her, another she's not into him, Friday, I am in love? Really, even Prem Qaidi packed more conviction than that.
Scripts with pea-sized intelligence are often victims of their own laziness. And so when there's not more to showcase of Tiger's parkour proficiency and fabulous flexibility, Khan turns his attention to Prakash Raj.
From threatening to chop off his daughter's head to pleading 'I am a dog' to daughter no 1 and doing a Dilwale Dulhania Le Jayenge's Amrish Puri to daughter no 2, the actor starring in yet another South-to-North remake, exhibits a laughable change of heart.
Neither of it matters eventually.
Heropanti's sole purpose is to let us know there's a new actor on the entertainment scene. Nothing about Heropanti is fresh or clever. Saddled with a pedestrian setup, ghastly writing, old-fashioned treatment, tacky styling and uninspiring co-stars, Tiger has little going in his favour.
And the way I see it, he could not have asked for a shoddier launch. Yet somehow beneath the pin-up torso, the soulful eyes and an awkward smile -- a genuine, graceful, likeable boy comes through.
In his father's skin, he stifles.
In his own, he sparks of unique promise.
May the best hero win.
Rediff Rating: