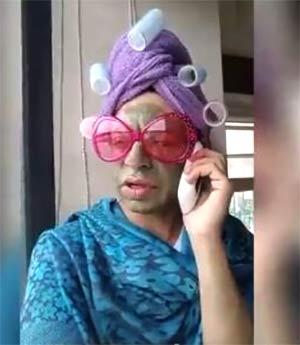 Pammi Aunty's gappe-shappe sessions with Sarla Bahenji have made Ssumier S Pasricha an internet star, says Manavi Kapur.
IMAGE: Pammi Aunty, in all her glory.
Men dressing up as women for comedy acts has become a common trope.
Take The Kapil Sharma Show, for instance, which has twice as many women characters as female actors in its cast. This gender-bending, almost Shakespearean, has fetched male actors pride of position on the comedy stage.
Actor Ssumier S Pasricha is the latest to jump on the bandwagon. Better known as 'Pammi Aunty' on YouTube and Facebook, the 36 year old has found his footing and a devoted following on social media.
It all began when his friends and nephew insisted that he create an account on photo- and video-sharing platform, Snapchat, in May. "I was just finding my way on the app when I came across this icon of a woman in purple hair and glasses. It became popular among my friends and family and that's when I thought it had potential," says Pasricha from Mumbai over the telephone.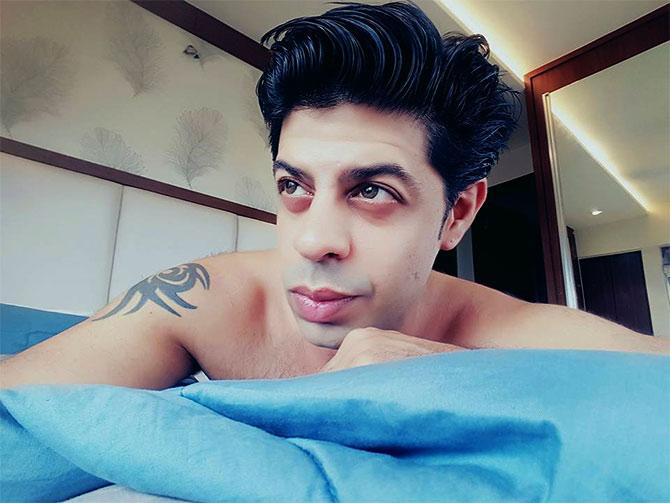 IMAGE: That's how Ssumier S Pasricha looks when he is not Pammi Aunty.
Pammi Aunty found her voice on Facebook through her first official episode on May 14. Since then, Pasricha uploads one Webisode every day, where Pammi Aunty speaks to Sarla Behanji over the phone, complete with a face mask, her hair wrapped in a towel, hair curlers for effect and oversized pink glasses.
For an MBA in marketing, this would seem like quite a career switch, but Pasricha disagrees. "I have always dabbled in acting, modelling and photography. I do anything that makes me happy."
It has been a long road for this alum from Modern School in New Delhi, who did his first television commercial in 2010 for Idea Cellular with Abhishek Bachchan.
While he has travelled the world to follow his passion for fashion photography, success on the acting arena only came after his television roles for soap operas such as Sasural Simar Ka.
And yet, Pasricha is no novice. Though he works alone on his script and videography for the Pammi Aunty episodes, he has a dedicated public relations team. It is no wonder then that, with just 50 Webisodes under his belt, Pasricha struck a deal with NDTV to co-host the channel's start-up awards.
IMAGE: Sharing a Punju moment with director Gurinder Chadha.
It would be naive to say that it is only happiness Pasricha is after. When asked which profession among the many he claims to work for he loves best, Pasricha replies with a tongue-in-cheek snigger. "Wherever I get the most attention."
For now, Pasricha can be content with Pammi Aunty since there is no scarcity for attention. His last webisode garnered over 38,000 views in just three days and the one where Pammi Aunty talks about popular game Pokemon Go saw 74,331 views.
This is certainly no mean feat. Actor Gaurav Gera's 'Chutki and the shopkeeper' acts, also featuring a cross-dressing male artiste, have been popular on social media for over a year and see an average viewership of 5,000 to 10,000 on YouTube for every short video.
But Pasricha is not one to be easily charmed by this quick fame. While speaking about his future plans, he hedges and hints that Pammi Aunty might finally get her own talk show on television. "Right now, I'm loving the compliments that my fans are sending and I am having a lot of fun with these videos. And if, in the process, it makes me money, then who am I to stop that," he laughs.
Photographs: Kind courtesy Ssumier S Pasricha/Facebook