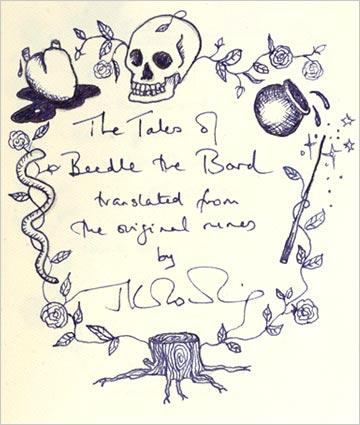 J K Rowling, the author of the iconic Harry Potter book series, has bid goodbye to the boy wonder and his friends in the form of a set of handwritten fairy tales.
The only catch is that you and I may not be able to read them as Rowling has given away six of the seven copies, all handwritten with her own drawings to a lucky few.
The seventh copy will be up for auction at London Sotheby's for the starting bid of $60,000, the proceeds of which will go to the Children's Voice Foundation, a charity that works with child victims of neglect and abuse in Eastern Europe.
The seven copies will not be published.
Speaking to BBC, Rowlings said the new work, titled The Tales of Beedle the Bard, was a 'wonderful way of saying goodbye' to the 'Harry Potter world'.
The writer had mentioned the tales in passing in her last book, Harry Potter and the Deathly Hallows (when headmaster of Hogwarts school Albus Dumbledore gave the tales to Harry's friend, Hermione.)
As for the identity of those lucky six who got the tales, Rowling said she has given them to 'those most closely connected to the 'Harry Potter' books during the past 17 years.'
In the picture: A handout image shows the illustrated copy of the book. Photograph: Getty Images