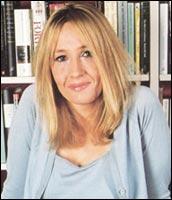 C
hristmas came early for Harry Potter fans as author J K Rowling finally revealed when they will be able to rush headlong through the pages of her new book.
The writer wasn't expected to actually unveil the date until Christmas Day, but caused a pleasant stir by anticipating her fans' eagerness.
On her official web site that looks like a very cluttered desk, Rowling empathised, 'I was sure those of you who celebrate Christmas have better things to do on the day itself than fight your way into my study, whereas those of you who don't celebrate Christmas would definitely prefer not to wait until December 25.'
Harry Potter And The Half-Blood Prince will be released on July 16.
The news about the sixth in the ultra-successful series of books was welcomed with applause by British publisher Bloomsbury, whose shares spiralled up eight per cent, adding £16 million to the firm's value!
Rowling, 39, currently expecting her third child, is a woman credited with the formidable feat of reviving youngsters' reading habits. The Sun quoted her as saying: 'I'm as happy as I've ever been with the end result. I hope you feel it was worth the wait when you finally read it!'

Fans are now awaiting the installment. It had been teasingly announced earlier in the year that Rowling will kill off a principal character in the book, and speculation is rampant. For those of you muggles (normal folk in Rowling-speak) who gasp unclued-ly at the idea it might be Harry, rest assured the now-not-as-young wizard will survive for the eventual seventh (and, so far, final) installment in the series.
Photograph: Getty Images