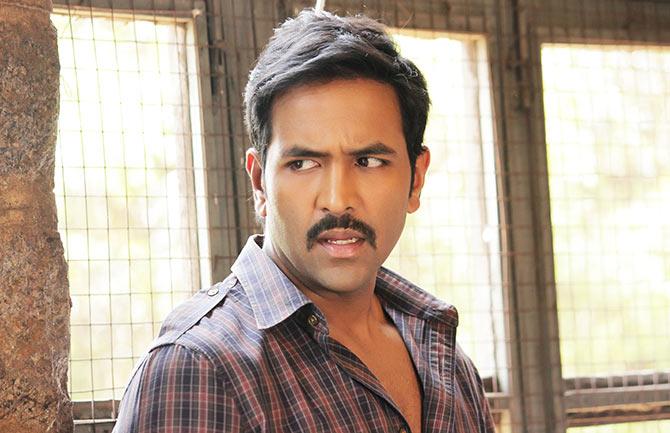 Image: Vishnu Manchu in Anukshanam
Actor Vishnu Manchu has had a good going after Dhenikaina Ready and Doosukeltha. His association with Ram Gopal Varma (RGV) began with Rowdy, the film in which he shared screen space with his father Mohan Babu.
Now Vishnu and Varma are working on their second film, Anukshanam (produced by Vishnu's 24 Frames) which has been in the news because of the auction of distribution rights. The film releases this Friday, September 12.
In this exclusive interview, Vishnu throws light on Anukshanam, the auction, Ram Gopal Varma and his future projects.
Ram Gopal Varma and you seem to have hit it off after Rowdy. How did the idea for Anukshanam emerge?
Anukshanam emerged while we were shooting for Rowdy. Not many know about it.
Is the film a slice of life?
Mr Ramu did a lot of research on serial killers. Based on that, he wrote the story. He has taken the history of serial killers all across the world.
He looks at how and why they do it, without a motive. He has made the film with all these angles.
What made you produce the film?
The belief in the story and the direction capabilities of Mr RGV made me produce the film.
How did you prepared for the role?
I play the cop who tracks down the serial killer. I didn't prepare. The intensity was there in the script.
It was really taxing. At the end of the day, I was tired. I had to have this scowl and frustrated look throughout the day. RGV doesn't give any gap between takes, so it was pretty intense.
The film was in the news for the auction of distribution rights. How was this idea mooted?
Mr Ram Gopal Varma came up with the idea because (he thought) why do we have to depend on the money the distributor gives.
The distributor charges a commission for it and again for the money collected he takes his cut. So we thought how can the producer be safe?
It's an opportunity for people who are interested to buy the movie at low risk.
Movie poster of Anukshanam
There were reports of hundreds of bids and the film's release was postponed because of this.
It has been fantastic. You will be surprised to know how many people from the industry have contacted me.
I have had financiers, producers and distributors come home to talk to me about it.
They say it's fantastic; how can we do it? There has been a great reception for it.
Do you think this system is going to work in the future?
This system will definitely help the producer. It will help the people own the movie. It's like a business, a low risk one.
I am not asking you to invest a huge amount of money. I am asking you to invest in lakhs. If you make it, you make it quick; if you don't, you lose only a little bit of it.
The risk factor is much less compared to other businesses.
Was the film postponed because you wanted to receive more bids?
More than that, I would say that if A had bid for Jubilee Hills theatre, I wanted to make sure that the posters coming out in the Jubilee Hills area would have A's name as the presenter of the film.
In every area we wanted to facilitate that. This is something everyone would love to have.
Are you using any kind of new technology in this film?
More than technology, I want the content of the movie to speak. When the film releases, we will talk about the technology - what kind of cameras we used and how we used them.
What can the viewer expect to see in this film?
Hard core action lovers will love this film. This is the first authentic serial killer movie in the country. There have been on and off serial killer films where you have songs, comedy.
This film is based on a serial killer who is tracked down by a cop.
Is it going to be grim film – a cop-killer drama?
Yes, it is a serious film, a cop-killer drama. We have made it within two hours. It will be like watching a Hollywood film.
You are attempting a new genre then in trying to make this film?
Yes, there are no songs. It is a serious action movie.
People should not expect to see me in the regular action comedy. They should be willing to see me in a totally new avatar as a serious action guy.
Did you do any serious action sequences in this film?
Yes, of course. However, more than action sequences, there is intense drama.
One of the reasons I did the film was because I knew if I pulled it off and people liked the way I did it, I would be respected as an actor.
Do you want to do more films with Ram Gopal Varma?
I would love to. Given the chance, I would love to do one or two films a year with him.
As an actor what do you see in RGV?
Passion for cinema. And that is the same passion I share.
What next?
I am right now doing a film with Dasari Narayan Rao garu called Erra Bus, which is a remake of the super hit Tamil film Manjapai.
There are other scripts I am listening to. I am producing a film with Telugu industry's recent superstars which I shall announce soon. I am not acting in it.