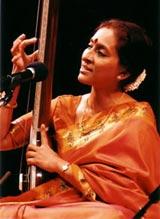 Carnatic vocalist
Bombay Jayashri,
who is the only Indian this year to be nominated for an Oscar for
Life of Pi
, says she is thrilled to see her simple lullaby get recognised at the Academy Awards.
Jayashri is nominated in the Original Song category for
Pi's Lullaby
with composer Michael Danna.
"I got to know about the nomination after some of my friends messaged me. I was not expecting it at all but I am thrilled that the film has bagged 11 nominations," Jayashri told PTI over phone from Chennai.
"It is a happy moment for Indian music. It is a very simple lullaby and comes from a mother's heart. Language does not matter as its feeling is universal," said Jayashri, who has also penned the lyrics of the Tamil song.
Jayashri says she was guided by film's director Ang Lee and Danna at every step while working on the song.
She is also hoping that Lee, who is already an Oscar winner, wins another trophy for
Pi
.
"Working with Danna and Ang lee taught me many things. Lee is a genius," she added.
On her Facebook page, Jayashri shared her experiences about working with Lee.
"'A child sleeps not because he is sleepy, but because he feels safe'. These were the initial words of director Ang Lee, when he was explaining to me what he wanted to hear in the lullaby which opens and brings down the curtain of the movie
Life Of Pi."


Besides a huge body of work in classical music, Jayashri also has a selective but successful career in playback singing. She has collaborated with musicians like M S Vishwanathan, Ilayaraja, A R Rahman, Harris Jayraj and Shankar Ehsan Loy.
Rahman, a double Oscar-winner for his music in Slumdog Millionaire, was one of the early well-wishers to Jayashri. "Congrats to Bombay Jayashree. First ever Academy Award nomination for a Tamil song," Rahman tweeted last night, just after the nominations were announced.
Jayashri, on her part, says she is open to more such international collaborations in future.