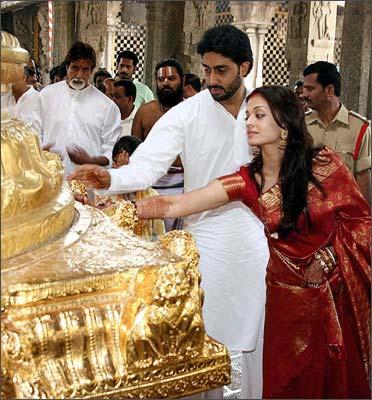 What's with the
Bachchans
?
Why are they visiting so many temples and dargahs these days?
Exactly a year today, Abhishek Bachchan and Aishwarya Rai's visit to the Sankat Mochan temple in Varanasi flagged off the national hullaballoo about their romance.
Since then, the couple -- alone or along with their families -- have visited one shrine after another.
If it is not the famed Siddhi Vinayak temple in Mumbai, which they visit almost every month, or the Akshardham temple in New Delhi, it is the celebrated Tirupati shrine, where the couple and their families flew to after the shaadi in April.
In July, they prayed at the Sri Sailam temple, dedicated to Lord Mallikarjuna, about 250 km south of Hyderabad in Kurnool district.
Last fortnight, on November 15, Abhi-Ash worshipped at the Ameen Peer Dargah, at Cuddapah, about 400 km from Hyderabad. Believers say any wish you make at the Dargah is always fulfilled.
On Tuesday, November 27, the first anniversary of the Varanasi visit, the Bachchan family visited the Dwarkadheesh temple in Rajkot and offered prayers.
Garlands graced the entrance of both the Bachchan homes in Juhu, Pratiksha and Jalsa, on Tuesday, so that's a clue of a festive occasion in the family. But what?
Some Bollywood folk speculate that some good news from the couple is imminent. How could that be, considering the clan hopes for a successful world concert tour next July? Without Ash on stage, it's doubtful if father and son can draw in the crowds.
Text: Gullu Gupshup | Photograph: Noah Seelam/Getty images