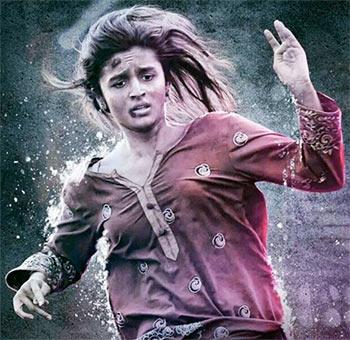 With the row over film Udta Punjab escalating, Information and Broadcasting ministry officials today asserted that the certification process is independent and even court verdicts have made it clear that the government does not have much role in it. Their reaction came after co-producer Anurag Kashyap yesterday lashed out at Censor Board chief Pahlaj Nihalani over the proposed cuts in the film, calling him "oligarch" and "dictator", and dragged in I&B ministry in the controversy saying he got no help from it.
"The process is quite clear that filmmakers can approach the Film Certification Appellate Tribunal (FCAT) in case they are not satisfied with the decisions of the Central Board of Film Certification (CBFC). Court guidelines also make it clear that in such matters it is not for the I&B ministry to take matters in its own hands," an official said when contacted.
Official sources cited a judgement in the matter Union of India vs K M Shankarappa given by a double bench of Supreme Court in November 2000, where it felt that a provision which gave the Centre powers to intervene and review matters pending before the certification board or the appellate tribunal was a travesty of rule of law.
"The apex court had in the verdict on November 28, 2000 held that section 6(1) of Cinematograph Act which granted the Centre power of review and revision over decisions of the Board or Appellate Tribunal was a travesty of the rule of law," they said.
It it very clear that a secretary or minister cannot sit in appeal or revision over decisions of FCAT, which consists of experts and decides matters quasi-judicially, they said. Pointing to the court judgement, they added that at the highest, Government itself may apply to the tribunal for a review, if circumstances so warrant, but the government would be bound by the ultimate decision of the tribunal, they added.
Officials, however, added that the ministry is in the process of streamlining the film certification process and the first part of recommendations submitted by the Shyam Benegal committee are already being examined.
Seeking to dismiss apprehensions that the tribunal may take long to clear films, the officials referred to another film Raman Raghav 2, which was directed by Kashyap, and said that it came before FCAT on May 29 and an order was passed on May 31.
Officials also said that the FCAT consists of a retired judge of High Court or a person qualified to be a judge of High Court and other experts in the field. "In its judgement, the apex court had also held that a secretary or a minister cannot sit in appeal or revision over those decisions," an official said. They added that the process of certification is clear and timelines are laid for various stages for the process and it should be followed.
An I&B official said that the ministry has been supportive of creative minds like film-makers and said that only a couple of years back Kashyap had been a part of India pavilion at Cannes.
The Shahid Kapoor, Alia Bhatt, Kareena Kapoor Khan and Diljit Dosanjh starrer movie delves into how the youth in Punjab have succumbed to drugs. Punjab goes to polls next year.
The makers of the film are said to have been asked by the Revising Committee of the Censor Board to remove all references to Punjab and to make 89 cuts. "It's my fight Vs a dictatorial man sitting there operating like an oligarch in his constituency of censor board, that's my North Korea," Kashyap said yesterday. Several filmmakers including Karan Johar, Mahesh Bhatt, Ram Gopal Varma and Mukesh Bhatt have come out in his support.