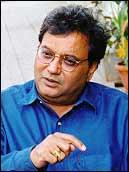 S
ubhash Ghai will be honoured at the first Dubai International Film Festival (DIFF), which starts on December 6.
About 25 countries will participate in the six-day festival which will be inaugurated by Prince Albert of Monaco.
The director will be honoured as part of the festival's 'directors in the spotlight' section. DIFF will also screen several Indian films including Ghai's Pardes, Taal, Boney Kapoor's Mr India and Bharat Bala's Hari Om.
The international offerings have been grouped into several sections, including contemporary world cinema with 12 films, Operation Cultural Bridge with seven films, cinema from the sub-continent with four films, and a five-film Bollywood meets Hollywood segment.
Built around the central theme of building cultural bridges, DIFF aims to be a forum for inter-cultural conversation through the work of filmmakers.
Amitabh Bachchan, Feroz Khan and Anil Kapoor and Hollywood producer Harvey Weinstein are expected to attend the festival.