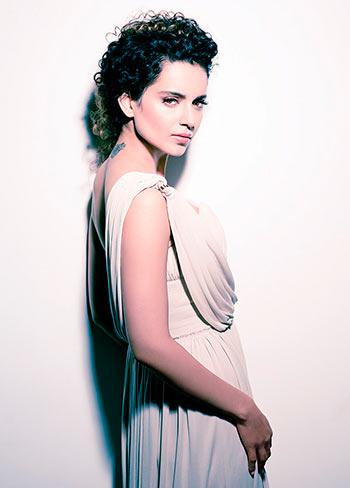 Talented, rebellious, obsessive: Ranjita Ganesan and Dhruv Munjal find traces of the actor's different streaks in Mandi, Chandigarh and Mumbai.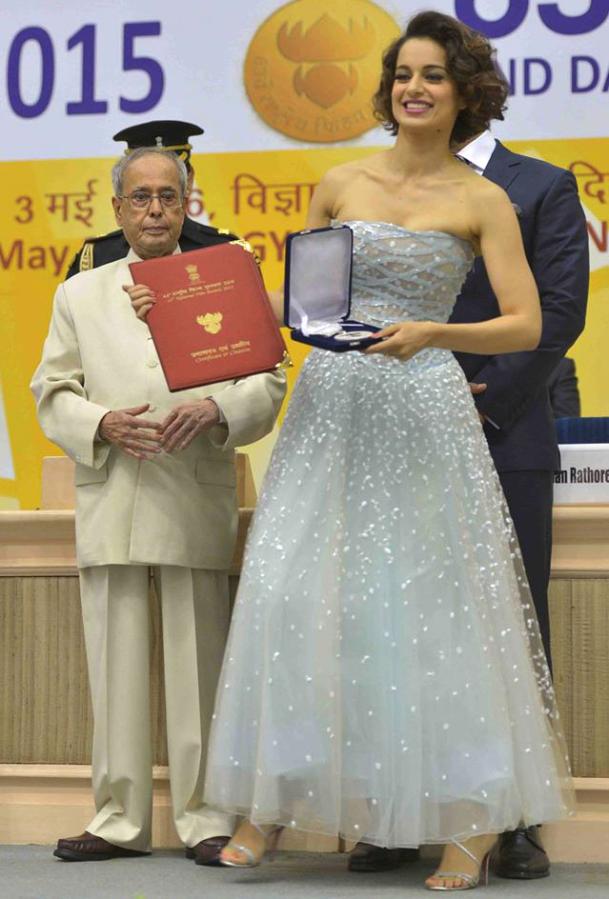 IMAGE: Kangana Ranaut receives the National Award from President Pranab Mukherjee at Vigyan Bhavan, May 3, 2016. Photograph: Rashtrapati Bhavan/Facebook
Kangana Ranaut recently walked up to the stage at Rashtrapati Bhavan to collect the National Film Award for Best Actress, her third, from President Pranab Mukherjee. On such occasions, women actors come draped in the finest saris; Ranaut looked vivacious in an off-shoulder dress.
There were other stars too at the function, including Amitabh Bachchan, but all attention was fixated on the 29-year-old actor. Over the next couple of days, she gave lengthy and candid television interviews, and then quietly took off to London for vacationing.
Amid all this, the tabloids were churning out reams on her private life.
A former boyfriend, Adhyayan Suman, had accused her of being abusive and physically violent, and hinted that she practised black magic.
Before him, actor Hrithik Roshan, with whom she was also said to have been romantically involved, alleged she had been sending emails to an imposter posing as him. The leaked emails, which include a reference to her being diagnosed with Asperger's Syndrome, paint her as an obsessive lover.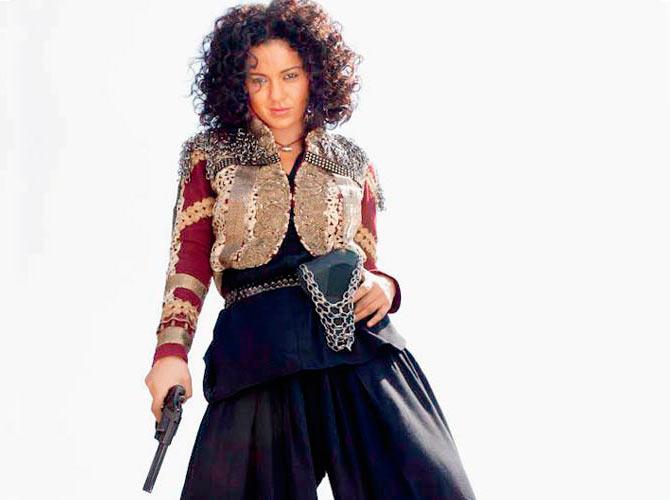 IMAGE: Kangana in Revolver Rani.
A brilliant actor with a volatile mind, or a victim of masculine insecurities?
One thing is for sure: Ranaut is not just another actor, happy to run around trees and play second fiddle to her male co-stars.
"She is fighting the media war today like a dude," says Sai Kabir, director of the 2014 dark comedy, Revolver Rani, and a close friend of the waif-thin actor. "The second rebel Bollywood has seen after Sanjay Dutt is Ranaut."
The rebellious streak was visible early in Bollywood. When she descended on the scene in 2006, Ranaut stood out: She was younger than most contemporary actors and had a mop of fiercely curly hair. Ranaut spoke English with visible effort, but was open to roles that required unrestrained hysteria and graceless breakdowns.
Even in those early days, there were intermittent allegations of mercurial temperament. Aditya Pancholi, an older, married actor with whom she was in a relationship, allegedly assaulted her. In spite of the trauma, by the age of 21, she had already won her first National Award for playing a model with a drug problem in Fashion (2008).
Those who have worked with Ranaut have only good things to report. She has earned several nicknames over the years, from director Milan Luthria's "chameleon" for slipping into any role to Kabir's "cheetah" for being the lone person in his unit to push for travelling to scary Chambal instead of shooting in the safe and salubrious environs of a Mumbai studio.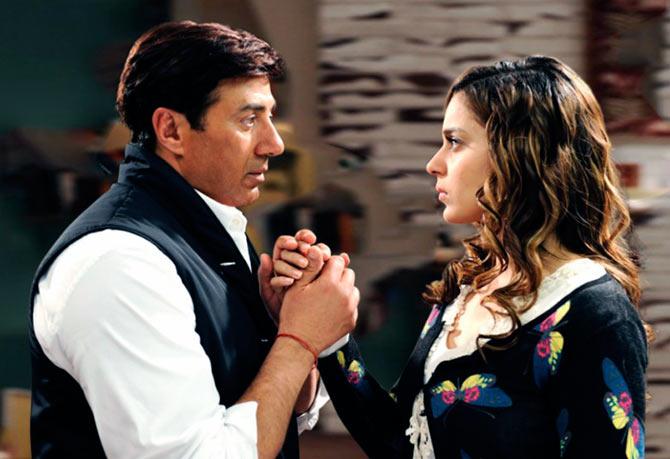 IMAGE: Sunny Deol and Kangana in I Love New Year.
Even Vinay Sapru, the maker of I Love New Year, the release of which Ranaut attempted to legally stop, maintains she is a woman of her word. "She is respectful and responsible, and finishes her work," notes the writer-director of the 2011 project that released and flopped in 2015, when Ranaut was at her peak.
Before filming for Once Upon a Time in Mumbaai, a film set in the 1970s, she handed Luthria, the director, a folder full of references for hair, make-up and costume, asking if she was on the right track.
"If there is a thought process, it is not one of very heavy discussions, or meetings," he says.
In more recent films, she has taken a methodical approach.
For Queen (2014), she walked about on Parisian streets dressed as her character Rani. To create Datto, a college-going Haryanvi athlete in Tanu Weds Manu Returns (2015), she spent time among students at Delhi University.
Her first acting guru, Arvind Gaur of the Asmita theatre group, was taken in by her sharp observation.
During a production of Girish Karnad's Rakt Kalyan, when one of the male actors had an accident, she filled in for him with just 30 minutes of rehearsal. "She was a skinny girl, and when she volunteered for the part, people laughed; but she had been watching and learning everyone's lines."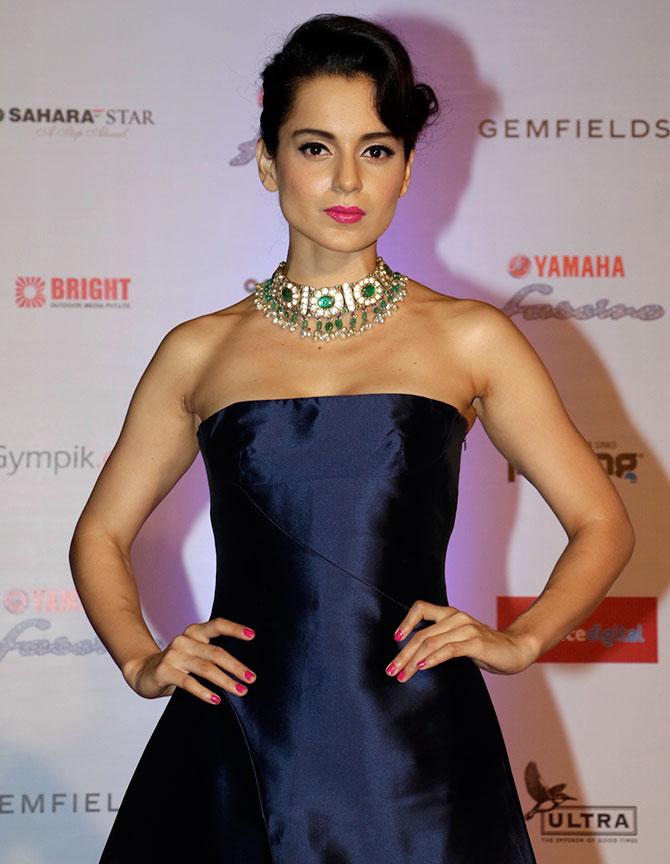 IMAGE: 'There was something special about her. She was carefree and extremely ambitious.' Photograph: Pradeep Bandekar.
As her films started doing well, and her acting skills received widespread praise, Ranaut's confidence soared.
'There are people-pleasers and self-pleasers, I'm a self-pleaser,' she recently told Barkha Dutt of NDTV.
Later, in a clear jibe at celebrity children, she added, 'My journey is not from Bandra to Juhu, it is from a village in Manali to Rashtrapati Bhavan.'
In misty Bhambla, a sleepy town tucked away at the edge of Mandi district in Himachal Pradesh, some 165 km from Manali, locals remember Ranaut as a simple girl who always had a proclivity towards acting.
Her parents, father Amardeep, a businessman, and mother Asha, a teacher, still live here. Located on a steep incline, the Ranaut residence, once a traditional haveli, is now a swanky red-brick villa with pristine glass windows: Quite the stunning antithesis of the ramshackle houses that surround it.
By all indications, Ranaut's folks didn't readily acquiesce to her career choice.
"After some initial reservations, her parents decided to back her. The rest didn't matter after that," says Heth Ram, who formerly worked as a driver for the Ranaut family.
Bhambla accepts Ranaut's success with a tinge of tartness. Sonu Chand, a chaiwallah, says that it is almost unthinkable for any girl to leave the village and work outside.
"She was an exception. Girls aren't allowed to leave this place," he says. "When she first started appearing in films, everyone didn't like it."
Ranaut, in the past, has referred to the routine misogyny that plagued her childhood. Several others in the area talk about her achievements only reluctantly, far from the kind of extravagant praise you would expect to hear.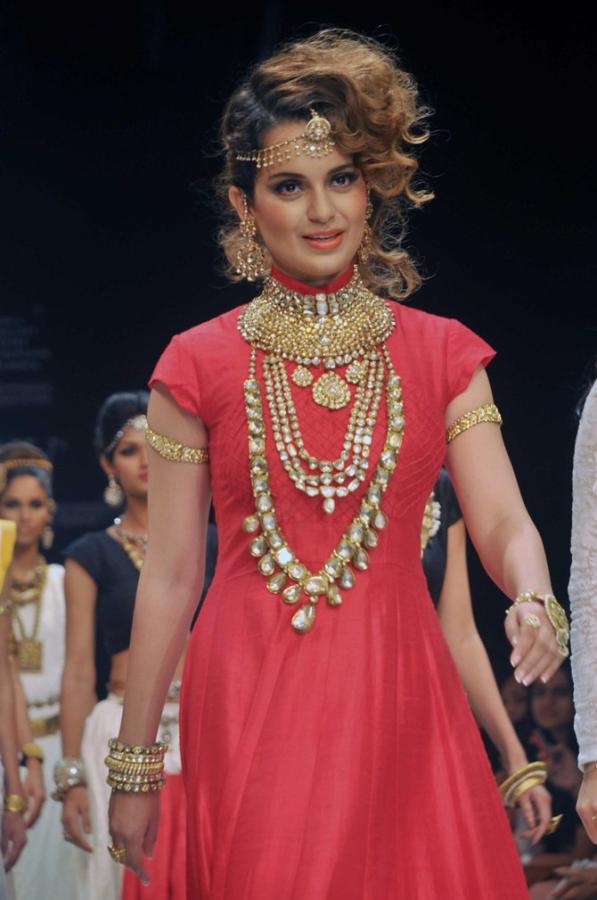 IMAGE: 'There are people-pleasers and self-pleasers, I'm a self-pleaser,' she recently told Barkha Dutt of NDTV. Photograph: Abhijit Mhamunkar
Over at the Hill View Public School, where Ranaut studied up till Class X, she is a revered idol. Enveloped by vast stretches of grasslands, this four-room school is where the actor first took to the stage.
Teachers say she could perform qawallis and recite Sanskrit shlokas with little preparation. And, despite the many distractions, Ranaut's studies never suffered.
Inside the school principal's modest office, Ranaut's name dominates the honour boards; she topped her school in Classes VIII and X. A photograph, taken soon after the release of her debut film, Gangster, adorns one of the walls.
Sushma Sharma, Ranaut's Class IX maths teacher, adds that even while in her school uniform, Ranaut would do something that would make her stand out. "Sometimes, it was the hair. Other times, it was the shoes." It was only when she went to Chandigarh, she adds, that Ranaut's studies suffered.
In her 20 years as hostel warden at DAV Model School, nestled in a quiet corner of Chandigarh's Sector 15, Shashi Vyas hasn't quite come across anyone like Ranaut.
As she talks of her favourite pupil, Vyas casually sits back on the chair in the principal's office, eyes gleaming, a luminous smile spread across her wrinkly face.
"There was something special about her. She was carefree and extremely ambitious, traits that you do not find in a lot of students."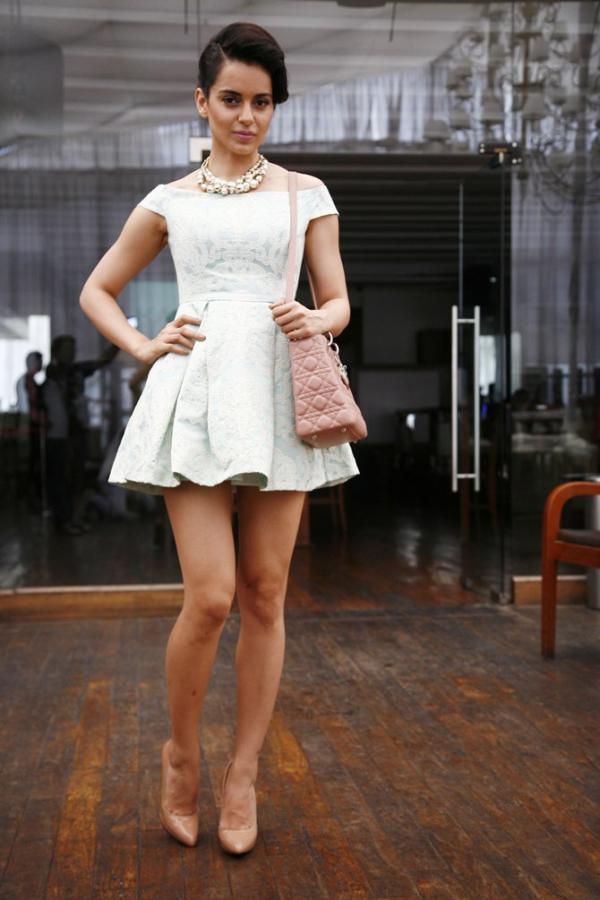 IMAGE: 'She often told me how she wanted to remove all hurdles that could possibly jeopardise her chances in the entertainment business.' Photograph: Pradeep Bandekar
Ranaut often mentions that the acting bug spawned in her after a workshop with theatre man Gaur, but her journey to the acme of the Hindi film industry, and her transition from diffident schoolgirl to charming fashionista, began right here.
Soon after moving to Chandigarh in Class XI, Ranaut's obdurate desire to enter showbiz got the better of her father's wish to see her become a doctor.
Kanta Manchanda, her former physics teacher, says that while Ranaut was studious, films was where she always wanted to make her mark.
"She was an average student, not overly brilliant, but extremely hard working in whatever she pursued," recalls Manchanda.
According to some, it was a failed unit test during the last year of school that made Ranaut alter her career path. Teachers here, however, say that by then, only Mumbai seemed like the next logical destination for her.
As school drew to a close, an ardent passion was taking the shape of a dangerous obsession. A fond rice eater, she began skipping meals and stuck to salad and soup for dinner.
To improve her English, encumbered with a thick Himachali accent, Ranaut started taking extra classes.
Till late into her teens, Ranaut's unimpressive command over the English language bothered her. "Sexy Manju", the moniker she used for Manju Kumar, the domestic help at the hostel, hilariously came out as "Sakshi Manju".
"She often told me how she wanted to remove all hurdles that could possibly jeopardise her chances in the entertainment business," says Vyas.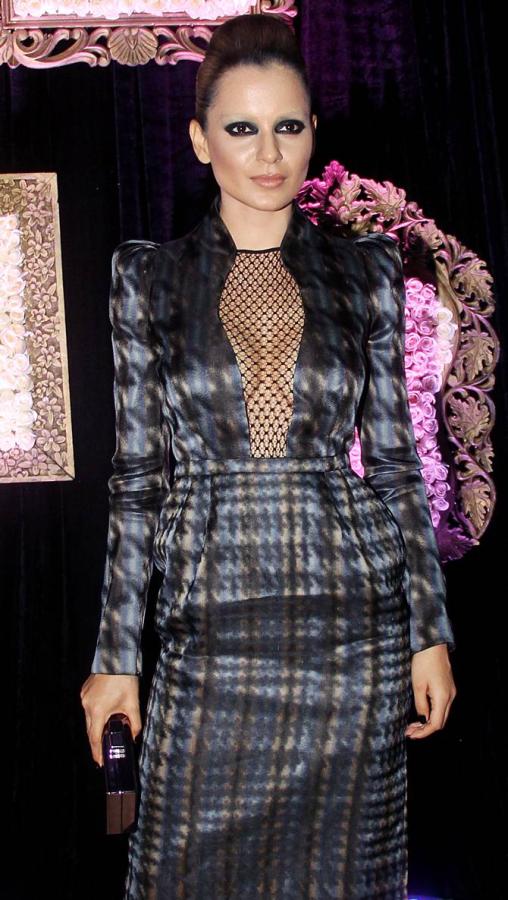 IMAGE: 'Determination was the key. Just look at the way she speaks now.' Photograph: Kind Courtesy Effective Communication
In Class XII, she bought a fulgent blue-coloured off-shoulder dress that left students and teachers stunned. Later that year, Ranaut, dressed in a henna green sari, was adjudged "Miss DAV" at the school farewell.
Vyas says that Ranaut's drive to learn and improve was astounding. "Determination was the key. Just look at the way she speaks now."
Ranaut's appeal among audiences is driven by her character or performance, rather than inherent likeability, according to Gautam Jain, head of films at Ormax Media. "This limits the potential of Kangana's stardom."
On a list of most popular actor compiled by the research firm, Ranaut stands at 16, much below Deepika Padukone, Katrina Kaif and Priyanka Chopra. But Jain concedes that she strikes a chord with female audiences due to her strong women-centric roles.
This connection with women prompted Reebok to sign her as brand ambassador two months ago. That she is a yoga, pilates and running enthusiast and has a "powerful personal story" also helped, according to Adidas Group India Managing Director Dave Thomas.
Despite recent controversies, her brand equity does not seem to have suffered much. She is the perfect choice for brands combining beauty and brains, says brand consultant Samit Sinha. "She inspires confidence that you can come from humble circumstances and still make it big."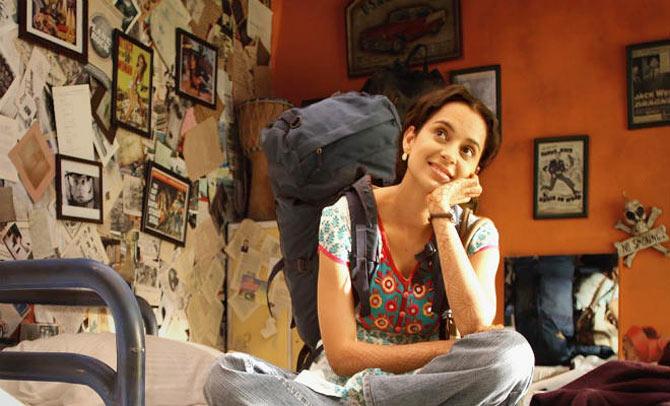 IMAGE: Kangana in Queen.
Indeed, over the years, she has worked on grooming.
The reckless fashionista at one point spent all her savings on a Moschino dress. Admittedly to overcompensate for her small-town origins, she now owns everything from Tom Ford to Dior and Valentino to Burberry.
The voracious meat eater has chosen the vegan way recently. She has a taste for the finer things in life: Organic cupcakes, the cafes of Florence and Paris, red wine.
Yet, hers is not the most carefully-constructed image. Her sister Rangoli now helps manage the star. She let go of a PR agency last year and some months later sued it for spreading negative stories.
And she remains unpredictable. Right after the success of Queen, she left to take a two-month screenplay writing course at the New York Film Academy. The maverick rockstar Jim Morrison is among her sources of inspiration.
More interesting than the names she is called, is the fact of how casually Ranaut reacts to them in public. She says they are signs of her triumph.
In response to claims that she followed a mystic, she openly admitted to beliefs in Sanatan dharma and astrology. In her own words, Ranaut tends to offend people. She even labels herself "shameless", but adds it is a necessary trait for actors.
Recent statements have turned her into something of a feminist figure: 'If a woman is super successful, she is called a psychopath', 'women should reply with sarcasm or their success' or 'I am very proud of my fragile body, soft hands and sharp mind.'
Asha Chandra, Ranaut's Bollywood acting coach in Mumbai, wishes she would sort out the personal crisis. "It is a big risk. When you go up like a rocket, you can come down fast too," she worries.
For the moment, however, Ranaut is unrelenting in ways that remind of the tagline of her film, Revolver Rani: 'Ab mard ko dard hoga' (Men will feel the pain now).