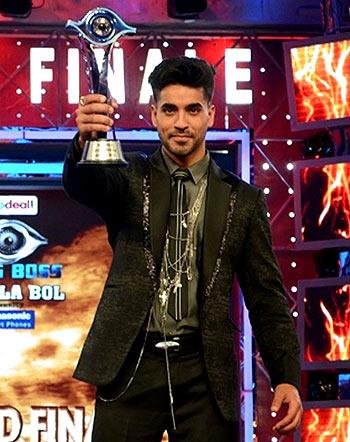 'It would be rude to reject a girl who kisses me. So I kissed Diandra back. There was nothing more than that. I am going to marry the girl that my mother chooses for me.'
Bigg Boss 8 winner Gautam Gulati is ready to move on.
Gautam Gulati entered Bigg Boss 8 as the underdog and managed to annoy all his fellow contestants, whether for his dance moves, his six-pack abs, his antics or his romantic moments with fellow contestant Diandra Soares. Yet, he was clearly the favourite to win the show.
The actor tells Rajul Hegde/ Rediff.com how he survived in the house for so long.
What does it feel like to be the winner of Bigg Boss?
It's a great feeling. I thought I would last for a long time, but winning the show was never on my mind.
My housemates didn't understand my feelings but all of India appreciated me and made me a star.
Bigg Boss is a very nice show but certain people make it awful by playing politics.
My biggest achievement is that I stayed away from politics. I never followed the herd mentality. I was myself and did not go with the purpose of providing content for the TRPs.
Other contestants did very strange things on the show.
I'm not a stranger to popularity. So I know how to handle this new-found success in a competent way.
You must have guessed that you might win the show, thanks to the feedback from the guest stars on the show, as well as the Challengers.
Yes, I had a gut feeling because Salman Sir and Challengers had told me that I was popular outside the house.
I went in there as an entertainer. I was tortured for four months but I never lost my cool even under provocation.
The most unexpected things happened to me inside.
After the fight with Karishma Tanna, I was isolated but I didn't lose hope. I decided that I'll stand out and make my presence felt.
What are you going to miss about the Bigg Boss house?
I will miss the cameras the most. I kissed all the cameras before leaving because they made me a star.
The camerapersons told me I was their favourite. I was so touched.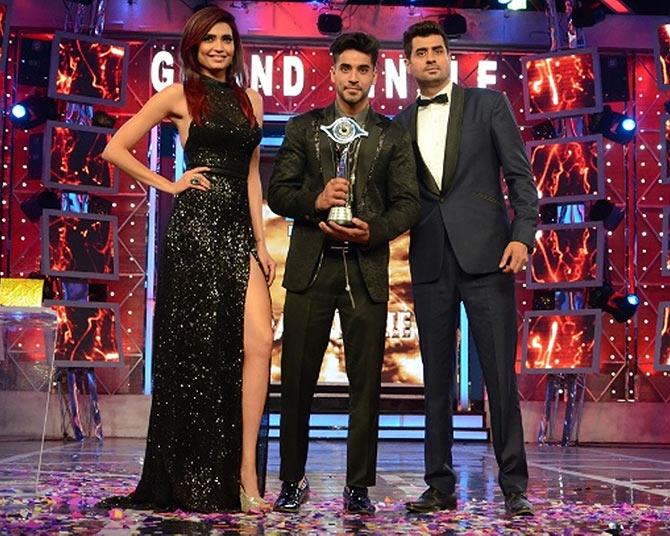 Image: Karishma Tanna, Gautam Gulati and Pritam Singh at the Bigg Boss 8 finale
What was Karishma Tanna's reaction after you won?
Karishma was a strong contender and I respect her. Though we didn't get along in the beginning, we became friends gradually.
Her behaviour after I won was quite weird. May be she was upset that she didn't win, but winning and losing is part of the game.
She should have been a sport. When we were partying after the show, she did not come close to me or make eye-contact. She left with Upen (Patel) after partying for some time.
Will you stay in touch with the P3G (Pritam Singh, Praneet Bhatt, Puneet Issar, Gautam) group?
I will definitely be in touch with all of them, although there had been some problems and misunderstandings.
A lot of them came up to me at the finale and said that they were wrong in the way they treated me.
What do you have to say about your relationship with Diandra Soares?
I know there was an 'Emraan Hashmi moment' between us. It was a momentary impulse. It would be rude to reject a girl who kisses me. So I kissed her back.
There was nothing more than that.
I am going to marry the girl that my mother chooses for me.
We are just friends; there can be nothing beyond that.
I regret going into the bathroom with her. There was nothing between us and will never be.
I have always drawn a line in every relationship and I would never overstep that.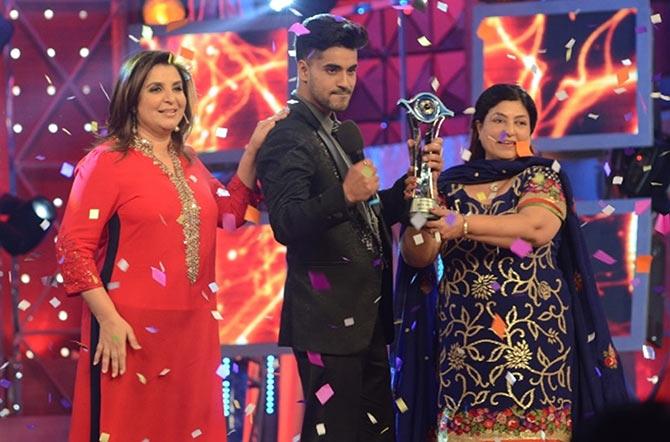 Image: Farah Khan with Gautam Gulati and his mother
What did you think of Farah Khan as host?
She was fantastic. It was a big challenge for her to step into Salman Khan's shoes but she managed it well. She has invited all of us to her place for dinner.
I am a big fan of Salman Khan. My biggest dream was to take the trophy from his hand, which didn't happen.
So how are you going to celebrate your victory?
My family is in Delhi and they have been busy distributing sweets after my win.
I will be visiting Delhi within a month and will have a grand party for my family and friends.
I live in a rented place in Mumbai. So I guess I will invest in buying a house for myself.
What will you do next?
I have done an international film called Darpok which had taken me to the red carpet at the Cannes International Film Festival. It is yet to release in India.
I'll focus more on films now and not TV.
I'm eager to make my Bollywood début. I have got some offers.