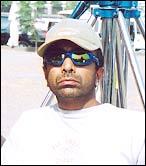 While still in college, Sanjay Gadhvi watched a telefilm called Duel.
The film left him awestruck. It played a large role in inspiring Gadhvi to become a director one day. He wanted to direct a film as good as Duel.

"I had never seen a film like that," recalls Sanjay. "The film had only two characters. One was invisible, as his face was never shown. Still, the director made a beautiful film that kept me involved throughout. After watching it, I searched for the director's name. And I saw that it was Steven Spielberg."

Two decades later, Sanjay directed a film for Yash Raj Films, Mere Yaar Ki Shaadi Hai (2002). He had earlier directed the romantic musical, Tere Liye (2000).
On August 27, his third film Dhoom, another Yash Raj Films production, is set to release. Sanjay is confident that his new movie, starring Abhishek Bachchan, Uday Chopra, John Abraham, Esha Deol and Rimii Sen, will appeal to the youth.

"This is not a family film," Sanjay says. "There are no brothers, sisters and bhabhis. There are two heroines, a thief, an inspector and a motor mechanic. This is a film made for the youth. It is little more than two hours, and is a fast pace action and comedy film."

Though the lead cast has five actors, none of them have a strong stand at the box office. But Sanjay shrugs it off.
"The most important thing at Yash Raj Films is the script," he explains. "That gets the maximum emphasis. Then we start the casting. We were sure that all the actors in this film suit the roles."
What about Uday Chopra, the scion of the Chopra khandaan? Was his inclusion made compulsory?
"Not really," Sanjay answers promptly. "The Chopras will never force Uday into any project because he belongs to the family. They are very clear about that. If they force any actor in a film, it will be harmful to the film as well as to the actor. Uday is there in Dhoom because his forte is comedy. He is a very funny kind of guy, and the dark horse of the film."

Making the film, he says, was not easy.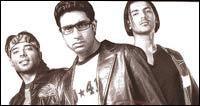 "Besides casting actors, I had to cast motorbikes too! People are surprised when I tell them this. After a lot of research, we took 1,300 cc bikes made by Suzuki. They can speed up to 320 kilometres per hour. Bikes are one of the highlights of Dhoom," says Sanjay.

Why bikes? "When Aditya Chopra came up with the idea for this film, he had a car chase in mind," Sanjay explains. "I asked him if I could replace cars with bikes because it would look better. Firstly, the hero's face can be seen clearly. Secondly, I was crazy about bikes in my youth. When you speed them up, and the wind hits your face, it gives you a rush that you cannot get in a car." 

Does he expect youngsters to flock to the theatres to watch Dhoom?
"I am a very optimistic person," Sanjay says. "I believe that if you do your work sincerely and with integrity, it will never go wrong. I am sure everyone will be engrossed while watching Dhoom. People will love it."